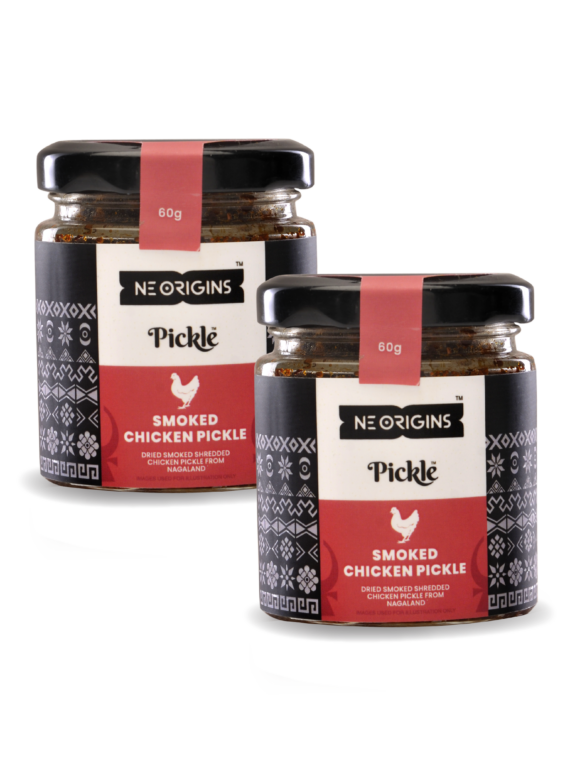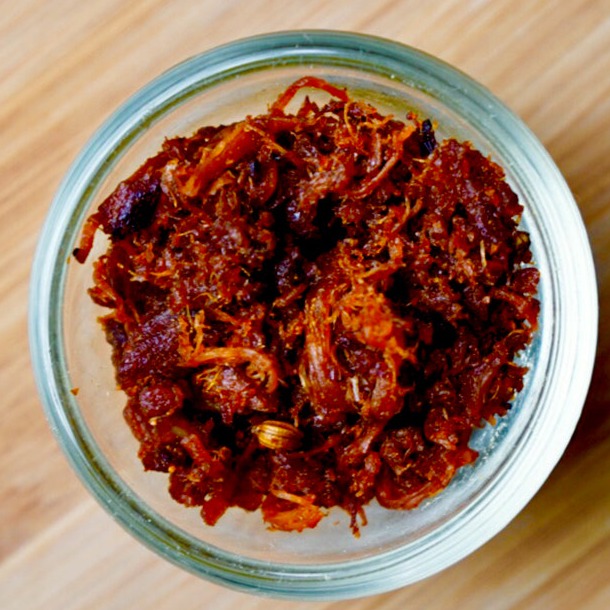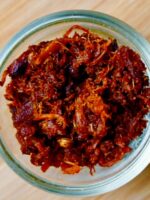 Smoked Chicken Pickle 60g, Pack Of 2 (Non veg pickle)
24
people are viewing this right now

Free Delivery Across India
Description
Heat Level (🌶️) – 2/10 Not Spicy 
Smoked chicken pickle is made using finest quality chicken meat that is locally farmed in Nagaland. The meat is first smoked traditionally using pine woods which adds to its texture and flavour. Followed by shredding the meat and pickling with various spices and oil. It is enjoyed as a side with any Indian meals. Enjoy a truly delicious and local experience with this Chicken Pickle from Nagaland!
Ingredients
Dried Smoked Chicken, King Chilli Flakes, Ginger, Garlic, Edible Vegetable Oil (Mustard Oil), Iodized Salt, Mixed Spices.
How to use?
As an accompaniment to all kinds of Indian cuisines
FAQ
Q. Are non veg pickles healthy?
A. Non-veg pickles like chicken pickles, and pork pickles, to name a few, are considered healthy because they are a rich source of antioxidants. Furthermore, non-veg pickles are highly nutritious and loaded with proteins and vitamins. They contain leucine and lysine amino acids, which are important for muscle growth and repair.
Q. Where to buy non veg pickles online?
A. NE Origins is the best online store to buy nutritious and indigenous non-veg pickles. Its non-vegetarian pickle varieties range from chicken pickles to pork pickles. It provides efficient online delivery within a few days.
Q. What are the best non veg pickles in India?
A. The list of the 3 best non-veg pickles in India include -
1. Smoked chicken pickle from Nagaland
2. Smoked pork pickle from Nagaland
3. Goan Prawn Balchao Pickle
Q. What is the price of non vegetarian pickles?
A. At Ne Origins, the price of a 60g smoked pork pickle is Rs. 215 and of a 60g smoked chicken pickle is Rs. 200.
NEOrigins
NE Origins strives to serve the Spirit of the Northeast through its food & culture. We offer access to authentic ingredients from Northeast India to our community across India and the world.
Quick Comparison
Settings
Smoked Chicken Pickle 60g, Pack Of 2 (Non veg pickle)

remove

Dalle Chilli with Bamboo Shoot Pickle 200g, Pack Of 2

remove

Truly Nagaland

remove

Kiwi Jam, 250g, Pack Of 2

remove

Dalle Chilli with Bamboo Shoot Pickle, 100g

remove

Orange Marmalade, 250g, Pack Of 2

remove

Name
Smoked Chicken Pickle 60g, Pack Of 2 (Non veg pickle)

remove

Dalle Chilli with Bamboo Shoot Pickle 200g, Pack Of 2

remove

Truly Nagaland

remove

Kiwi Jam, 250g, Pack Of 2

remove

Dalle Chilli with Bamboo Shoot Pickle, 100g

remove

Orange Marmalade, 250g, Pack Of 2

remove

Image
SKU
NEOSCP
NEODCWB
NEOCTNB
KJMP002
8900002134203
ORMP002
Rating
Price
Stock
Availability

45

in stock

47

in stock

98

in stock

50

in stock

100

in stock
Add to cart
Description
Content

Heat Level (🌶️) - 2/10 Not Spicy 

Smoked chicken pickle is made using finest quality chicken meat that is locally farmed in Nagaland. The meat is first smoked traditionally using pine woods which adds to its texture and flavour. Followed by shredding the meat and pickling with various spices and oil. It is enjoyed as a side with any Indian meals. Enjoy a truly delicious and local experience with this Chicken Pickle from Nagaland!

Heat Level (🌶️) - 6/10 Medium Spicy 

Grown on the lush foothills of the Himalayas, Dalle Khursani also known as Fireball Cherry Pepper is one of the hottest chillies in the world! A traditional recipe including Dalle Chilli and young Bamboo Shoot is a staple in every household in the northeast. The aroma from the chillies complemented by the tang from the pickle makes a perfect condiment for comforting meals at home.

1. Axone King Chilli Pickle 100g

2. King Chilli and Bamboo Shoot Pickle 200g

3. Smoked Chicken Pickle 60g

Everything from Nagaland is coming your way through this amazing combo.
Fermented soybean in Axone King Chilli Pickle can be hit or miss based on the preference of an individual, prepared with the hot King Chilli, this achaar exudes an uncommon flavour that people should try at least once.
With young Bamboo Shoots, Mustard oil and perfect spices as companions, the King Chilli Bamboo shoot pickle will give you a lip-smacking sharp taste with the subtle flavour of tender Bamboo Shoots.
The best-grade chicken is used to make smoked chicken pickles, which are then prepared by smoking the flesh over pine wood, shredding it, and pickling it with a variety of locally cultivated herbs and mustard oil. This spicy and rich achaar can make anyone drool from the first bite.

Introducing Ne Origins Kiwi Jam, made in Sikkim! What could be more delicious than jam made with freshly-picked kiwis? Our jam is made with the goodness of real kiwi fruits, blended with a perfect balance of sweetness and tartness. Made with natural ingredients, this jam has a unique flavor that will burst from your palate on every bite. With just the right amount of crunch, this versatile jam is perfect to spread on your morning toast, add to your favorite desserts, or even mix with a glass of sparkling wine. Enjoy the taste of paradise that Sikkim has to offer with Ne Origins Kiwi Jam.

Heat Level (🌶️) - 6/10 Medium Spicy 

Emerging from the foothills of the Himalayas, Dalle Khursani also known as Fireball Cherry Pepper is one of the hottest chillies in the world! A traditional recipe of Dalle Chilli and young Bamboo Shoot is a staple in every household in the north east. The aroma from the chillies complemented by the tang from the pickle serves as a perfect condiment for comforting meals at home.
Sikkim Orange marmalade is a variation of the  traditional orange marmalade that uses oranges grown in the state of Sikkim , which is located in northeastern India . Sikkim Orange marmalade is a popular product in Sikkim and other parts of India . Sikkim oranges are known for their intense flavor and aroma , which makes them ideal for making marmalade. it is often enjoyed as a breakfast spread , but it can also be used in baking or as a condiment to accompany savory dishes.
Weight
0.598 kg
0.990 kg
0.590 kg
0.990 kg
0.448 kg
1000 kg
Dimensions
6 × 6 × 10 cm
12 × 15 × 10 cm
12 × 15 × 10 cm
12 × 15 × 10 cm
6 × 6 × 10 cm
12 × 15 × 10 cm
Additional information

| | |
| --- | --- |
| Weight | 0.598 kg |
| Dimensions | 6 × 6 × 10 cm |

| | |
| --- | --- |
| Weight | 0.990 kg |
| Dimensions | 12 × 15 × 10 cm |

| | |
| --- | --- |
| Weight | 0.590 kg |
| Dimensions | 12 × 15 × 10 cm |

| | |
| --- | --- |
| Weight | 0.990 kg |
| Dimensions | 12 × 15 × 10 cm |

| | |
| --- | --- |
| Weight | 0.448 kg |
| Dimensions | 6 × 6 × 10 cm |

| | |
| --- | --- |
| Weight | 1000 kg |
| Dimensions | 12 × 15 × 10 cm |

Sold
5
3
2
0
1
1
Shipping