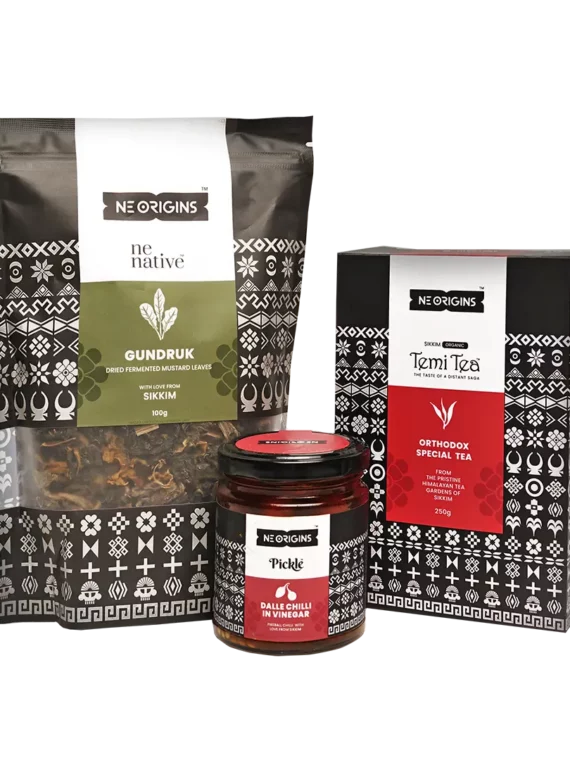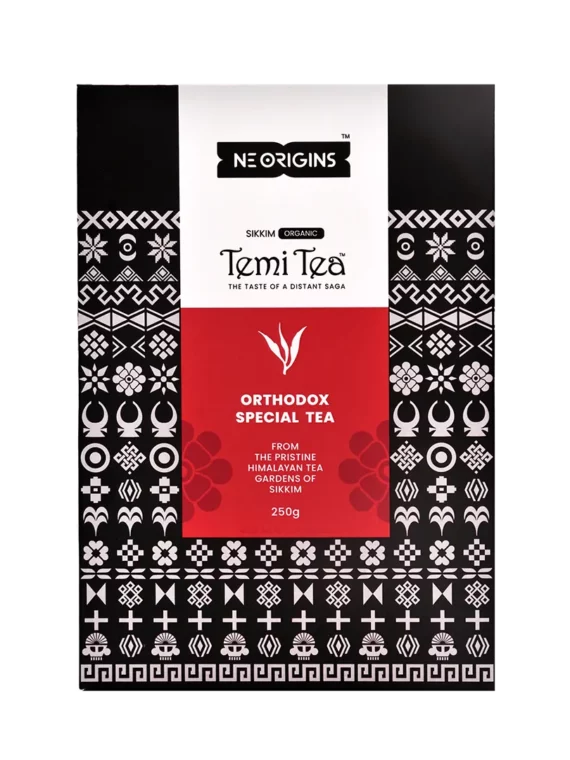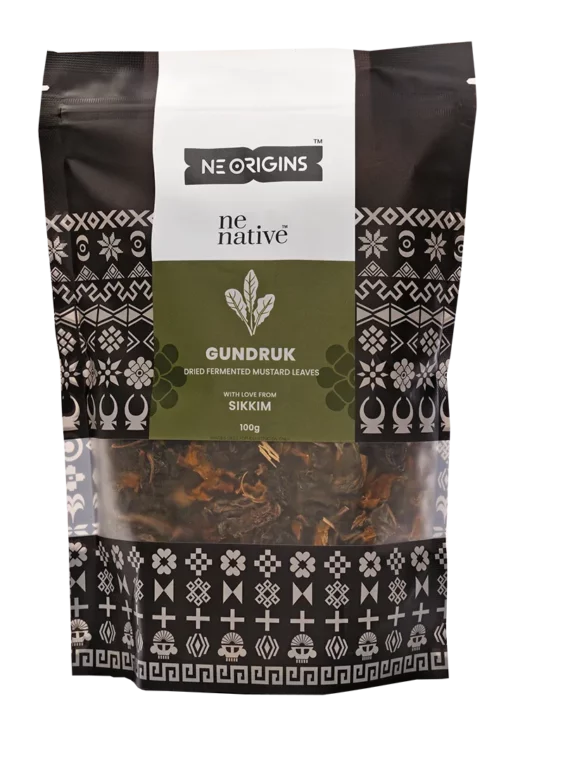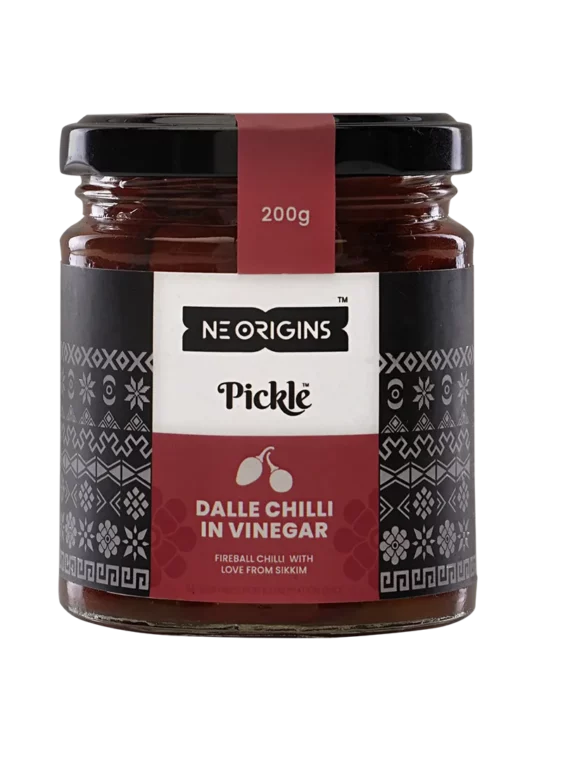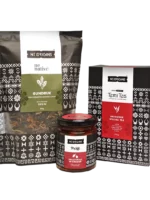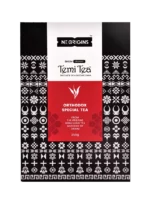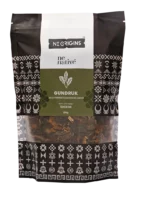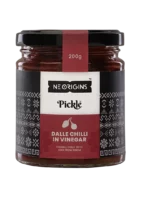 26
people are viewing this right now

Free Delivery Across India
Description
1. Temi tea Orthodox Black tea 250g
2. Dalle Chilli in Vinegar 200g
3. Gundruk 100g
In Truly Sikkim Box you will get the delicacies such as Temi tea Orthodox tea, Dalle chilli in vinegar and Gundruk.
The Temi Tea Orthodox is a favourite amongst those that love their tea just as it is.
The unique combination of Dalle Khursani and vinegar can be extremely satisfying for most spice lovers. Each bottle will provide you with extremely hot Dalle Chilli with a sour taste as a compliment.
Gundruk is made by fermenting and drying mustard leaves. It tastes sour with a hint of fermentation.
Ingredients
Temi tea Orthodox Black tea 250g- 1
Dalle Chilli in Vinegar 200g- 1
Gundruk 100g- 1
How to use?
Temi Tea Orthodox Special tea:
Brew as normal black tea.
Dalle chilli in vinegar:
Grind Dalle chilli to make chutneys which can serve as a condiment with curries, rice and rotis.
Gundruk:
Wash the gundruk strands and soak them in water for an hour. Squeeze out the excess water and chop fine.Add onions,tomatoes and other seasonings and then add the gundruk, mix well and cook till gundruk is soft. One can add chillies and prepare Gundruk Achar(pickle) or can add water and boil it till gundruk becomes soft and chewy. Then serve it as a hot Gundruk Soup.
FAQ
What does the pattern on your packaging represent?
-The symbols on our packaging represent that state symbols of the 8 states of North East India.
How do I consume the product?
-Please refer to the How to Use section above!
Can I get bulk discounts?
-Please reach our customer care officer for bulk inquiries.
Where do you source your products from?
-All our products are sourced from local manufacturers from the origin state where the product and its ingredients belong to.
NEOrigins
NE Origins strives to serve the Spirit of the Northeast through its food & culture. We offer access to authentic ingredients from Northeast India to our community across India and the world.
Quick Comparison
Settings
Truly Sikkim

remove

Dalle Chilli Paste 100g, Pack Of 2

remove

Dalle Chilli Pure Paste, 100g

remove

Pickle Sampler

remove

Kiwi Jam, 250g, Pack of 3

remove

Taste of The North East

remove

Name
Truly Sikkim

remove

Dalle Chilli Paste 100g, Pack Of 2

remove

Dalle Chilli Pure Paste, 100g

remove

Pickle Sampler

remove

Kiwi Jam, 250g, Pack of 3

remove

Taste of The North East

remove

Image
SKU
NEOCTSKB
NEODCP
8900002134654
NEOCPSB
KJMP003
NEOCTNEB
Rating
Price
Stock
Availability

100

in stock

92

in stock

94

in stock

50

in stock

50

in stock

50

in stock
Add to cart
Description
Content

1. Temi tea Orthodox Black tea 250g

2. Dalle Chilli in Vinegar 200g

3. Gundruk 100g

In Truly Sikkim Box you will get the delicacies such as Temi tea Orthodox tea, Dalle chilli in vinegar and Gundruk.
The Temi Tea Orthodox is a favourite amongst those that love their tea just as it is.
The unique combination of Dalle Khursani and vinegar can be extremely satisfying for most spice lovers. Each bottle will provide you with extremely hot Dalle Chilli with a sour taste as a compliment.
Gundruk is made by fermenting and drying mustard leaves. It tastes sour with a hint of fermentation.

Heat Level (🌶️) - 6/10 Medium Spicy 

Emerging from the foothills of the Himalayas, Dalle Khursani also known as Fireball Cherry Pepper is one of the hottest chillies in the world! A traditional recipe of Dalle Chilli paste is a staple in every household in the north east. This hot and spicy chilli also serves as a perfect condiment for comforting meals at home.

Heat Level (🌶️) - 6/10 Medium Spicy 

Emerging from the foothills of the Himalayas, Dalle Khursani also known as Fireball Cherry Pepper is one of the hottest chillies in the world! A traditional recipe of Dalle Chilli paste is a staple in every household in the north east. This hot and spicy chilli also serves as a perfect condiment for comforting meals at home.

1. Dalle Chilli Pickle 100g

2. King Chilli Pickle 200g

3. Bamboo Shoot Pickle 200g

This is a combination of our three pickles - the Dalle chilli Pickle, the King Chilli Pickle, and the Bamboo Shoot Pickle. Rich in Vitamin C, potassium and fibre, these are great accompaniments for snacks, chaat and Indian curries
The Dalle Chilli Pickle is a tangy and spicy pickle.
There is a delicious, hot and spicy pickle with fresh King chillies.
Bamboo Shoot pickle will offer you a fresh breath in the air with its subtler taste than the other two.

Introducing Ne Origins Kiwi Jam, made in Sikkim! What could be more delicious than jam made with freshly-picked kiwis? Our jam is made with the goodness of real kiwi fruits, blended with a perfect balance of sweetness and tartness. Made with natural ingredients, this jam has a unique flavor that will burst from your palate on every bite. With just the right amount of crunch, this versatile jam is perfect to spread on your morning toast, add to your favorite desserts, or even mix with a glass of sparkling wine. Enjoy the taste of paradise that Sikkim has to offer with Ne Origins Kiwi Jam.

1. Wild Flower Honey 200g

2. Temi Tea Orthodox Black Tea 250g

3. Dalle Chilli Pickle 100g

4. Naga Chilli Hot Sauce 60ml

If you're interested to touch the true indigenous taste then this combo must be for you. With the Temi tea orthodox, honey, hot sauce and Dalle Chilli Pickle, your heart will be delighted in one go.
The Temi Tea Orthodox is a favourite amongst those that love their tea just as it is. The rich and nutritional Wild forest honey is an excellent match with the Temi tea.
One of the spiciest chilies in the world is delectably seasoned with complementary spices to bring you the traditional Achaar straight from Sikkim. Dalle chilli pickle may jazz up a plain lunch or dinner with the flavour of mustard oil and ground spices.
If spicing up dishes is your thing then this Naga King Chilli sauce will be your best friend from now on. As it can be considered the hottest sauce in India.

Weight
0.750 kg
0.990 kg
0.598 kg
1000 kg
1000 kg
1000 kg
Dimensions
12 × 15 × 10 cm
12 × 15 × 10 cm
6 × 6 × 10 cm
12 × 15 × 10 cm
12 × 15 × 10 cm
15 × 12 × 10 cm
Additional information

| | |
| --- | --- |
| Weight | 0.750 kg |
| Dimensions | 12 × 15 × 10 cm |

| | |
| --- | --- |
| Weight | 0.990 kg |
| Dimensions | 12 × 15 × 10 cm |

| | |
| --- | --- |
| Weight | 0.598 kg |
| Dimensions | 6 × 6 × 10 cm |

| | |
| --- | --- |
| Weight | 1000 kg |
| Dimensions | 12 × 15 × 10 cm |

| | |
| --- | --- |
| Weight | 1000 kg |
| Dimensions | 12 × 15 × 10 cm |

| | |
| --- | --- |
| Weight | 1000 kg |
| Dimensions | 15 × 12 × 10 cm |

Sold
0
8
7
0
0
0
Shipping