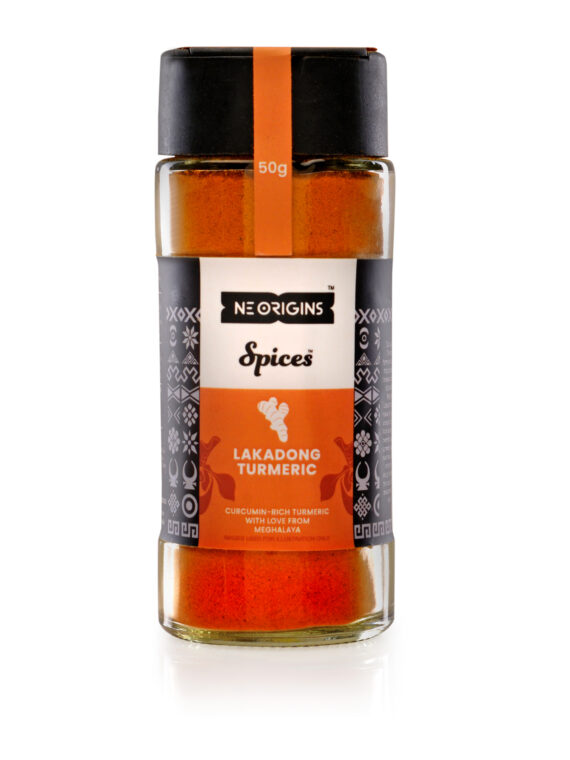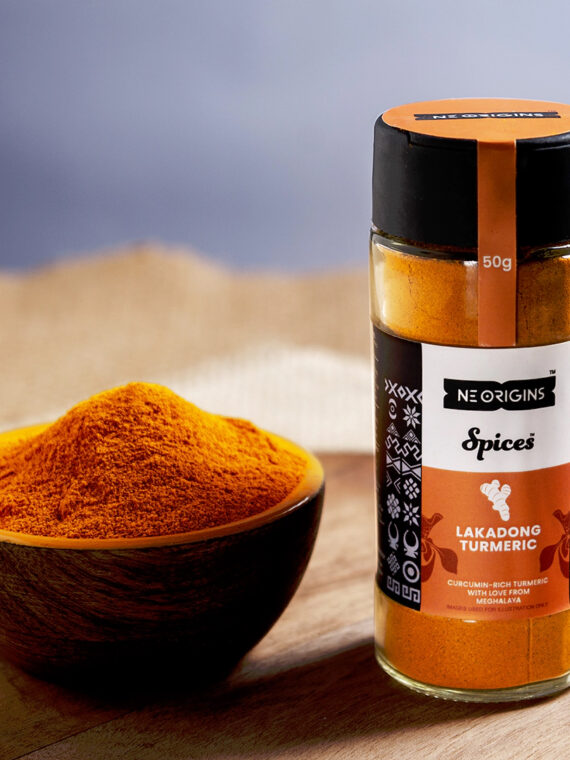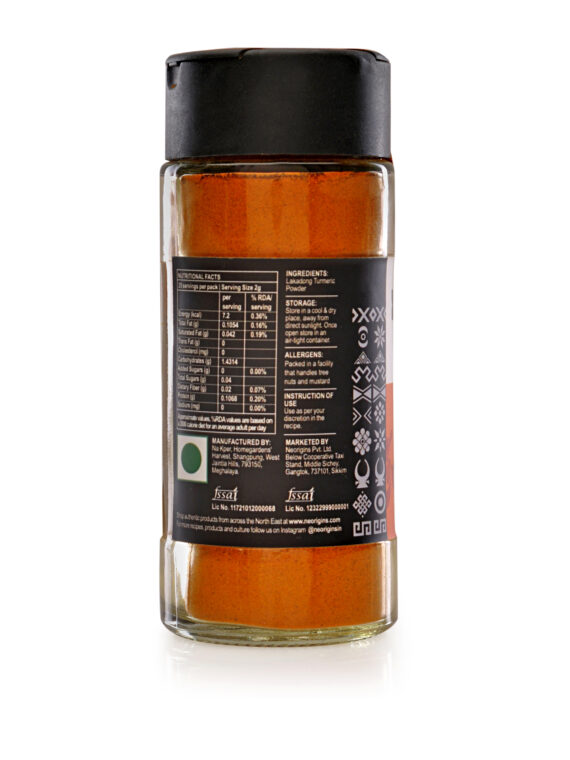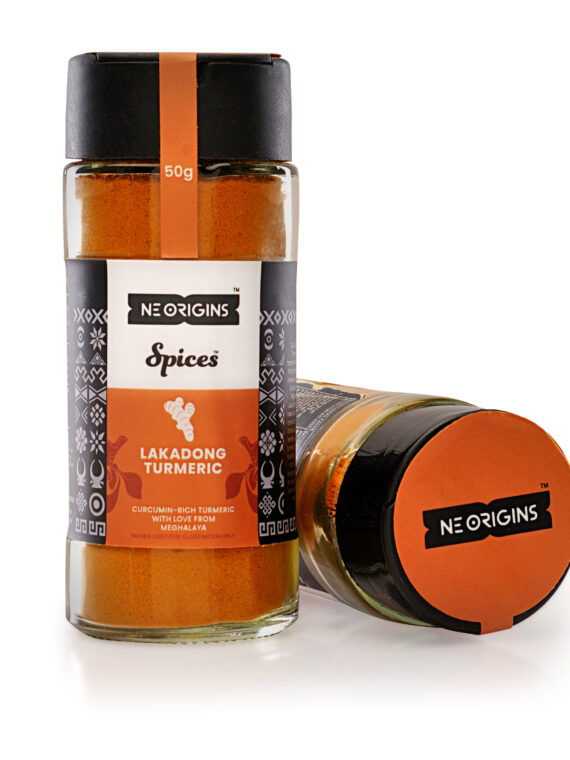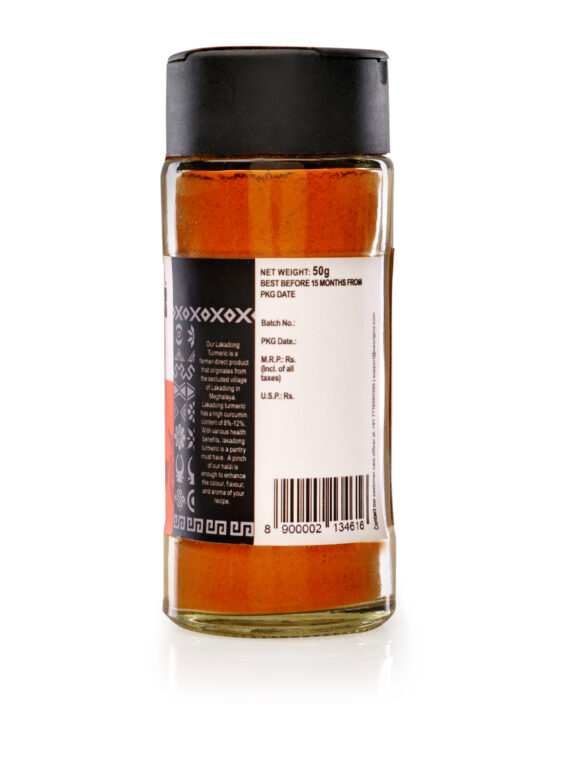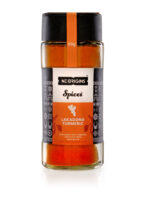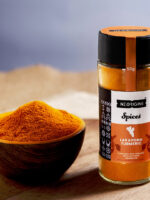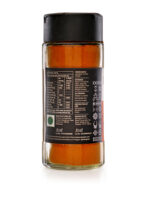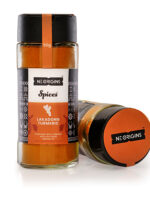 26
people are viewing this right now

Free Delivery Across India
Description
Our Lakadong Turmeric is a farmer-direct product that originates from the secluded village of Lakadong in Meghalaya. Lakadong turmeric has a high curcumin content of 12%. With various health benefits, this turmeric is a pantry must-have. A pinch of our haldi is enough to enhance the colour, flavour, and aroma of your recipe.
Ingredients
Ground Lakadong Turmeric
How to use?
In a small pan, add water and put it on medium-low heat, wait until the water boils. After that add NE Origins Lakadong Turmeric Powder, crushed ginger, ground cinnamon. Now, reduce the heat to medium-low and simmer for at least 10 minutes. Once done, strain tea into a large glass; add Organic Honey and lemon wedges and enjoy the healthier, and tastier drink.
FAQ
What does the pattern on your packaging represent?
-The symbols on our packaging represent that state symbols of the 8 states of North East India.
How do I consume the product?
-Please refer to the How to Use section above!
Can I get bulk discounts?
-Please reach our customer care officer for bulk inquiries.
Where do you source your products from?
-All our products are sourced from local manufacturers from the origin state where the product and its ingredients belong to.
NEOrigins
NE Origins strives to serve the Spirit of the Northeast through its food & culture. We offer access to authentic ingredients from Northeast India to our community across India and the world.
Quick Comparison
Settings
Lakadong Turmeric, 50g

remove

The Healthy Box

remove

Sichuan Peppercorns (Timur), 30g

remove

Meghalaya Smoky Tea, 100g

remove

Try It All

remove

Name
Lakadong Turmeric, 50g

remove

The Healthy Box

remove

Sichuan Peppercorns (Timur), 30g

remove

Meghalaya Smoky Tea, 100g

remove

Try It All

remove

Image
SKU
8900002134616
NEOCTHB
8900002134715
8900002134739
NEOCTIAB
Rating
Price
Stock

Out of stock

Availability

61

in stock

96

in stock

88

in stock

99

in stock
Out of stock
Add to cart
Description
Content
Our Lakadong Turmeric is a farmer-direct product that originates from the secluded village of Lakadong in Meghalaya. Lakadong turmeric has a high curcumin content of 12%. With various health benefits, this turmeric is a pantry must-have. A pinch of our haldi is enough to enhance the colour, flavour, and aroma of your recipe.

1. Lakadong Turmeric 50g

2. Stingless bee Honey 50ml

Lakadong Turmeric, Stingless bee Honey
This combination is crafted for all the health-conscious individuals. Now you can grab health and indigenous flavour in one pack.
The Stingless Bee honey comes from an uncommon small stingless bee from Nagaland. It has a unique wound healing capability with better nutritional benefits than any honey produced by normal bees.
Lakadong turmeric has a high curcumin content of approximately 12%. With various health benefits, this turmeric is a pantry must-have. Enhance the colour, flavour, and aroma of any recipe with Authentic Lakadong Turmeric from the Jaintia Hills of Meghalaya.

Our Sichuan peppercorns locally know as Timur in Sikkim, has a unique aroma and flavor that is neither hot like chilli peppers nor pungent like black pepper but has slight lemony overtones and creates a tingly numbness in the mouth. It is organically grown in Himalayan region especially in Sikkim.
Our Meghalaya Smoky Black tea is a tea grown at high altitudes through organic processes from the Ri-Bhoi District of Meghalaya. Smoke dried with Pine Wood, the tea has a unique earthy smell and camp-fire like aroma, with flavour notes of pine and burnt sugar. A must have for your tea pantry straight from the cloudy hills of Meghalaya.

Dalle Chilli Pickle 100g

Smoked Chicken Pickle 60g
Temi Tea Orthodox 250g
Naga Chilli Hot Sauce 60ml
Lakadong Turmeric 50g
Gundruk 100g
Wild Flower Honey 200g

You will get a total of 7 Indigenous items in this pack that's a perfect gift for the experimental foodie folks or even for the family.
The Dalle Chilli Pickle is a tangy and spicy pickle, whereas the Smoked Chicken Pickle is a delightful blend of traditional sour flavours with a hint of spiciness
The Temi Tea Orthodox is a favourite amongst those that love their tea just as it is. The rich and nutritional Wild forest honey is an excellent match with this.
The Naga Chilli Hot Sauce is a flawless balance of spice, tanginess and sweetness.
The Lakadong Turmeric makes for interesting culinary adventures for any foodie
And lastly, the Gundruk has an earthy flavour with a hint of sourness.

Weight
N/A
0.598 kg
0.260 kg
0.465 kg
1200 kg
Dimensions
8 × 4.5 × 9 cm
12 × 15 × 10 cm
17 × 9.6 × 17 cm
8 × 4.5 × 10 cm
12 × 15 × 10 cm
Additional information

| | |
| --- | --- |
| Dimensions | 8 × 4.5 × 9 cm |

| | |
| --- | --- |
| Weight | 0.598 kg |
| Dimensions | 12 × 15 × 10 cm |

| | |
| --- | --- |
| Weight | 0.260 kg |
| Dimensions | 17 × 9.6 × 17 cm |

| | |
| --- | --- |
| Weight | 0.465 kg |
| Dimensions | 8 × 4.5 × 10 cm |

| | |
| --- | --- |
| Weight | 1200 kg |
| Dimensions | 12 × 15 × 10 cm |

Sold
40
4
12
1
0
Shipping