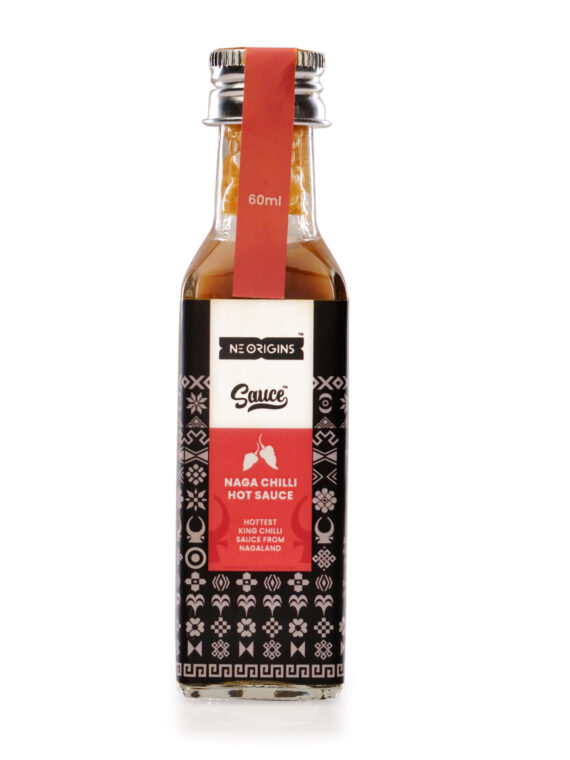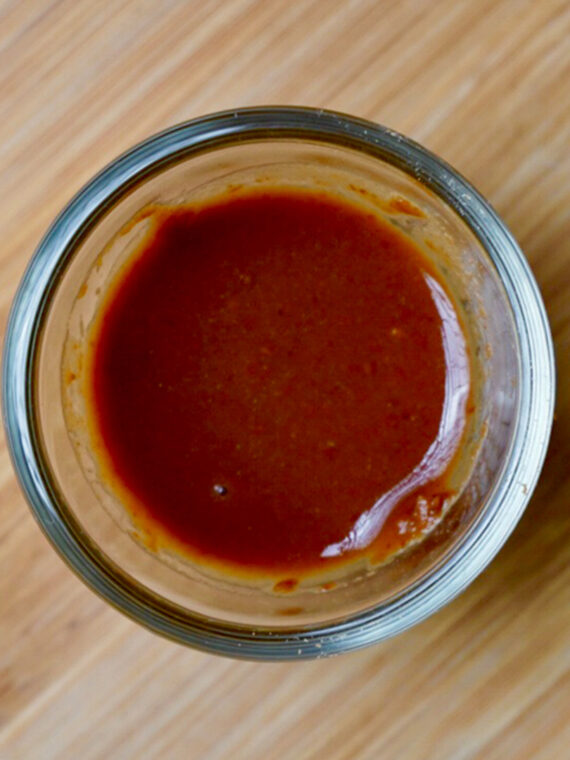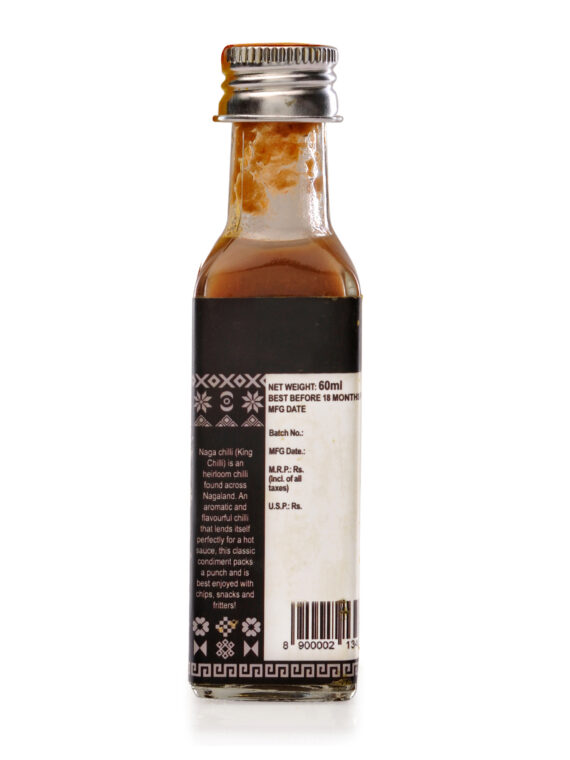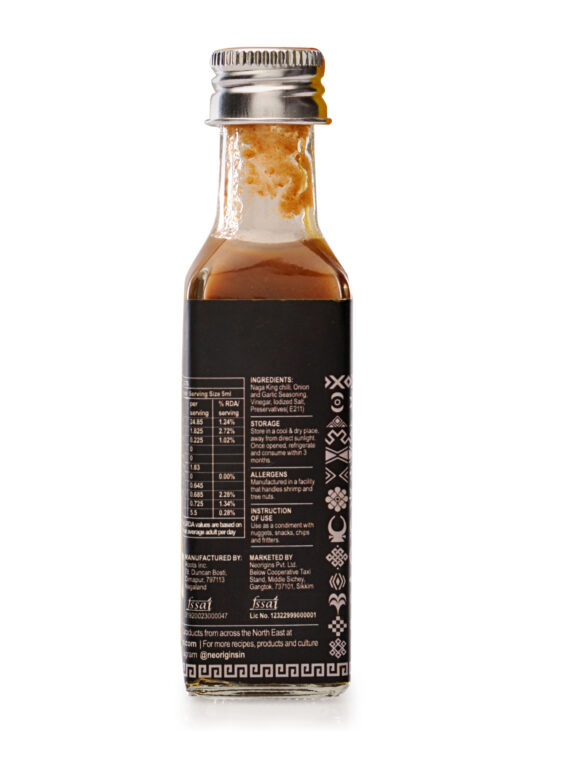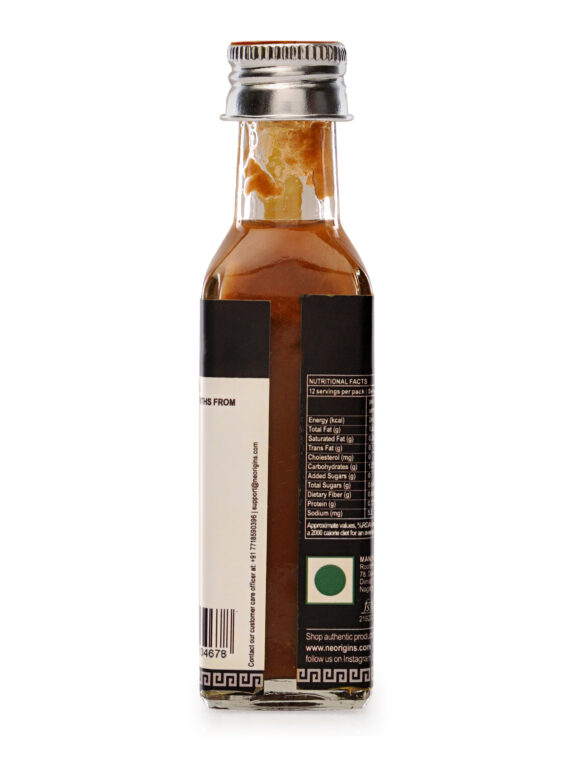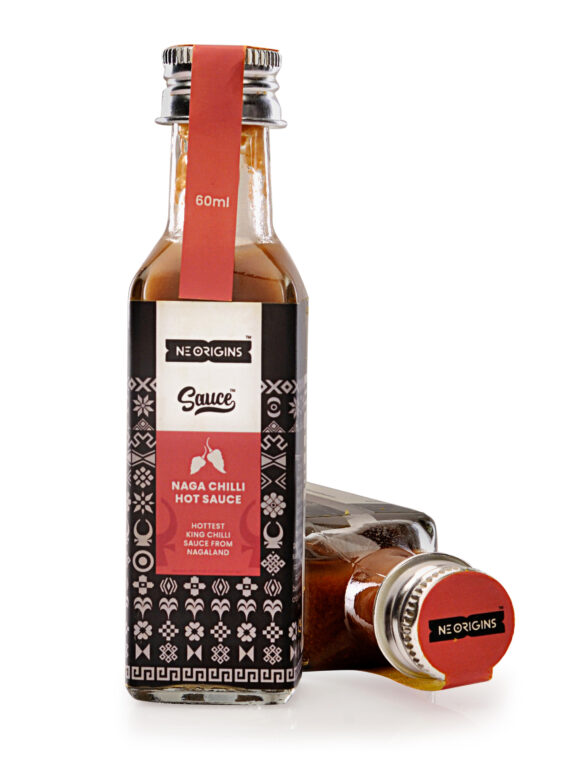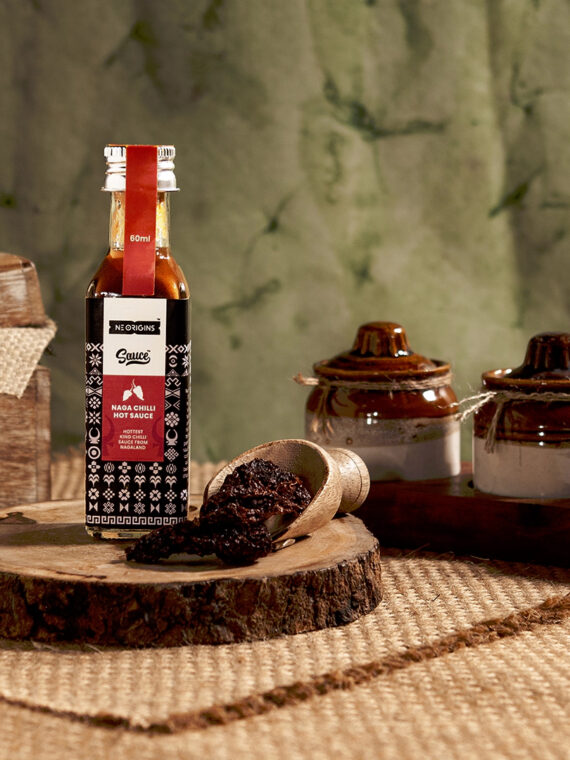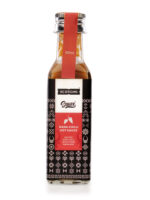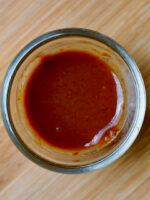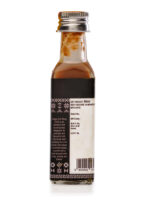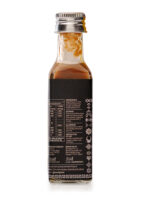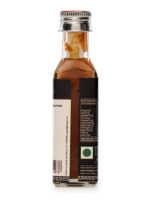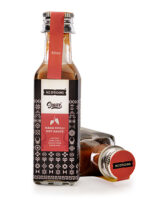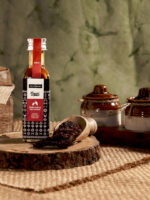 Naga King Chilli Hot Sauce, 60ml
20
people are viewing this right now

Free Delivery Across India
Description
This special Nagaland King Chilli sauce is devoured by many in the northeast region. Known for its high degree of spice and heat, this sauce is a haven for people who loves adding a flavourful twist to their meal. This classic sauce goes well with noodles, fried rice, and even as a dip for those who dare!
Ingredients
Naga King chilli, Onion and Garlic Seasoning, Vinegar, Iodized Salt, Preservatives( E211)
How to use?
As a sauce on everything and every dish that needs heat, great with dips, marinates, fritters, salad dressing and cocktails
FAQ
What does the pattern on your packaging represent?
-The symbols on our packaging represent that state symbols of the 8 states of North East India.
How do I consume the product?
-Please refer to the How to Use section above!
Can I get bulk discounts?
-Please reach our customer care officer for bulk inquiries.
Where do you source your products from?
-All our products are sourced from local manufacturers from the origin state where the product and its ingredients belong to.
NEOrigins
NE Origins strives to serve the Spirit of the Northeast through its food & culture. We offer access to authentic ingredients from Northeast India to our community across India and the world.
Quick Comparison
Settings
Naga King Chilli Hot Sauce, 60ml

remove

Stingless bee Honey (Putka ko maha), 50g

remove

Smoked Chicken Pickle, 60g

remove

Taste of The North East

remove

Missing Home

remove

Try It All

remove

Name
Naga King Chilli Hot Sauce, 60ml

remove

Stingless bee Honey (Putka ko maha), 50g

remove

Smoked Chicken Pickle, 60g

remove

Taste of The North East

remove

Missing Home

remove

Try It All

remove

Image
SKU
8900002134678
8900002134692
8900002134814
NEOCTNEB
NEOCMHB
NEOCTIAB
Rating
Price
Stock

Out of stock

Out of stock

Availability

87

in stock

87

in stock
Out of stock

50

in stock

50

in stock
Out of stock
Add to cart
Description
Content
This special Nagaland King Chilli sauce is devoured by many in the northeast region. Known for its high degree of spice and heat, this sauce is a haven for people who loves adding a flavourful twist to their meal. This classic sauce goes well with noodles, fried rice, and even as a dip for those who dare!
🧑‍⚕️ Wound healing property 🍀 antioxidant in vitro activity 💪 anti-inflammatory 👊 antimicrobial & anti-diabetic The Stingless bee (Melipona) honey commonly known as "putka to maha" is collected by a small species of bee adept at sucking nectar from the smallest of flowers and the deepest crevices of the flowers from the valleys of Northeast. The antioxidant in stingless bee honey could break the chain of free radicals that cause a detrimental effect on the wounded area. It is twice as nutritious compared to other types of honey.

Heat Level (🌶️) - 2/10 Not Spicy 

Smoked chicken pickle is made using finest quality chicken meat that is locally farmed in Nagaland. The meat is first smoked traditionally using pine woods which adds to its texture and flavour. Followed by shredding the meat and pickling with various spices and oil. It is enjoyed as a side with any Indian meals. Enjoy a truly delicious and local experience with this Chicken Pickle from Nagaland!

1. Wild Flower Honey 200g

2. Temi Tea Orthodox Black Tea 250g

3. Dalle Chilli Pickle 100g

4. Naga Chilli Hot Sauce 60ml

If you're interested to touch the true indigenous taste then this combo must be for you. With the Temi tea orthodox, honey, hot sauce and Dalle Chilli Pickle, your heart will be delighted in one go.
The Temi Tea Orthodox is a favourite amongst those that love their tea just as it is. The rich and nutritional Wild forest honey is an excellent match with the Temi tea.
One of the spiciest chilies in the world is delectably seasoned with complementary spices to bring you the traditional Achaar straight from Sikkim. Dalle chilli pickle may jazz up a plain lunch or dinner with the flavour of mustard oil and ground spices.
If spicing up dishes is your thing then this Naga King Chilli sauce will be your best friend from now on. As it can be considered the hottest sauce in India.

1. Black Rice 500g

2. Hot Sauce 60ml

3. King Chilli Pickle 200g

4. Dalle and Bamboo Shoot Pickle 100g

The combination of Naga King Chilli Hot sauce, King Chilli Pickle and the Dalle Bambooshoot Pickle is what you need to cure your homesickness.
Black Rice or Chak-hao is an indigenous rice variety from Manipur, which may surprise you with the distinctive aroma of the available white rice in the market.
If spicing up dishes is your thing then this Naga King Chilli sauce will be your best friend from now on. As it can be considered the hottest sauce in India.
The spicy achaar is made with Dalle Khursani and Young Bamboo Shoot to give you a unique taste and flavour together. To balance the hot and heat of Fireball Cherry Pepper there is a tinge of sweetness coming from the tender Bamboo shoot.

Dalle Chilli Pickle 100g

Smoked Chicken Pickle 60g
Temi Tea Orthodox 250g
Naga Chilli Hot Sauce 60ml
Lakadong Turmeric 50g
Gundruk 100g
Wild Flower Honey 200g

You will get a total of 7 Indigenous items in this pack that's a perfect gift for the experimental foodie folks or even for the family.
The Dalle Chilli Pickle is a tangy and spicy pickle, whereas the Smoked Chicken Pickle is a delightful blend of traditional sour flavours with a hint of spiciness
The Temi Tea Orthodox is a favourite amongst those that love their tea just as it is. The rich and nutritional Wild forest honey is an excellent match with this.
The Naga Chilli Hot Sauce is a flawless balance of spice, tanginess and sweetness.
The Lakadong Turmeric makes for interesting culinary adventures for any foodie
And lastly, the Gundruk has an earthy flavour with a hint of sourness.

Weight
0.260 kg
0.220 kg
0.490 kg
1000 kg
0.999 kg
1200 kg
Dimensions
17 × 9.6 × 17 cm
17 × 9.6 × 17 cm
12 × 15 × 10 cm
15 × 12 × 10 cm
12 × 15 × 10 cm
12 × 15 × 10 cm
Additional information

| | |
| --- | --- |
| Weight | 0.260 kg |
| Dimensions | 17 × 9.6 × 17 cm |

| | |
| --- | --- |
| Weight | 0.220 kg |
| Dimensions | 17 × 9.6 × 17 cm |

| | |
| --- | --- |
| Weight | 0.490 kg |
| Dimensions | 12 × 15 × 10 cm |

| | |
| --- | --- |
| Weight | 1000 kg |
| Dimensions | 15 × 12 × 10 cm |

| | |
| --- | --- |
| Weight | 0.999 kg |
| Dimensions | 12 × 15 × 10 cm |

| | |
| --- | --- |
| Weight | 1200 kg |
| Dimensions | 12 × 15 × 10 cm |

Sold
13
13
10
0
0
0
Shipping