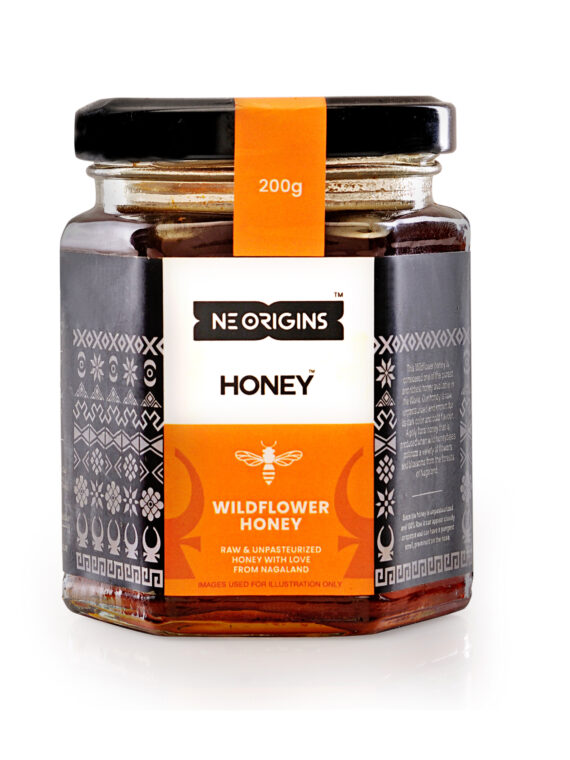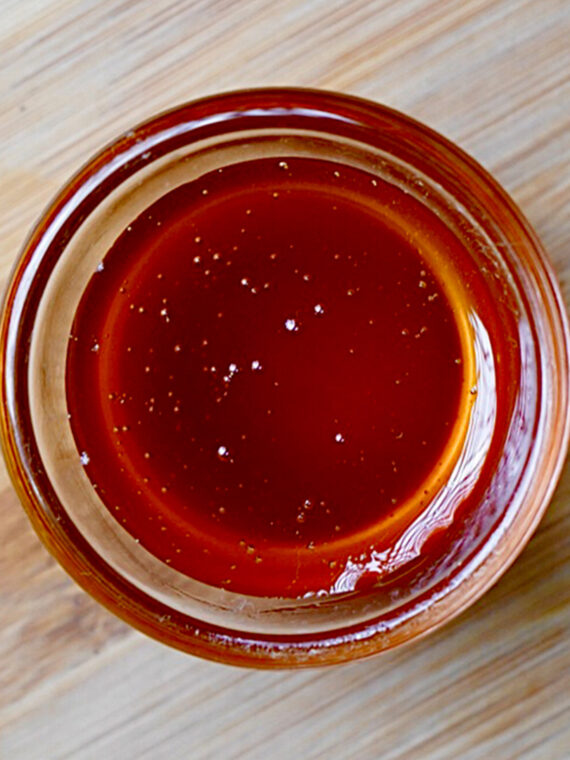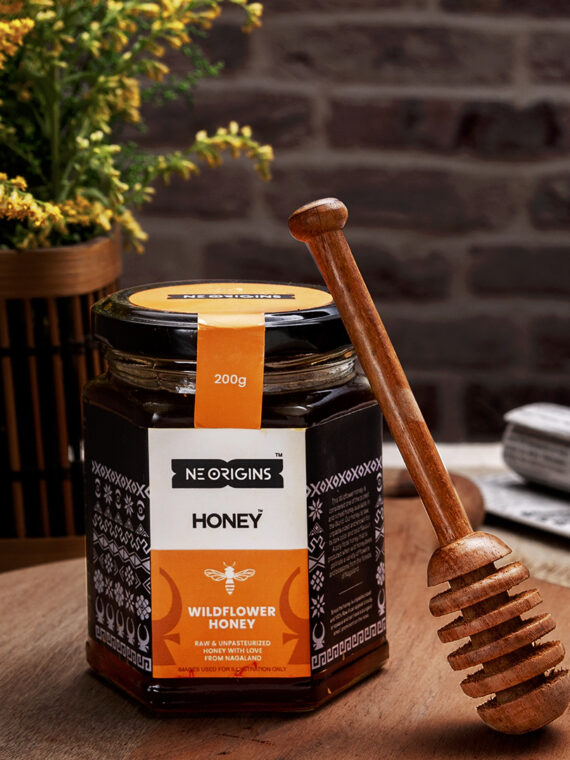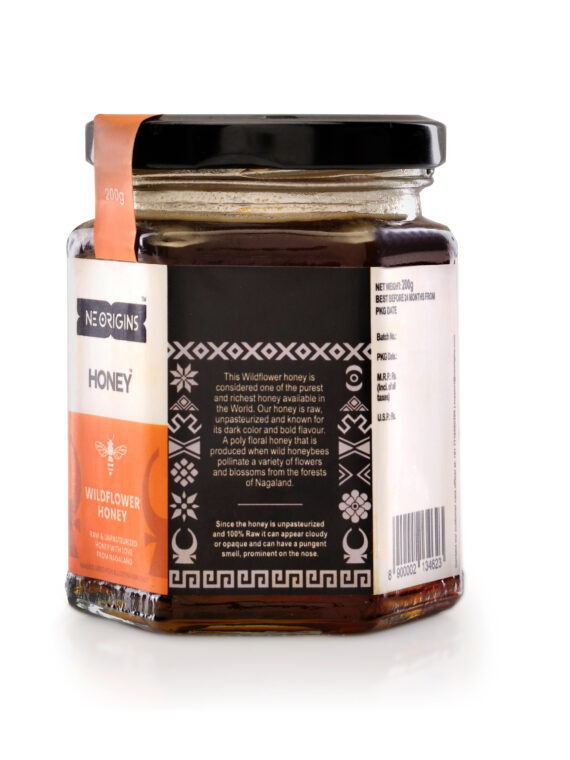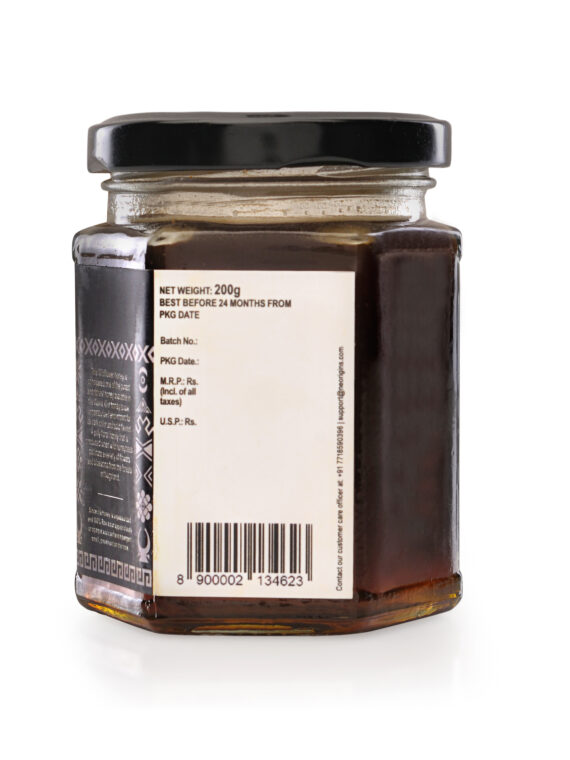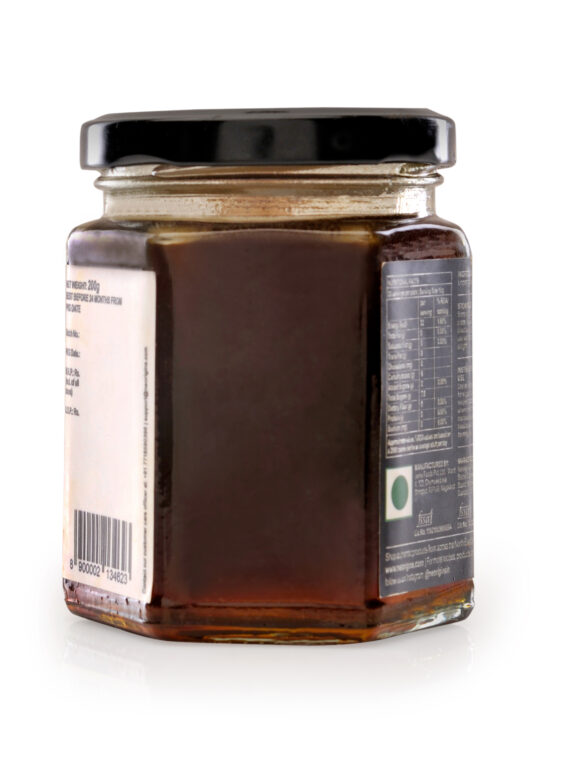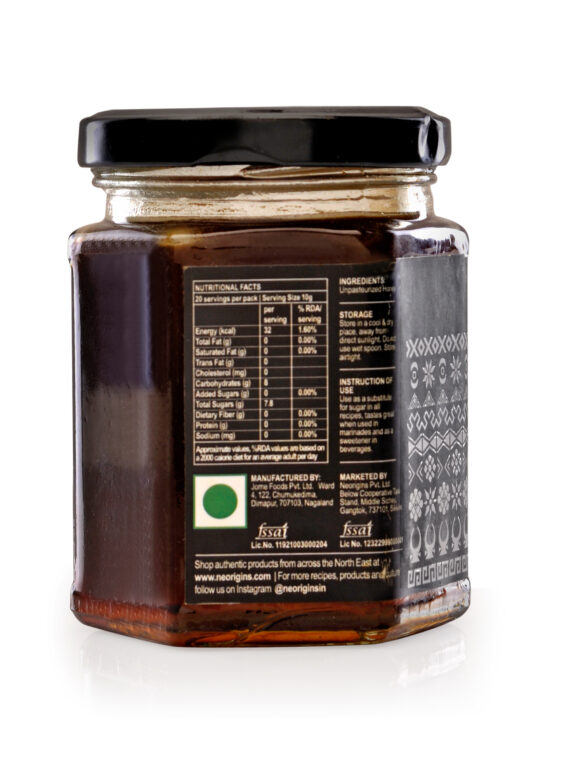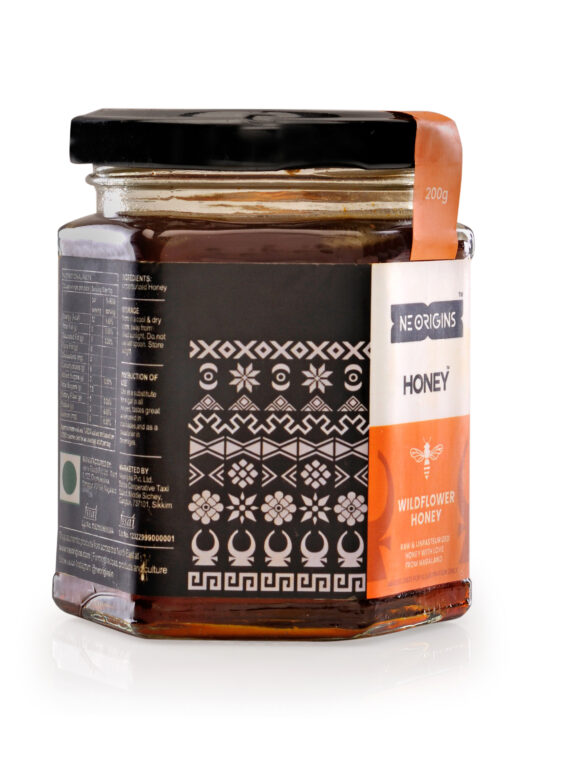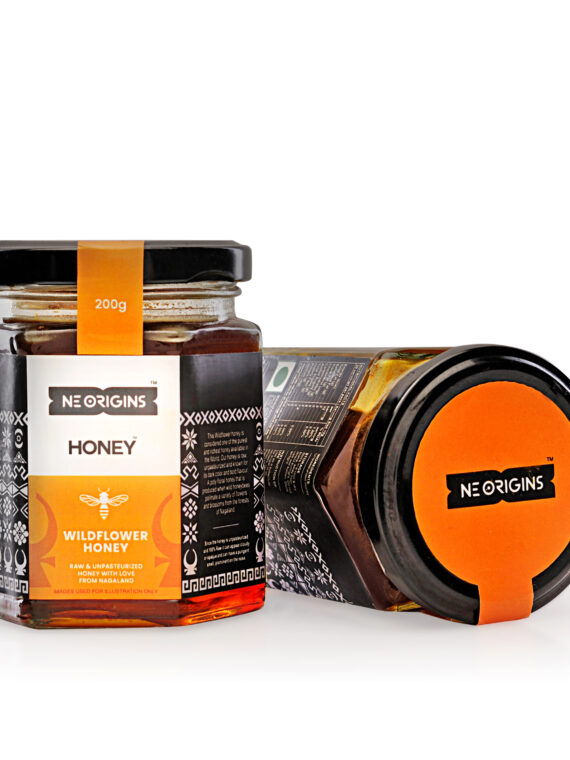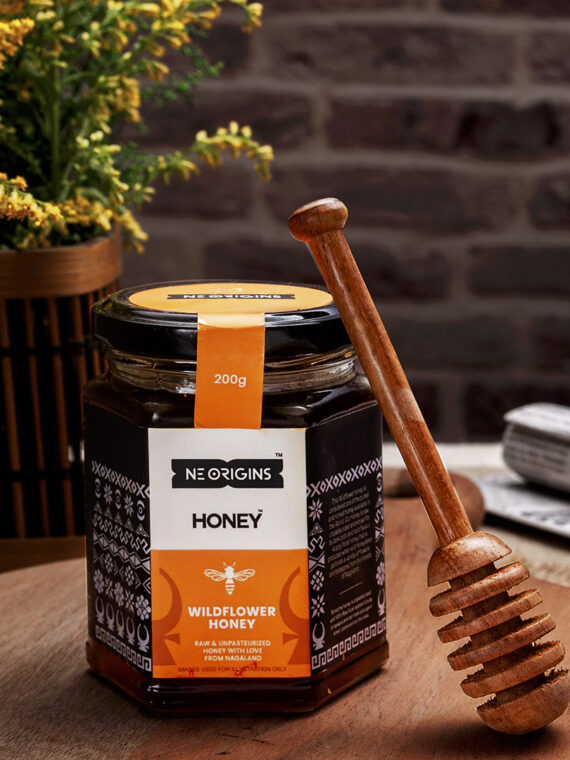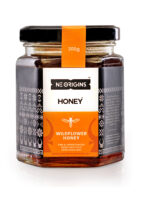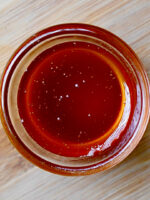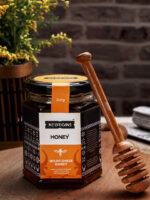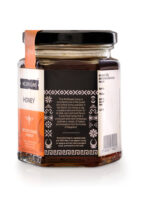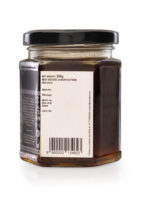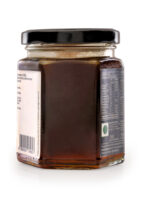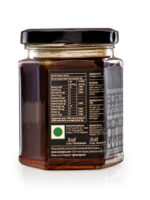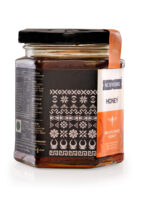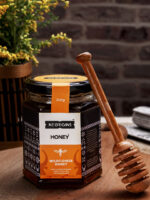 Wildflower Honey (Multifloral Apis Cerena), 200g
29
people are viewing this right now

Free Delivery Across India
Description
This Wildflower honey is considered one of the purest and richest honeys available in the World. Our honey is raw, unpasteurized, and known for its dark color and bold flavour. A poly floral honey that is produced when wild honeybees pollinate a variety of flowers and blossoms from the forests of Nagaland.
Ingredients
Unpasteurized Natural Asian bee (Multifloral) honey
How to use?
Can be taken half tablespoon as a medicine, or can also act as a natural sweetener.
FAQ
What does the pattern on your packaging represent?
-The symbols on our packaging represent that state symbols of the 8 states of North East India.
How do I consume the product?
-Please refer to the How to Use section above!
Can I get bulk discounts?
-Please reach our customer care officer for bulk inquiries.
Where do you source your products from?
-All our products are sourced from local manufacturers from the origin state where the product and its ingredients belong to.
NEOrigins
NE Origins strives to serve the Spirit of the Northeast through its food & culture. We offer access to authentic ingredients from Northeast India to our community across India and the world.
Quick Comparison
Settings
Wildflower Honey (Multifloral Apis Cerena), 200g

remove

Stingless bee Honey (Putka ko maha), 50g

remove

Pickle Sampler

remove

King Chilli Pickle, (Bhut Jolokia Pickle) 200g

remove

Missing Home

remove

King Chilli with Bamboo Shoot Pickle, 200g

remove

Name
Wildflower Honey (Multifloral Apis Cerena), 200g

remove

Stingless bee Honey (Putka ko maha), 50g

remove

Pickle Sampler

remove

King Chilli Pickle, (Bhut Jolokia Pickle) 200g

remove

Missing Home

remove

King Chilli with Bamboo Shoot Pickle, 200g

remove

Image
SKU
8900002134623
8900002134692
NEOCPSB
8900002134210
NEOCMHB
8900002134791
Rating
Price
Stock
Availability

97

in stock

93

in stock

50

in stock

76

in stock

50

in stock

79

in stock
Add to cart
Description
Content
This Wildflower honey is considered one of the purest and richest honeys available in the World. Our honey is raw, unpasteurized, and known for its dark color and bold flavour. A poly floral honey that is produced when wild honeybees pollinate a variety of flowers and blossoms from the forests of Nagaland.
🧑‍⚕️ Wound healing property 🍀 antioxidant in vitro activity 💪 anti-inflammatory 👊 antimicrobial & anti-diabetic The Stingless bee (Melipona) honey commonly known as "putka to maha" is collected by a small species of bee adept at sucking nectar from the smallest of flowers and the deepest crevices of the flowers from the valleys of Northeast. The antioxidant in stingless bee honey could break the chain of free radicals that cause a detrimental effect on the wounded area. It is twice as nutritious compared to other types of honey.

1. Dalle Chilli Pickle 100g

2. King Chilli Pickle 200g

3. Bamboo Shoot Pickle 200g

This is a combination of our three pickles - the Dalle chilli Pickle, the King Chilli Pickle, and the Bamboo Shoot Pickle. Rich in Vitamin C, potassium and fibre, these are great accompaniments for snacks, chaat and Indian curries
The Dalle Chilli Pickle is a tangy and spicy pickle.
There is a delicious, hot and spicy pickle with fresh King chillies.
Bamboo Shoot pickle will offer you a fresh breath in the air with its subtler taste than the other two.

Heat Level (🌶️) - 6/10 Tangy & Spicy 

King Chilli (

Raja Mircha

) is considered as one of the hottest chilli in the world. NE Origins King Chilli pickle is directly sourced from Nagaland. Its tangy and not very hot, the aroma from these chilli itself is enough to make one salivate. Moreover, It makes a perfect condiment for comforting meals at home.

1. Black Rice 500g

2. Hot Sauce 60ml

3. King Chilli Pickle 200g

4. Dalle and Bamboo Shoot Pickle 100g

The combination of Naga King Chilli Hot sauce, King Chilli Pickle and the Dalle Bambooshoot Pickle is what you need to cure your homesickness.
Black Rice or Chak-hao is an indigenous rice variety from Manipur, which may surprise you with the distinctive aroma of the available white rice in the market.
If spicing up dishes is your thing then this Naga King Chilli sauce will be your best friend from now on. As it can be considered the hottest sauce in India.
The spicy achaar is made with Dalle Khursani and Young Bamboo Shoot to give you a unique taste and flavour together. To balance the hot and heat of Fireball Cherry Pepper there is a tinge of sweetness coming from the tender Bamboo shoot.

Heat Level (🌶️) - 7/10 Very Spicy 

King Chilli (

Raja Mircha

) is considered as one of the hottest chilli in the world. NE Origins King Chilli bamboo shoot pickle is directly sourced from Nagaland where King Chilli has it's origin. Besides being hot & spicy, the aroma from this chilli itself is enough to make one salivate and makes a perfect condiment for comforting meals at home.
Weight
0.598 kg
0.220 kg
1000 kg
0.490 kg
0.999 kg
0.490 kg
Dimensions
17 × 9.5 × 17 cm
17 × 9.6 × 17 cm
12 × 15 × 10 cm
10 × 10 × 6 cm
12 × 15 × 10 cm
6 × 6 × 10 cm
Additional information

| | |
| --- | --- |
| Weight | 0.598 kg |
| Dimensions | 17 × 9.5 × 17 cm |

| | |
| --- | --- |
| Weight | 0.220 kg |
| Dimensions | 17 × 9.6 × 17 cm |

| | |
| --- | --- |
| Weight | 1000 kg |
| Dimensions | 12 × 15 × 10 cm |

| | |
| --- | --- |
| Weight | 0.490 kg |
| Dimensions | 10 × 10 × 6 cm |

| | |
| --- | --- |
| Weight | 0.999 kg |
| Dimensions | 12 × 15 × 10 cm |

| | |
| --- | --- |
| Weight | 0.490 kg |
| Dimensions | 6 × 6 × 10 cm |

Sold
3
7
0
25
0
22
Shipping