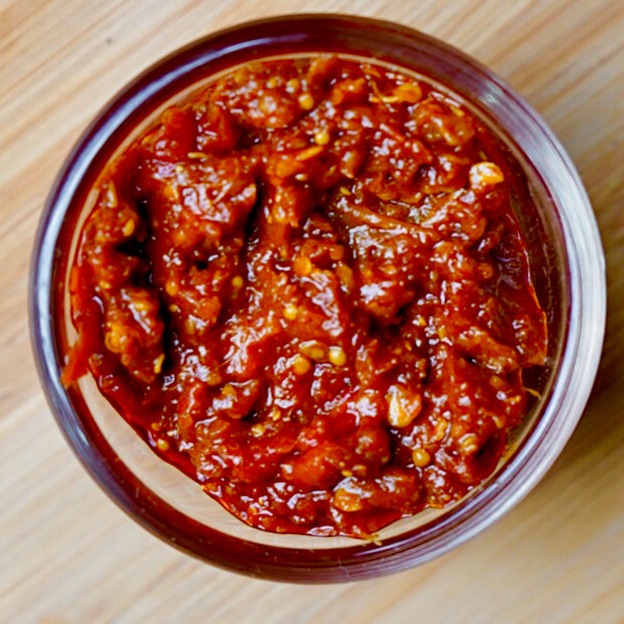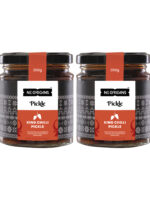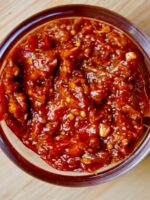 King Chilli Pickle (Bhut Jolokia) 200g, Pack Of 2
25
people are viewing this right now

Free Delivery Across India
Description
Heat Level (🌶️) – 8/10 Extremely Spicy 
King Chilli (Raja Mircha) is considered as one of the hottest chilli in the world. NE Origins King Chilli pickle is directly sourced from Nagaland. Its tangy and not very hot, the aroma from these chilli itself is enough to make one salivate. Moreover, It makes a perfect condiment for comforting meals at home.
Ingredients
Fresh King chilli, Ginger, Garlic, Fenugreek seeds, Mustard oil, Spices & permitted class II preservatives
How to use?
Use 1/2 or 1 tsp as a condiment with Rice, Curries and a range of Indian preparations.
FAQ
What does the pattern on your packaging represent?
-The symbols on our packaging represent that state symbols of the 8 states of North East India.
How do I consume the product?
-Please refer to the How to Use section above!
Can I get bulk discounts?
-Please reach our customer care officer for bulk inquiries.
Where do you source your products from?
-All our products are sourced from local manufacturers from the origin state where the product and its ingredients belong to.
NEOrigins
NE Origins strives to serve the Spirit of the Northeast through its food & culture. We offer access to authentic ingredients from Northeast India to our community across India and the world.
Quick Comparison
Settings
King Chilli Pickle (Bhut Jolokia) 200g, Pack Of 2

remove

Smoked Pork Pickle, 60g

remove

Dalle Chilli Paste 100g, Pack Of 2

remove

Dalle Chilli Pickle 100g,Pack of 4

remove

Orange Marmalade, 250g, Pack Of 2

remove

Dalle Chilli with Bamboo Shoot Pickle 200g, Pack Of 2

remove

Name
King Chilli Pickle (Bhut Jolokia) 200g, Pack Of 2

remove

Smoked Pork Pickle, 60g

remove

Dalle Chilli Paste 100g, Pack Of 2

remove

Dalle Chilli Pickle 100g,Pack of 4

remove

Orange Marmalade, 250g, Pack Of 2

remove

Dalle Chilli with Bamboo Shoot Pickle 200g, Pack Of 2

remove

Image
SKU
NEOKCP
8900002134319
NEODCP
NEOPDC
ORMP002
NEODCWB
Rating
Price
Stock
Availability

90

in stock

83

in stock

97

in stock

49

in stock

47

in stock
Add to cart
Description
Content

Heat Level (🌶️) - 8/10 Extremely Spicy 

King Chilli (Raja Mircha) is considered as one of the hottest chilli in the world. NE Origins King Chilli pickle is directly sourced from Nagaland. Its tangy and not very hot, the aroma from these chilli itself is enough to make one salivate. Moreover, It makes a perfect condiment for comforting meals at home.

Heat Level (🌶️) - 2/10 Not Spicy 

Smoked pork pickle is made using finest quality pork meat that is locally farmed in Nagaland. The meat is first smoked traditionally using pine woods which adds to its texture and flavour. Followed by shredding the meat and pickling with various spices and oil. It is enjoyed with as a side with any Indian meals. Enjoy a truly delicious and local experience with this Pork Pickle from Nagaland!

Heat Level (🌶️) - 6/10 Medium Spicy 

Emerging from the foothills of the Himalayas, Dalle Khursani also known as Fireball Cherry Pepper is one of the hottest chillies in the world! A traditional recipe of Dalle Chilli paste is a staple in every household in the north east. This hot and spicy chilli also serves as a perfect condiment for comforting meals at home.

Dalle Khursani (Fireball cherry pepper) is a special variety of chilli grown in Sikkim. Scarlet red in colour, it is one of the hottest chillies in the world. Biting into these chilli with every morsel of rice adds heaps of flavour to the food that hits the right spot. The aroma from these chillies complemented by the tang from the pickle serves as a perfect condiment for comforting meals at home.
Sikkim Orange marmalade is a variation of the  traditional orange marmalade that uses oranges grown in the state of Sikkim , which is located in northeastern India . Sikkim Orange marmalade is a popular product in Sikkim and other parts of India . Sikkim oranges are known for their intense flavor and aroma , which makes them ideal for making marmalade. it is often enjoyed as a breakfast spread , but it can also be used in baking or as a condiment to accompany savory dishes.

Heat Level (🌶️) - 6/10 Medium Spicy 

Grown on the lush foothills of the Himalayas, Dalle Khursani also known as Fireball Cherry Pepper is one of the hottest chillies in the world! A traditional recipe including Dalle Chilli and young Bamboo Shoot is a staple in every household in the northeast. The aroma from the chillies complemented by the tang from the pickle makes a perfect condiment for comforting meals at home.

Weight
0.999 kg
0.490 kg
0.990 kg
1000 kg
1000 kg
0.990 kg
Dimensions
15 × 12 × 10 cm
10 × 10 × 6 cm
12 × 15 × 10 cm
15 × 12 × 10 cm
12 × 15 × 10 cm
12 × 15 × 10 cm
Additional information

| | |
| --- | --- |
| Weight | 0.999 kg |
| Dimensions | 15 × 12 × 10 cm |

| | |
| --- | --- |
| Weight | 0.490 kg |
| Dimensions | 10 × 10 × 6 cm |

| | |
| --- | --- |
| Weight | 0.990 kg |
| Dimensions | 12 × 15 × 10 cm |

| | |
| --- | --- |
| Weight | 1000 kg |
| Dimensions | 15 × 12 × 10 cm |

| | |
| --- | --- |
| Weight | 1000 kg |
| Dimensions | 12 × 15 × 10 cm |

| | |
| --- | --- |
| Weight | 0.990 kg |
| Dimensions | 12 × 15 × 10 cm |

Sold
10
17
3
1
0
3
Shipping