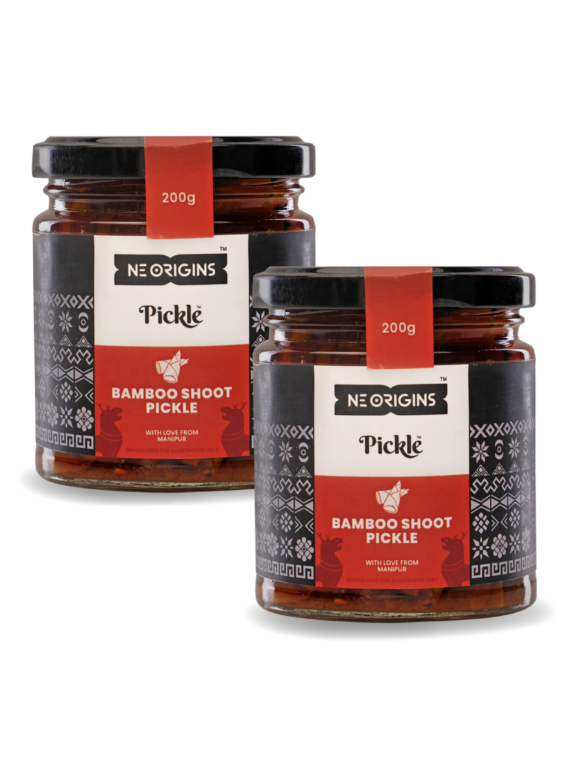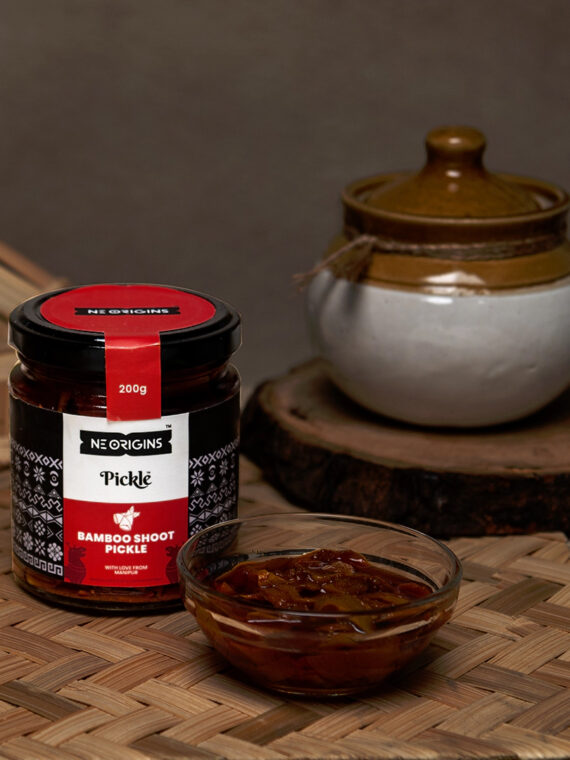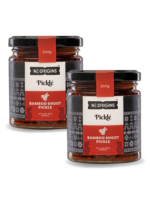 Bamboo Shoot Pickle 200g,Pack Of 2
30
people are viewing this right now

Free Delivery Across India
Description
Heat Level (🌶️) – 4/10 Spicy 
Our flavourful bamboo shoot pickle is made from bamboo shoots grown in the abundant hills of Manipur. Bamboo shoots are a popular among northeast Indians because of it's distinctive taste and flavour. This pickle has got a subtle flavour, crunchy texture and an appetizing smell. Enjoy as a side with any Indian meal.
Ingredients
Fermented Bamboo shoot, Mixed Spices, Edible Vegetable Oil (Mustard Oil), Iodized Salt, Acidity Regulator (E260)
How to use?
As an accompaniment to all kinds of Indian cuisines
FAQ
Q. What is bamboo shoot pickle?
A. Bambooshoot Pickle is an indigenous delicacy enjoyed by various cultures across India. Our Bambooshoot pickle is made in Manipur and is locally known as Soibum Achar! Made with mustard oil, simple spices and salt, and most commonly enjoyed as a side with indian preparations. Bambooshoot Pickle is famous across the north east and is consumed heavily in Meghalaya and Assam, as well as in parts of Southern India.
Q. How do you eat a bamboo shoot pickle?
A. Bambooshoot Pickle is enjoyed as a condiment with a staple indian meal. Across India, a meal is enjoyed mainly as rice, roti, sabzi and dal, some culture may avoid 1-2 of the items depending on the time of day, but mostly consume along these lines. Bambooshoot pickle can be consumed as a side with any of these meals to add a layer of umami and pungency to a simple meal, adding heaps of flavour!
Q. What is the benefits of eating bamboo shoots?
A. Bambooshoot are a nutrient powerhouse, being low in fat, rich in protein and fiber and essential minerals. This build up of nutrients makes bambooshoot perfect for maintaining an appetite, supporting a healthy heart, support bodily functions and maintain mineral balance. The fiber in bambooshoot also aids in digestion.
Q. What do pickled bamboo shoots taste like?
A. Pickled bambooshoots have a mildly sweet, soft and have a fibrous texture. They have a flavour of umami and in our case a rounded flavour profile with indigenous spices and mustard oil.
Q. Is bamboo pickle good for health?
A. Like any good thing, bamboo pickle does support a healthy lifestyle, however eating too much of it cannot be considered part of a healthy diet.
Q. What ingredients are used in bamboo shoot pickle?
A. Bambooshoot pickle is made with young bambooshoots, iodized salt, fragrant mustard oil and simple indigenous spices.
Q. Where can I buy best quality bamboo shoot pickle online?
A. Our Bambooshoot pickle is made in small batches using the finest quality ingredients and packed with the utmost care. You can expect the best quality product from NE Origins.
Q. Can I use bamboo shoot pickle during pregnancy?
A. We do not add any Class II preservatives or MSG in any of our products, however you can consult your physician before consuming.
Q.What are the bamboo shoot pickle uses?
A. Bamboo Shoot Pickle can be consumed as a side dish with rice, roti or other indian preparations. It can also be used to marinade and cook food and add the achari flavour to the dish you are making.
Q. What is bamboo shoot pickle 1kg price?
A. We currently do not offer 1 Kg packs of Bamboo shoot pickle, however there are bulk discounts available on multiple pack orders. For bulk orders, please contact our customer care helpline. The cost of a 200g jar of bambooshoot pickle is on the product page.
Q. How to use pickled bamboo shoots?
A. Pickled bambooshoots can be used to add heaps of flavour to stews, broths, and curries.
NEOrigins
NE Origins strives to serve the Spirit of the Northeast through its food & culture. We offer access to authentic ingredients from Northeast India to our community across India and the world.
Quick Comparison
Settings
Bamboo Shoot Pickle 200g,Pack Of 2

remove

Dalle Chilli Pickle 100g,Pack of 4

remove

Temi Tea Orthodox Special 250g, Pack Of 2

remove

Orange Marmalade, 250g, Pack Of 4

remove

King Chilli Pickle (Bhut Jolokia) 200g, Pack Of 2

remove

Kiwi Jam, 250g, Pack of 3

remove

Name
Bamboo Shoot Pickle 200g,Pack Of 2

remove

Dalle Chilli Pickle 100g,Pack of 4

remove

Temi Tea Orthodox Special 250g, Pack Of 2

remove

Orange Marmalade, 250g, Pack Of 4

remove

King Chilli Pickle (Bhut Jolokia) 200g, Pack Of 2

remove

Kiwi Jam, 250g, Pack of 3

remove

Image
SKU
NEOBSP
NEOPDC
NEOTTO
ORMP004
NEOKCP
KJMP003
Rating
Price
Stock
Availability

100

in stock

49

in stock

36

in stock

90

in stock

50

in stock
Add to cart
Description
Content

Heat Level (🌶️) - 4/10 Spicy 

Our flavourful bamboo shoot pickle is made from bamboo shoots grown in the abundant hills of Manipur. Bamboo shoots are a popular among northeast Indians because of it's distinctive taste and flavour. This pickle has got a subtle flavour, crunchy texture and an appetizing smell. Enjoy as a side with any Indian meal.

Dalle Khursani (Fireball cherry pepper) is a special variety of chilli grown in Sikkim. Scarlet red in colour, it is one of the hottest chillies in the world. Biting into these chilli with every morsel of rice adds heaps of flavour to the food that hits the right spot. The aroma from these chillies complemented by the tang from the pickle serves as a perfect condiment for comforting meals at home.
🍃Organic Certified Tea Estate 📍Single Origin - Temi Tea Estate, Sikkim 🫀High in Antioxidants The Orthodox Special Temi Tea is the blend of the spring, monsoon and autumn flush of the Temi Tea Estate. This tea is affordable yet premium, perfect for your everyday use at home. This multipack is created for a monthly consumption for a small family.

Temi was established in 1969 by the Chogyal of Sikkim, he converted 440 acres of land into a sprawling tea plantation. Ravangla was the initial choice for the plantation but it was later shifted to Temi for weather feasibility, he gave this exquisite stretch on gentle slopes on loamy soil. Just perfect to grow tea.

Today the Temi Estate brings to you a range of exclusive teas like the premier first flush, other flushes of orthodox, oolong, green and white tea. Certified as an Organic Tea Estate in 2008, it has won laurels from all around the world. The teas of Temi are known to be one of the finest teas in the world today. The distinctive landscape of Temi Tea Estate gives each cup a character that is wholly unmatched. Spread across the elevations ranging from 1400 to 2000 metres above sea level, each season at the Temi Tea Estate moulds every flush differently. From the earliest tea to now, Temi has proudly retained its legacy, character and aroma.

From the Chogyal of Sikkim it is now run by the government and doing everything possible to preserve this heritage and take it forward. The government packs it under the brand "Temi" and sells it across the state of Sikkim. We at NE Origins support the endeavour and help them find national and international market for this amazing "taste of distant saga" teas.

Sikkim Orange marmalade is a variation of the  traditional orange marmalade that uses oranges grown in the state of Sikkim , which is located in northeastern India . Sikkim Orange marmalade is a popular product in Sikkim and other parts of India . Sikkim oranges are known for their intense flavor and aroma , which makes them ideal for making marmalade. it is often enjoyed as a breakfast spread , but it can also be used in baking or as a condiment to accompany savory dishes.

Heat Level (🌶️) - 8/10 Extremely Spicy 

King Chilli (Raja Mircha) is considered as one of the hottest chilli in the world. NE Origins King Chilli pickle is directly sourced from Nagaland. Its tangy and not very hot, the aroma from these chilli itself is enough to make one salivate. Moreover, It makes a perfect condiment for comforting meals at home.

Introducing Ne Origins Kiwi Jam, made in Sikkim! What could be more delicious than jam made with freshly-picked kiwis? Our jam is made with the goodness of real kiwi fruits, blended with a perfect balance of sweetness and tartness. Made with natural ingredients, this jam has a unique flavor that will burst from your palate on every bite. With just the right amount of crunch, this versatile jam is perfect to spread on your morning toast, add to your favorite desserts, or even mix with a glass of sparkling wine. Enjoy the taste of paradise that Sikkim has to offer with Ne Origins Kiwi Jam.
Weight
0.999 kg
1000 kg
0.598 kg
1000 kg
0.999 kg
1000 kg
Dimensions
12 × 15 × 10 cm
15 × 12 × 10 cm
12 × 15 × 10 cm
15 × 12 × 10 cm
15 × 12 × 10 cm
12 × 15 × 10 cm
Additional information

| | |
| --- | --- |
| Weight | 0.999 kg |
| Dimensions | 12 × 15 × 10 cm |

| | |
| --- | --- |
| Weight | 1000 kg |
| Dimensions | 15 × 12 × 10 cm |

| | |
| --- | --- |
| Weight | 0.598 kg |
| Dimensions | 12 × 15 × 10 cm |

| | |
| --- | --- |
| Weight | 1000 kg |
| Dimensions | 15 × 12 × 10 cm |

| | |
| --- | --- |
| Weight | 0.999 kg |
| Dimensions | 15 × 12 × 10 cm |

| | |
| --- | --- |
| Weight | 1000 kg |
| Dimensions | 12 × 15 × 10 cm |

Sold
0
1
14
0
10
0
Shipping