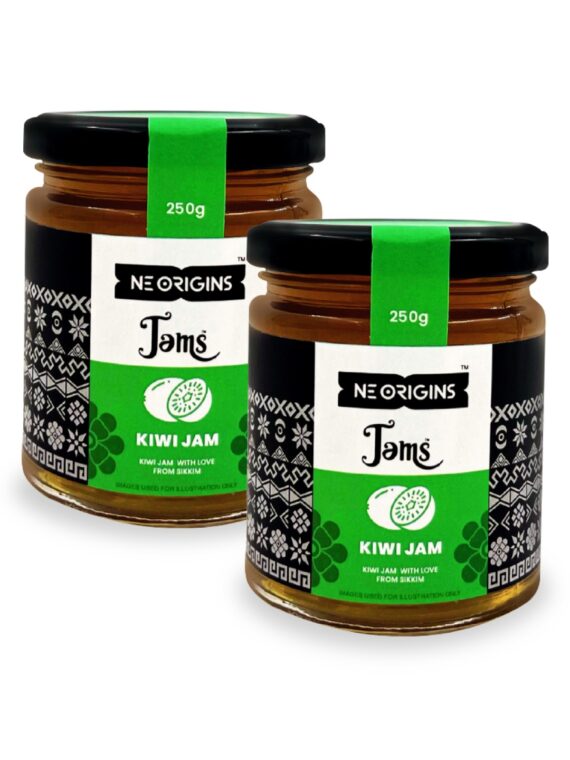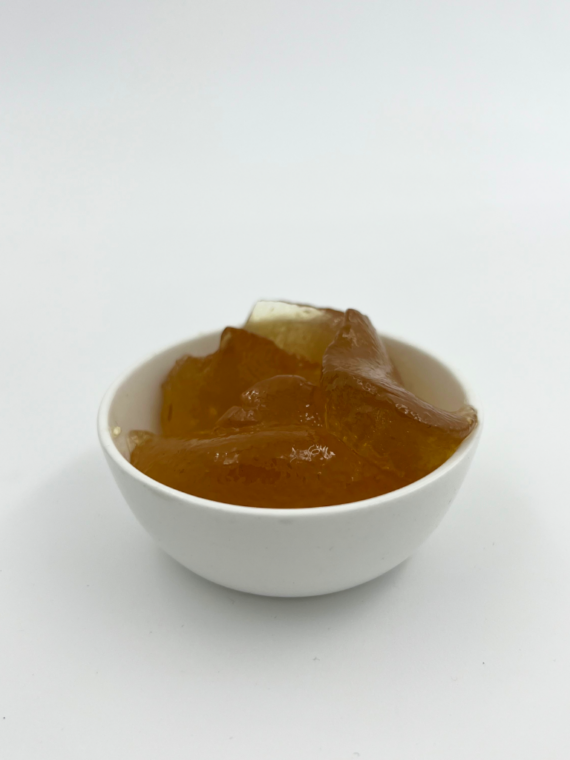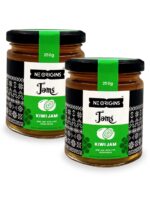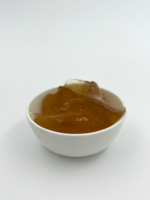 Kiwi Jam, 250g, Pack Of 2
29
people are viewing this right now

Free Delivery Across India
Description
Introducing Ne Origins Kiwi Jam, made in Sikkim! What could be more delicious than jam made with freshly-picked kiwis? Our jam is made with the goodness of real kiwi fruits, blended with a perfect balance of sweetness and tartness. Made with natural ingredients, this jam has a unique flavor that will burst from your palate on every bite. With just the right amount of crunch, this versatile jam is perfect to spread on your morning toast, add to your favorite desserts, or even mix with a glass of sparkling wine. Enjoy the taste of paradise that Sikkim has to offer with Ne Origins Kiwi Jam.
Ingredients
Kiwi Pulp, Sugar, Thickener(INS440)
Acidity Regulator(INS330)
Preservative(INS211,INS224)
How to use?
Scoop the kiwi jam out of the jar and into a bowl. Heat the jam for a few minutes so that it is easier to spread across the dough. Ensure that you don't heat the jam for too long or too hot so that it doesn't burn.
Spread the kiwi jam over the dough:
Spread the heated kiwi jam evenly over the dough (as if you were spreading butter.)
Bake:
Now you can bake the bread or roti with the jam on it like you normally would - either in the oven or tandoor. Enjoy your delicious, home-baked goodness!
FAQ
What is Ne Origins Kiwi Jam?
Ne Origins Kiwi Jam is a Sikkim kiwi jam made from sustainably grown and harvested kiwi fruit. It is a natural, healthy and delicious jam that can be enjoyed on toast, as a topping for pancakes, or as a spread.
Where is Ne Origins Kiwi Jam sold?
Ne Origins Kiwi Jam is available for purchase online through our website, Amazon and Flipkart.
How long does Ne Origins Kiwi Jam last?
Ne Origins Kiwi Jam should last up to 12 months when stored in a cool, dry place. It is also recommended to prevent oxidation of the jam, keep it refrigerated after opening.
Are there any allergens in Ne Origins Kiwi Jam?
Ne Origins Kiwi Jam is free from gluten, dairy, eggs, nuts, and wheat.
NEOrigins
NE Origins strives to serve the Spirit of the Northeast through its food & culture. We offer access to authentic ingredients from Northeast India to our community across India and the world.
Quick Comparison
Settings
Kiwi Jam, 250g, Pack Of 2

remove

Missing Home

remove

Orange Marmalade, 250g, Pack Of 2

remove

Temi Tea Orthodox Special 250g, Pack Of 2

remove

Orange Marmalade, 250g, Pack Of 4

remove

Dalle Chilli with Bamboo Shoot Pickle 200g, Pack Of 2

remove

Name
Kiwi Jam, 250g, Pack Of 2

remove

Missing Home

remove

Orange Marmalade, 250g, Pack Of 2

remove

Temi Tea Orthodox Special 250g, Pack Of 2

remove

Orange Marmalade, 250g, Pack Of 4

remove

Dalle Chilli with Bamboo Shoot Pickle 200g, Pack Of 2

remove

Image
SKU
KJMP002
NEOCMHB
ORMP002
NEOTTO
ORMP004
NEODCWB
Rating
Price
Stock
Availability

50

in stock

50

in stock

36

in stock

47

in stock
Add to cart
Description
Content
Introducing Ne Origins Kiwi Jam, made in Sikkim! What could be more delicious than jam made with freshly-picked kiwis? Our jam is made with the goodness of real kiwi fruits, blended with a perfect balance of sweetness and tartness. Made with natural ingredients, this jam has a unique flavor that will burst from your palate on every bite. With just the right amount of crunch, this versatile jam is perfect to spread on your morning toast, add to your favorite desserts, or even mix with a glass of sparkling wine. Enjoy the taste of paradise that Sikkim has to offer with Ne Origins Kiwi Jam.

1. Black Rice 500g

2. Hot Sauce 60ml

3. King Chilli Pickle 200g

4. Dalle and Bamboo Shoot Pickle 100g

The combination of Naga King Chilli Hot sauce, King Chilli Pickle and the Dalle Bambooshoot Pickle is what you need to cure your homesickness.
Black Rice or Chak-hao is an indigenous rice variety from Manipur, which may surprise you with the distinctive aroma of the available white rice in the market.
If spicing up dishes is your thing then this Naga King Chilli sauce will be your best friend from now on. As it can be considered the hottest sauce in India.
The spicy achaar is made with Dalle Khursani and Young Bamboo Shoot to give you a unique taste and flavour together. To balance the hot and heat of Fireball Cherry Pepper there is a tinge of sweetness coming from the tender Bamboo shoot.

Sikkim Orange marmalade is a variation of the  traditional orange marmalade that uses oranges grown in the state of Sikkim , which is located in northeastern India . Sikkim Orange marmalade is a popular product in Sikkim and other parts of India . Sikkim oranges are known for their intense flavor and aroma , which makes them ideal for making marmalade. it is often enjoyed as a breakfast spread , but it can also be used in baking or as a condiment to accompany savory dishes.
🍃Organic Certified Tea Estate 📍Single Origin - Temi Tea Estate, Sikkim 🫀High in Antioxidants The Orthodox Special Temi Tea is the blend of the spring, monsoon and autumn flush of the Temi Tea Estate. This tea is affordable yet premium, perfect for your everyday use at home. This multipack is created for a monthly consumption for a small family.

Temi was established in 1969 by the Chogyal of Sikkim, he converted 440 acres of land into a sprawling tea plantation. Ravangla was the initial choice for the plantation but it was later shifted to Temi for weather feasibility, he gave this exquisite stretch on gentle slopes on loamy soil. Just perfect to grow tea.

Today the Temi Estate brings to you a range of exclusive teas like the premier first flush, other flushes of orthodox, oolong, green and white tea. Certified as an Organic Tea Estate in 2008, it has won laurels from all around the world. The teas of Temi are known to be one of the finest teas in the world today. The distinctive landscape of Temi Tea Estate gives each cup a character that is wholly unmatched. Spread across the elevations ranging from 1400 to 2000 metres above sea level, each season at the Temi Tea Estate moulds every flush differently. From the earliest tea to now, Temi has proudly retained its legacy, character and aroma.

From the Chogyal of Sikkim it is now run by the government and doing everything possible to preserve this heritage and take it forward. The government packs it under the brand "Temi" and sells it across the state of Sikkim. We at NE Origins support the endeavour and help them find national and international market for this amazing "taste of distant saga" teas.

Sikkim Orange marmalade is a variation of the  traditional orange marmalade that uses oranges grown in the state of Sikkim , which is located in northeastern India . Sikkim Orange marmalade is a popular product in Sikkim and other parts of India . Sikkim oranges are known for their intense flavor and aroma , which makes them ideal for making marmalade. it is often enjoyed as a breakfast spread , but it can also be used in baking or as a condiment to accompany savory dishes.

Heat Level (🌶️) - 6/10 Medium Spicy 

Grown on the lush foothills of the Himalayas, Dalle Khursani also known as Fireball Cherry Pepper is one of the hottest chillies in the world! A traditional recipe including Dalle Chilli and young Bamboo Shoot is a staple in every household in the northeast. The aroma from the chillies complemented by the tang from the pickle makes a perfect condiment for comforting meals at home.

Weight
0.990 kg
0.999 kg
1000 kg
0.598 kg
1000 kg
0.990 kg
Dimensions
12 × 15 × 10 cm
12 × 15 × 10 cm
12 × 15 × 10 cm
12 × 15 × 10 cm
15 × 12 × 10 cm
12 × 15 × 10 cm
Additional information

| | |
| --- | --- |
| Weight | 0.990 kg |
| Dimensions | 12 × 15 × 10 cm |

| | |
| --- | --- |
| Weight | 0.999 kg |
| Dimensions | 12 × 15 × 10 cm |

| | |
| --- | --- |
| Weight | 1000 kg |
| Dimensions | 12 × 15 × 10 cm |

| | |
| --- | --- |
| Weight | 0.598 kg |
| Dimensions | 12 × 15 × 10 cm |

| | |
| --- | --- |
| Weight | 1000 kg |
| Dimensions | 15 × 12 × 10 cm |

| | |
| --- | --- |
| Weight | 0.990 kg |
| Dimensions | 12 × 15 × 10 cm |

Sold
0
0
1
14
0
3
Shipping