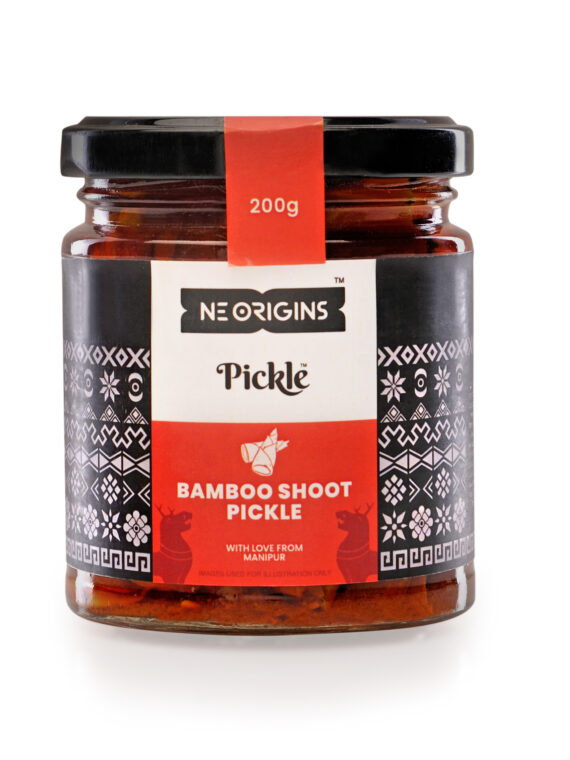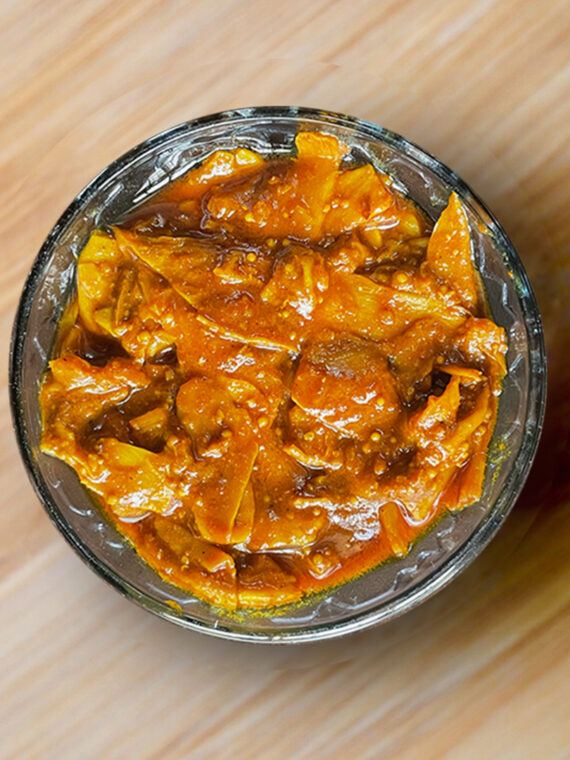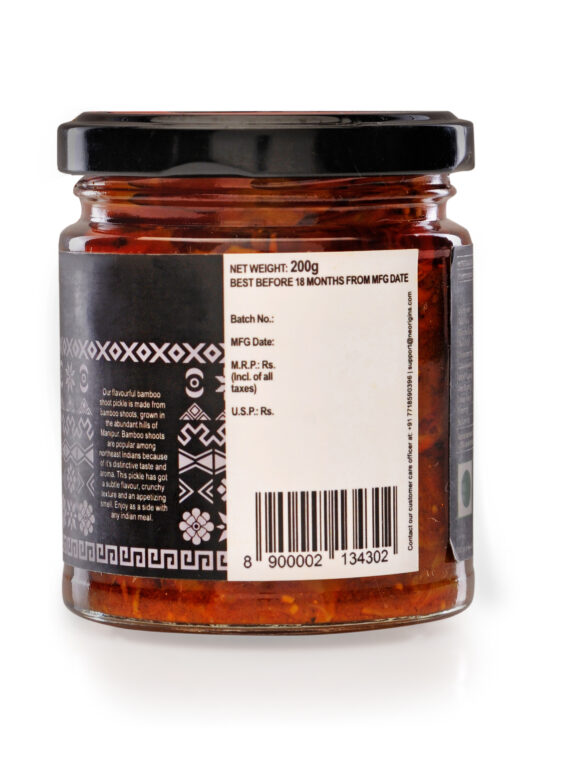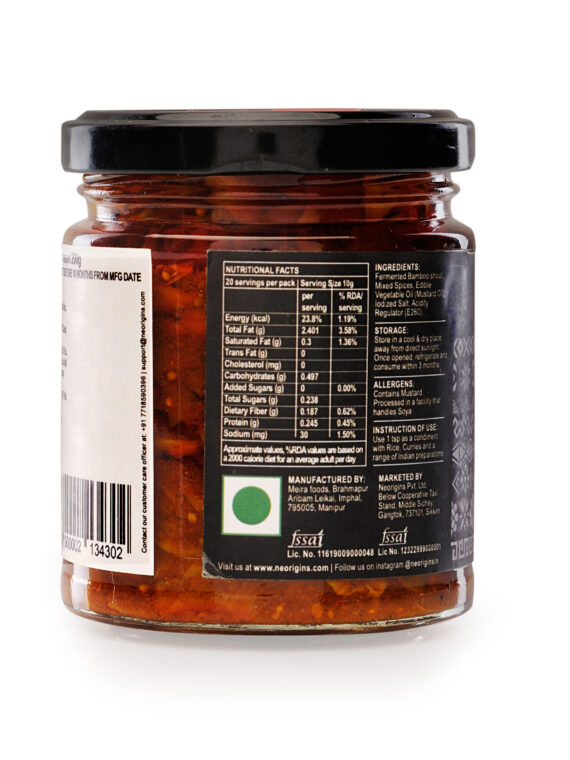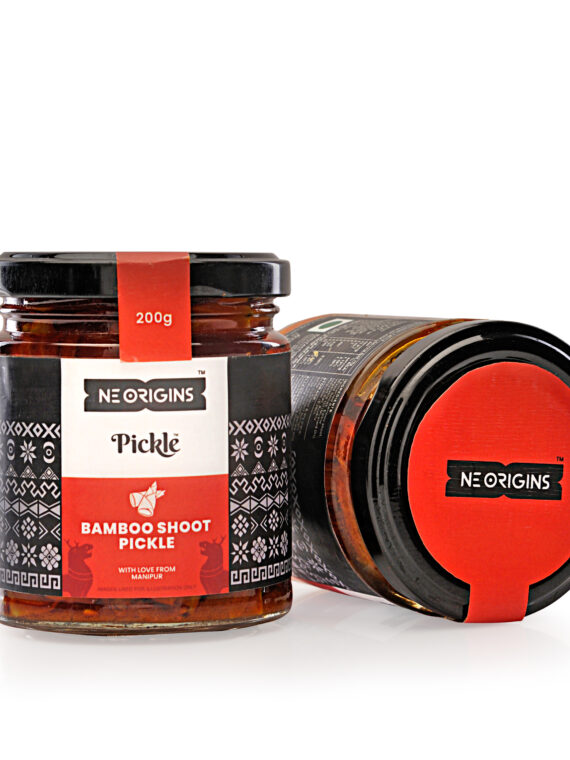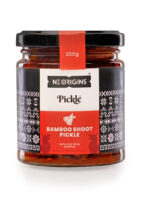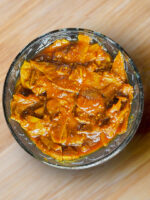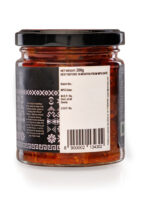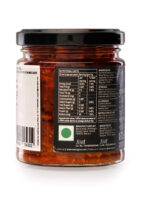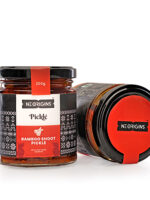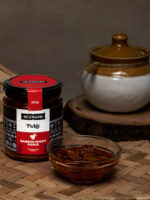 Bamboo Shoot Pickle, 200g
21
people are viewing this right now

Free Delivery Across India
Description
Heat Level (🌶️) – 4/10 Spicy 
Our flavourful bamboo shoot pickle is made from bamboo shoots grown in the abundant hills of Manipur. Bamboo shoots are a popular among northeast Indians because of it's distinctive taste and flavour. This pickle has got a subtle flavour, crunchy texture and an appetizing smell. Enjoy as a side with any Indian meal.
Ingredients
Fermented Bamboo shoot, Mixed Spices, Edible Vegetable Oil (Mustard Oil), Iodized Salt, Acidity Regulator (E260)
How to use?
As an accompaniment to all kinds of Indian cuisines
FAQ
What does the pattern on your packaging represent?
-The symbols on our packaging represent that state symbols of the 8 states of North East India.
How do I consume the product?
-Please refer to the How to Use section above!
Can I get bulk discounts?
-Please reach our customer care officer for bulk inquiries.
Where do you source your products from?
-All our products are sourced from local manufacturers from the origin state where the product and its ingredients belong to.
NEOrigins
NE Origins strives to serve the Spirit of the Northeast through its food & culture. We offer access to authentic ingredients from Northeast India to our community across India and the world.
Quick Comparison
Settings
Bamboo Shoot Pickle, 200g

remove

King Chilli with Bamboo Shoot Pickle, 200g

remove

Smoked Pork Pickle, 60g

remove

Dalle Chilli Pickle, 100g

remove

Pickle Sampler

remove

Smoked Chicken Pickle 60g, Pack Of 2 (Non veg pickle)

remove

Name
Bamboo Shoot Pickle, 200g

remove

King Chilli with Bamboo Shoot Pickle, 200g

remove

Smoked Pork Pickle, 60g

remove

Dalle Chilli Pickle, 100g

remove

Pickle Sampler

remove

Smoked Chicken Pickle 60g, Pack Of 2 (Non veg pickle)

remove

Image
SKU
8900002134302
8900002134791
8900002134319
8900002134104
NEOCPSB
NEOSCP
Rating
Price
Stock
Availability

89

in stock

79

in stock

77

in stock

89

in stock

50

in stock

45

in stock
Add to cart
Description
Content

Heat Level (🌶️) - 4/10 Spicy 

Our flavourful bamboo shoot pickle is made from bamboo shoots grown in the abundant hills of Manipur. Bamboo shoots are a popular among northeast Indians because of it's distinctive taste and flavour. This pickle has got a subtle flavour, crunchy texture and an appetizing smell. Enjoy as a side with any Indian meal.

Heat Level (🌶️) - 7/10 Very Spicy 

King Chilli (

Raja Mircha

) is considered as one of the hottest chilli in the world. NE Origins King Chilli bamboo shoot pickle is directly sourced from Nagaland where King Chilli has it's origin. Besides being hot & spicy, the aroma from this chilli itself is enough to make one salivate and makes a perfect condiment for comforting meals at home.

Heat Level (🌶️) - 2/10 Not Spicy 

Smoked pork pickle is made using finest quality pork meat that is locally farmed in Nagaland. The meat is first smoked traditionally using pine woods which adds to its texture and flavour. Followed by shredding the meat and pickling with various spices and oil. It is enjoyed with as a side with any Indian meals. Enjoy a truly delicious and local experience with this Pork Pickle from Nagaland!
Heat Level (🌶️) - 6/10 Medium Spicy 

Dalle Khursani (Fireball cherry pepper) is a special variety of chilli grown in Sikkim. Scarlet red in colour, it is one of the hottest chillies in the world. Biting into these chilli with every morsel of rice adds heaps of flavour to the food that hits the right spot. The aroma from these chillies complemented by the tang from the pickle serves as a perfect condiment for comforting meals at home.

1. Dalle Chilli Pickle 100g

2. King Chilli Pickle 200g

3. Bamboo Shoot Pickle 200g

This is a combination of our three pickles - the Dalle chilli Pickle, the King Chilli Pickle, and the Bamboo Shoot Pickle. Rich in Vitamin C, potassium and fibre, these are great accompaniments for snacks, chaat and Indian curries
The Dalle Chilli Pickle is a tangy and spicy pickle.
There is a delicious, hot and spicy pickle with fresh King chillies.
Bamboo Shoot pickle will offer you a fresh breath in the air with its subtler taste than the other two.

Heat Level (🌶️) - 2/10 Not Spicy 

Smoked chicken pickle is made using finest quality chicken meat that is locally farmed in Nagaland. The meat is first smoked traditionally using pine woods which adds to its texture and flavour. Followed by shredding the meat and pickling with various spices and oil. It is enjoyed as a side with any Indian meals. Enjoy a truly delicious and local experience with this Chicken Pickle from Nagaland!

Weight
0.598 kg
0.490 kg
0.490 kg
0.448 kg
1000 kg
0.598 kg
Dimensions
6 × 6 × 10 cm
6 × 6 × 10 cm
10 × 10 × 6 cm
6 × 6 × 10 cm
12 × 15 × 10 cm
6 × 6 × 10 cm
Additional information

| | |
| --- | --- |
| Weight | 0.598 kg |
| Dimensions | 6 × 6 × 10 cm |

| | |
| --- | --- |
| Weight | 0.490 kg |
| Dimensions | 6 × 6 × 10 cm |

| | |
| --- | --- |
| Weight | 0.490 kg |
| Dimensions | 10 × 10 × 6 cm |

| | |
| --- | --- |
| Weight | 0.448 kg |
| Dimensions | 6 × 6 × 10 cm |

| | |
| --- | --- |
| Weight | 1000 kg |
| Dimensions | 12 × 15 × 10 cm |

| | |
| --- | --- |
| Weight | 0.598 kg |
| Dimensions | 6 × 6 × 10 cm |

Sold
11
22
23
12
0
5
Shipping