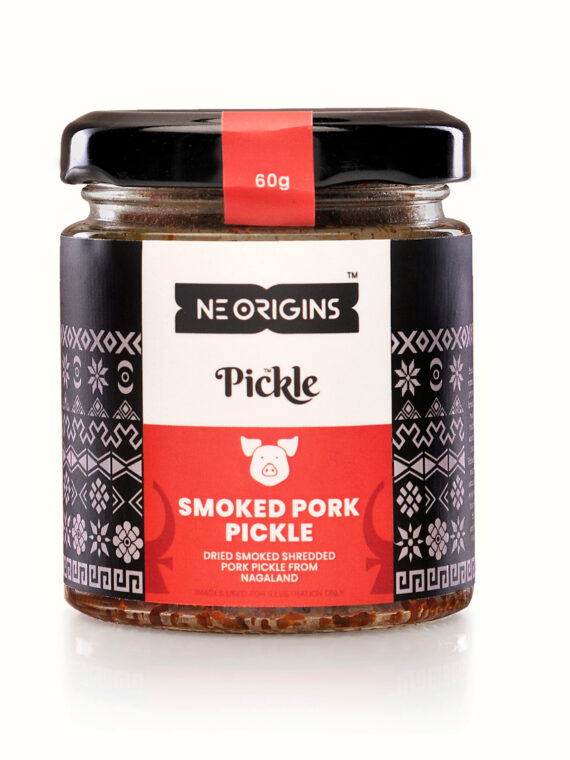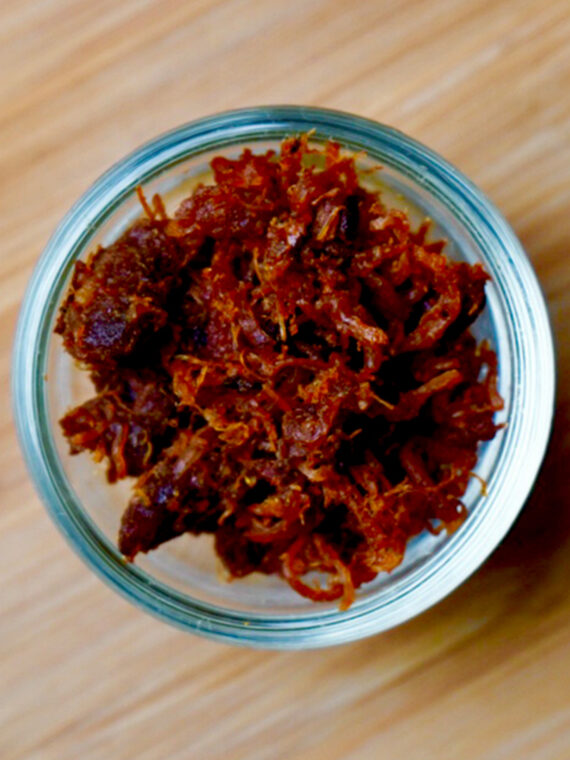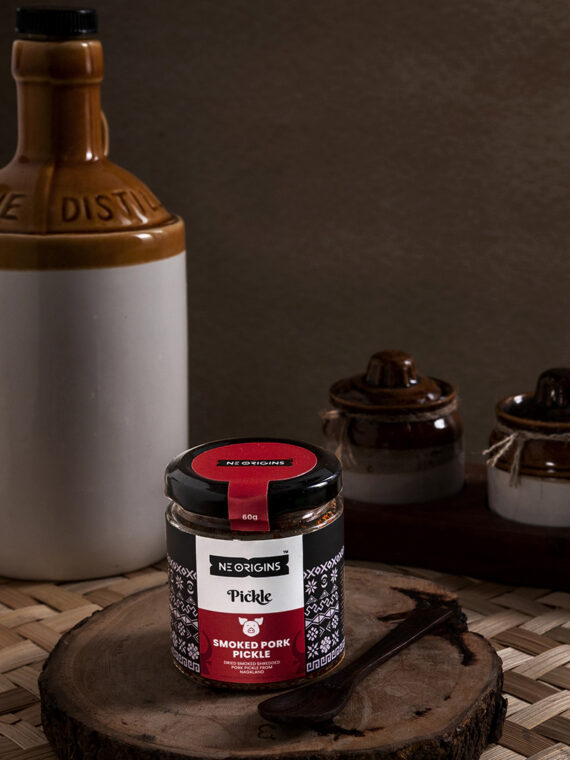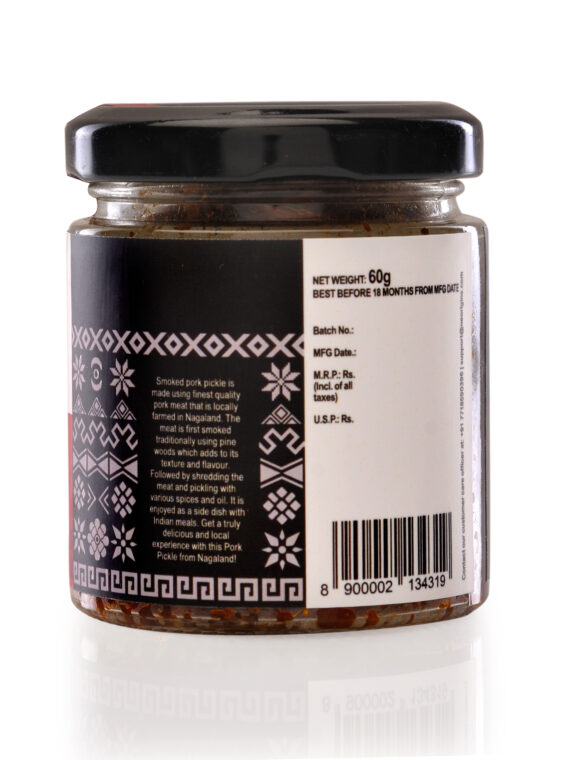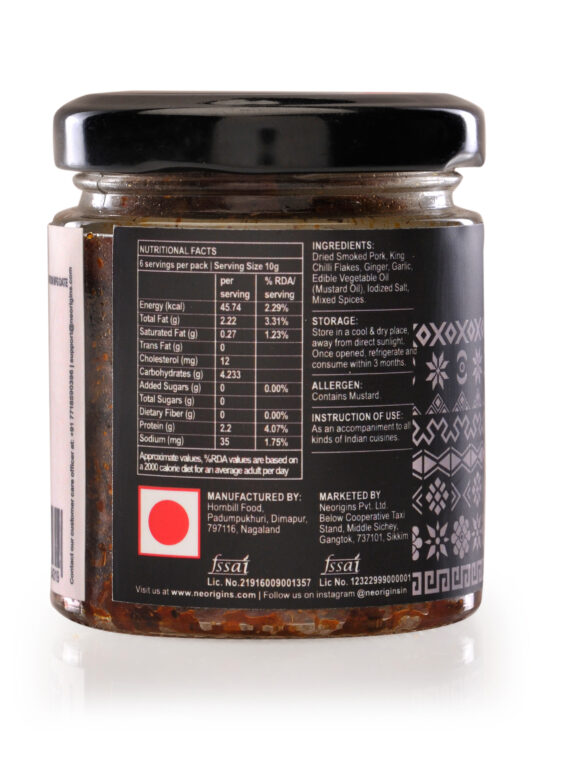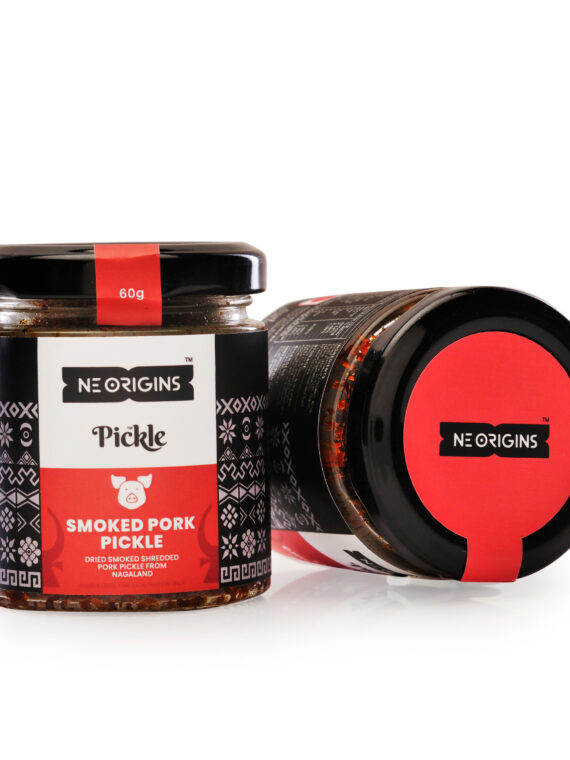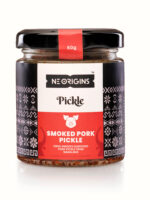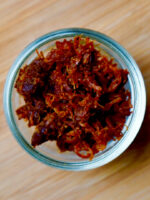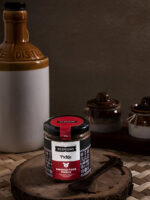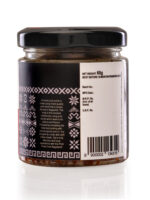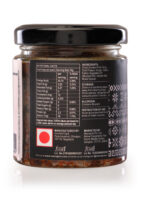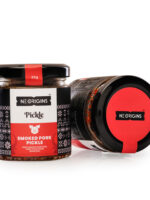 28
people are viewing this right now

Free Delivery Across India
Description
Heat Level (🌶️) – 2/10 Not Spicy 
Smoked pork pickle is made using finest quality pork meat that is locally farmed in Nagaland. The meat is first smoked traditionally using pine woods which adds to its texture and flavour. Followed by shredding the meat and pickling with various spices and oil. It is enjoyed with as a side with any Indian meals. Enjoy a truly delicious and local experience with this Pork Pickle from Nagaland!
Ingredients
Dried Smoked Pork, King Chilli Flakes, Ginger, Garlic, Edible Vegetable Oil (Mustard Oil), Iodized Salt, Mixed Spices.
How to use?
As an accompaniment to all kinds of Indian cuisines
FAQ
What is a pork pickle?
Pork Pickle is a true Naga cuisine delicacy. It is prepared by smoking the flesh over pine wood, shredding it, and pickling it with a variety of local spices and mustard oil.
What is pickled pork made of?
Pickled pork is made of smoked and shredded pork, mustard oil, king chilli flakes, ginger, garlic, iodized salt, mixed spices.
What part of the pig is pickled pork?
The shoulder cut (hand) is a part of the pig that is pickled pork.
What does pickled pork mean?
The pickled pork is prepared using the best-grade pig. The flesh of the pork is smoked over pine wood, shredded, and pickled with a variety of local spices and mustard oil. It is irresistibly juicy and spicy and is enjoyed as a side dish with any Indian meal.
What is another name for pickled pork?
Another name for pickled pork is pickle meat.
Does pickled pork taste like ham?
Yes, to some extent, pickled pork can taste like ham because it is salty by nature.
Is pork pickles good for health?
Pork pickle is a rich source of protein, vitamins, and minerals. It improves digestive health, controls blood sugar, and is effective in the growth and maintenance of muscle mass.
NEOrigins
NE Origins strives to serve the Spirit of the Northeast through its food & culture. We offer access to authentic ingredients from Northeast India to our community across India and the world.
Quick Comparison
Settings
Smoked Pork Pickle, 60g

remove

Dalle Chilli Pure Paste, 100g

remove

King Chilli with Bamboo Shoot Pickle, 200g

remove

Naga King Chilli Hot Sauce, 60ml

remove

Truly Nagaland

remove

Chilli Sampler

remove

Name
Smoked Pork Pickle, 60g

remove

Dalle Chilli Pure Paste, 100g

remove

King Chilli with Bamboo Shoot Pickle, 200g

remove

Naga King Chilli Hot Sauce, 60ml

remove

Truly Nagaland

remove

Chilli Sampler

remove

Image
SKU
8900002134319
8900002134654
8900002134791
8900002134678
NEOCTNB
NEOCCSB
Rating
Price
Stock
Availability

77

in stock

99

in stock

79

in stock

91

in stock

98

in stock

97

in stock
Add to cart
Description
Content

Heat Level (🌶️) - 2/10 Not Spicy 

Smoked pork pickle is made using finest quality pork meat that is locally farmed in Nagaland. The meat is first smoked traditionally using pine woods which adds to its texture and flavour. Followed by shredding the meat and pickling with various spices and oil. It is enjoyed with as a side with any Indian meals. Enjoy a truly delicious and local experience with this Pork Pickle from Nagaland!

Heat Level (🌶️) - 6/10 Medium Spicy 

Emerging from the foothills of the Himalayas, Dalle Khursani also known as Fireball Cherry Pepper is one of the hottest chillies in the world! A traditional recipe of Dalle Chilli paste is a staple in every household in the north east. This hot and spicy chilli also serves as a perfect condiment for comforting meals at home.

Heat Level (🌶️) - 7/10 Very Spicy 

King Chilli (

Raja Mircha

) is considered as one of the hottest chilli in the world. NE Origins King Chilli bamboo shoot pickle is directly sourced from Nagaland where King Chilli has it's origin. Besides being hot & spicy, the aroma from this chilli itself is enough to make one salivate and makes a perfect condiment for comforting meals at home.
This special Nagaland King Chilli sauce is devoured by many in the northeast region. Known for its high degree of spice and heat, this sauce is a haven for people who loves adding a flavourful twist to their meal. This classic sauce goes well with noodles, fried rice, and even as a dip for those who dare!

1. Axone King Chilli Pickle 100g

2. King Chilli and Bamboo Shoot Pickle 200g

3. Smoked Chicken Pickle 60g

Everything from Nagaland is coming your way through this amazing combo.
Fermented soybean in Axone King Chilli Pickle can be hit or miss based on the preference of an individual, prepared with the hot King Chilli, this achaar exudes an uncommon flavour that people should try at least once.
With young Bamboo Shoots, Mustard oil and perfect spices as companions, the King Chilli Bamboo shoot pickle will give you a lip-smacking sharp taste with the subtle flavour of tender Bamboo Shoots.
The best-grade chicken is used to make smoked chicken pickles, which are then prepared by smoking the flesh over pine wood, shredding it, and pickling it with a variety of locally cultivated herbs and mustard oil. This spicy and rich achaar can make anyone drool from the first bite.

1. Dalle Chilli in Vinegar 200g

2. King Chilli Pickle 200g

Traditional Indigenous recipes straight from the Native places after going through quality checks. Everyone who loves the heat building up should grab this combo as you will get Dalle Chilli in Vinegar, King Chilli Pickle sampler kit in one order
The Dalle Chilli in has a unique flavour and aroma.
The unique combination of Dalle Khursani and vinegar can be extremely satisfying for most spice lovers. Each bottle will provide you with extremely hot Dalle Chilli with a sour taste as a compliment.
There is a delicious, hot and spicy pickle with fresh King chillies.

Weight
0.490 kg
0.598 kg
0.490 kg
0.260 kg
0.590 kg
0.990 kg
Dimensions
10 × 10 × 6 cm
6 × 6 × 10 cm
6 × 6 × 10 cm
17 × 9.6 × 17 cm
12 × 15 × 10 cm
12 × 15 × 10 cm
Additional information

| | |
| --- | --- |
| Weight | 0.490 kg |
| Dimensions | 10 × 10 × 6 cm |

| | |
| --- | --- |
| Weight | 0.598 kg |
| Dimensions | 6 × 6 × 10 cm |

| | |
| --- | --- |
| Weight | 0.490 kg |
| Dimensions | 6 × 6 × 10 cm |

| | |
| --- | --- |
| Weight | 0.260 kg |
| Dimensions | 17 × 9.6 × 17 cm |

| | |
| --- | --- |
| Weight | 0.590 kg |
| Dimensions | 12 × 15 × 10 cm |

| | |
| --- | --- |
| Weight | 0.990 kg |
| Dimensions | 12 × 15 × 10 cm |

Sold
23
1
22
9
2
3
Shipping