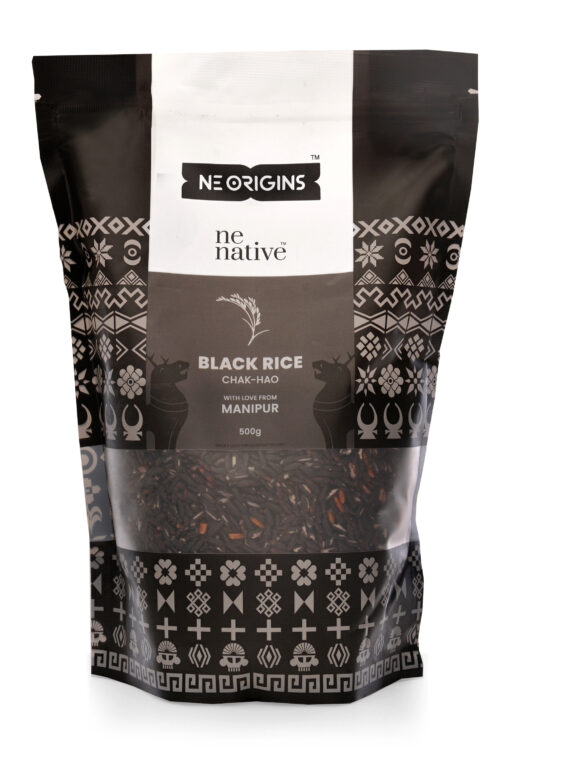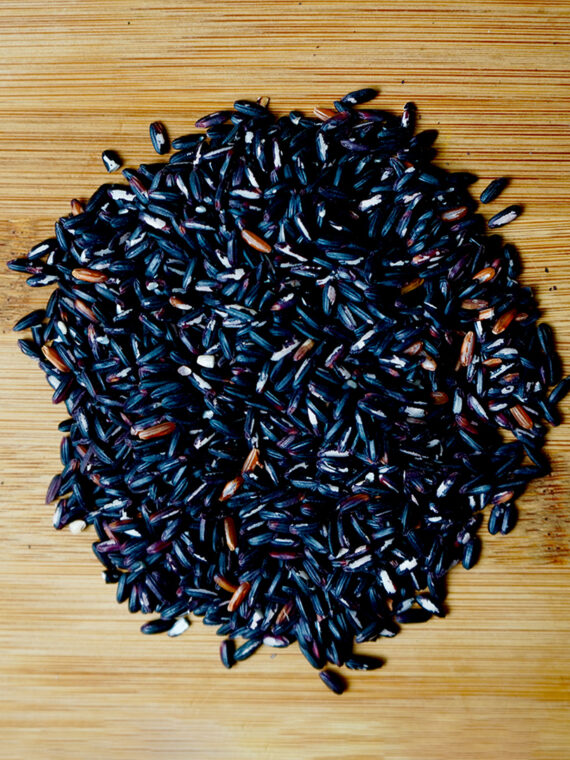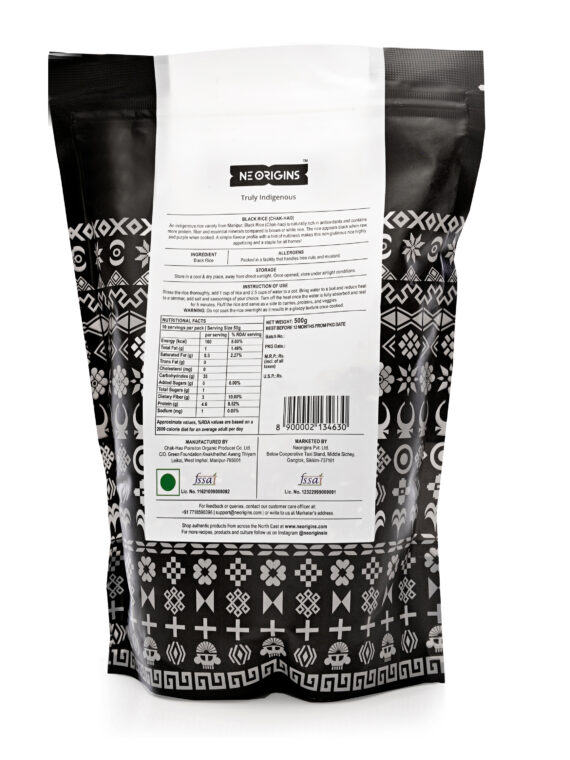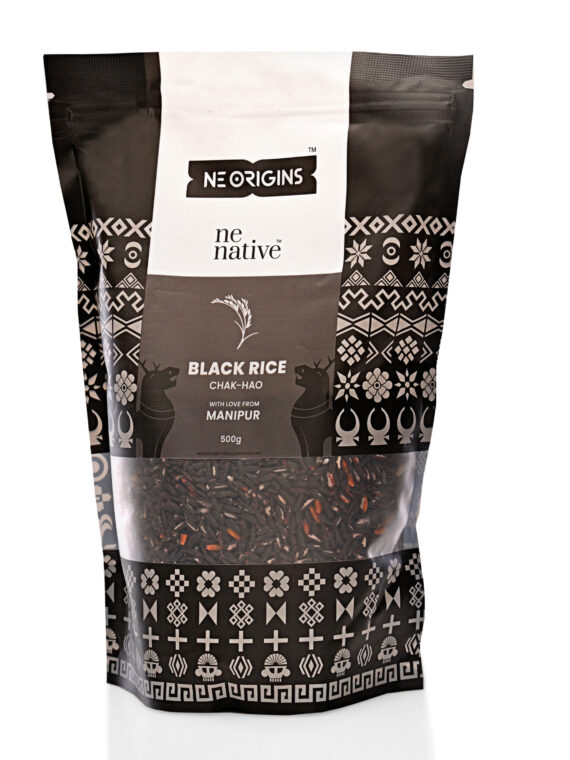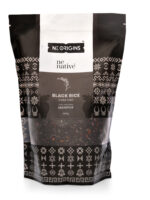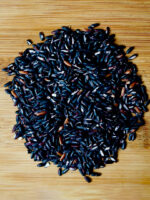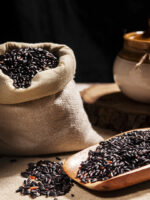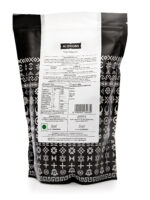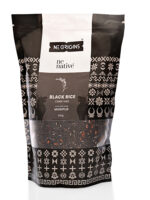 Black Rice (Chak-Hao), 500g
24
people are viewing this right now

Free Delivery Across India
Description
An indigenous rice variety from Manipur, Black Rice (Chak-hao) is naturally rich in antioxidants and contains more protein, fiber, and essential minerals compared to brown or white rice. The rice appears black when raw, and purple when cooked. A simple flavour profile with a hint of nuttiness makes this non-glutinous rice highly appetizing and a staple for all homes!
How to use?
How to make Chak-hao Rice Kheer ?
Step 1
To begin with, take vessel and soak the Chak-hao rice in the water overnight.
Step 2
Then, take a pan on low flame and pour in milk (preferably untoned milk) in it. Once the milk starts to boil add Chak-hao rice in it. Allow the rice-milk mixture to cook while stirring it until the consistency of the mixture thickens.
Step 3
Add cardamon powder and sugar in the rice-milk mixture and mix it well. Meanwhile, in a non-stick pan add ghee and heat it on low flame. Add cashews and almonds in this pan and roast them until they get a golden brown color.
Step 4
Transfer the prepared kheer in a serving bowl and garnish it with roasted cashew nuts and almond also add raisin. Serve hot!
FAQ
How healthy is black rice?
Black rice, also known as chak hao, is a native rice variety from Manipur. It is the healthiest of all rice varieties. It is beneficial for diabetic patients because it has a low glycemic index, which means it slowly increases the sugar level in the body. Furthermore, it is rich in antioxidants and high in protein, fibre, and essential minerals, which help reduce cholesterol levels and lower the risk of high blood pressure.
Is black rice healthier than white rice?
Black rice, which is also known as forbidden rice, is healthier than white rice. This is because in the milling process of white rice, the husk, bran, and germ are removed, thus stripping away the protein, fibre and other essential nutrients of white rice. Whereas in the milling process of the black rice fibre and vitamin-rich outer layer (bran) and its nutritious underlying fatty layer are not removed. Therefore, black rice has more protein, fibre and vitamin E antioxidants as compared to white rice.
What is the disadvantage of black rice?
The disadvantage of black rice is that overconsumption of it may cause gas, bloating and other gastrointestinal issues as it is is rich in fibre.
What are the benefits of organic black rice?
The gluten-free black rice, also known as kalabati rice, is rich in protein, fiber, iron, and antioxidants. The anthocyanin pigment, responsible for the black-purple colour of forbidden rice, has anti-inflammatory and anti-cancer effects. Furthermore, black rice promotes heart health, aids weight loss, lowers blood sugar levels, and boosts eye health, to name a few benefits.
What is the price of black rice 1Kg?
The price of black rice 1kg pack at NE Origins is Rs 700, inclusive of tax.
Is black rice good for weight loss?
Black rice is good for weight loss as it is high in protein and fibre, both of which can aid with weight loss by suppressing appetite and increasing feelings of fullness.
What is black rice called in India?
In India, black rice is known by many names like
karuppu kavuni arisi, forbidden rice, kalabati rice, chak hao, and gowni rice.
Where can I buy Black Rice online?
You can buy black rice, a native rice variety from Manipur, from the online store of NE Origins. Our Manipur black rice has a GI tag, thus providing you with authentic black rice.
NEOrigins
NE Origins strives to serve the Spirit of the Northeast through its food & culture. We offer access to authentic ingredients from Northeast India to our community across India and the world.
Quick Comparison
Settings
Black Rice (Chak-Hao), 500g

remove

Gundruk (Dehydrated Fermented Mustard leaves), 100g

remove

Kinema Chilli Seasoning , 100g

remove

Timbur Garlic Chilli Crisp, 100g

remove

Name
Black Rice (Chak-Hao), 500g

remove

Gundruk (Dehydrated Fermented Mustard leaves), 100g

remove

Kinema Chilli Seasoning , 100g

remove

Timbur Garlic Chilli Crisp, 100g

remove

Image
SKU
8900002134630
8900002134609
8908023096005
8908023096012
Rating
Price
Stock
Availability

32

in stock

89

in stock

20

in stock

18

in stock
Add to cart
Description
Content
An indigenous rice variety from Manipur, Black Rice (Chak-hao) is naturally rich in antioxidants and contains more protein, fiber, and essential minerals compared to brown or white rice. The rice appears black when raw, and purple when cooked. A simple flavour profile with a hint of nuttiness makes this non-glutinous rice highly appetizing and a staple for all homes!
Gundruk is an indigenous Nepali food that is prepared by fermenting and sun drying leafy vegetables (mustard leaf). Gundruk has distinctive sour and fermented taste. It is one of the most versatile food which can be used in various delicacies such as Gundruk Soup, Achar(pickle), or simply a side dish.
Sikkim Kinema Seasoning is a traditional soyabean product from Sikkim , India, it's s popular food item among the local people , especially in the Nepali Community , The seasoning and preparation of kinema can vary widely based on personal preferences and regional differences,but the fundamental process involves fermenting cooked soyabeans. The soyabeans develop a strong aroma and a distanct,tangy flavor.
Sikkim Timbur Garlic Chilli Crisp also known as Sichuan Chilli oil , it is made by infusing oill with various spices and aromatics, resulting in a flavourful and spicy oil with crispy bits of garlic and orther ingredients. The preparation typically involves frying the garlic ,shallots, and chilli flakes in hot oil until they turn golden brown and crispy.
Weight
0.990 kg
0.285 kg
0.490 kg
0.490 kg
Dimensions
6 × 6 × 10 cm
10 × 10 × 6 cm
12 × 15 × 10 cm
12 × 15 × 10 cm
Additional information

| | |
| --- | --- |
| Weight | 0.990 kg |
| Dimensions | 6 × 6 × 10 cm |

| | |
| --- | --- |
| Weight | 0.285 kg |
| Dimensions | 10 × 10 × 6 cm |

| | |
| --- | --- |
| Weight | 0.490 kg |
| Dimensions | 12 × 15 × 10 cm |

| | |
| --- | --- |
| Weight | 0.490 kg |
| Dimensions | 12 × 15 × 10 cm |

Sold
19
11
0
2
Shipping