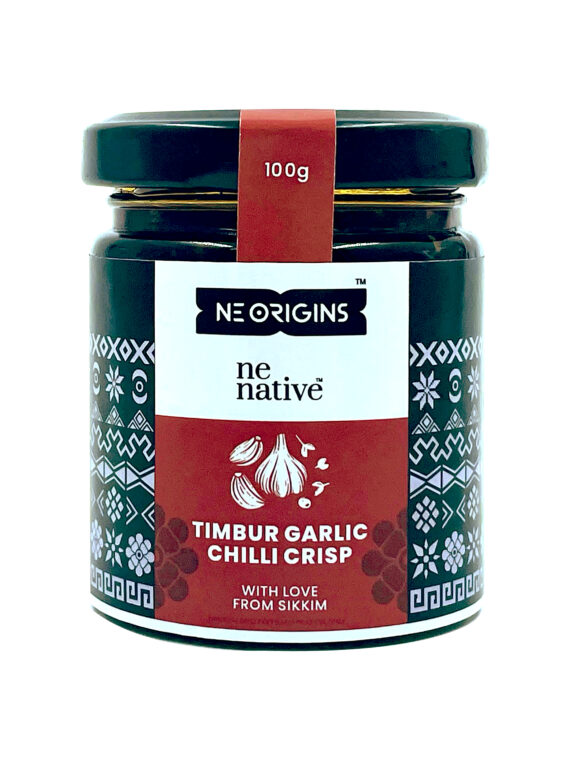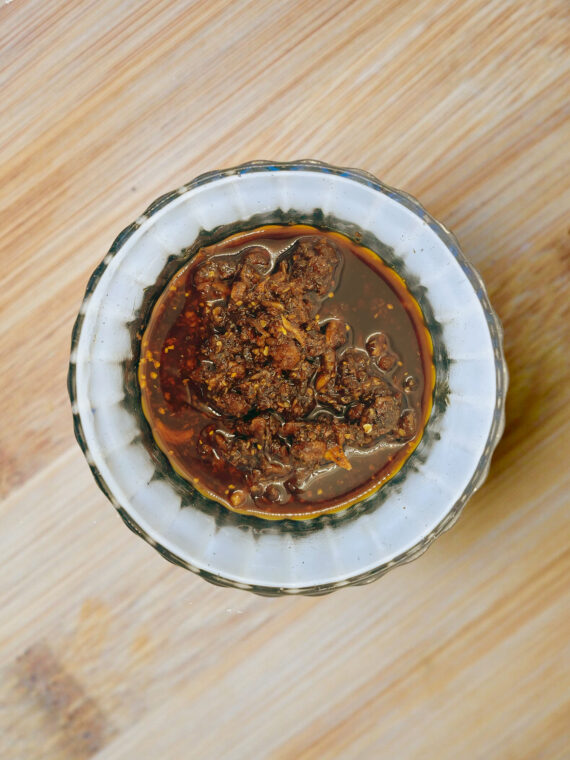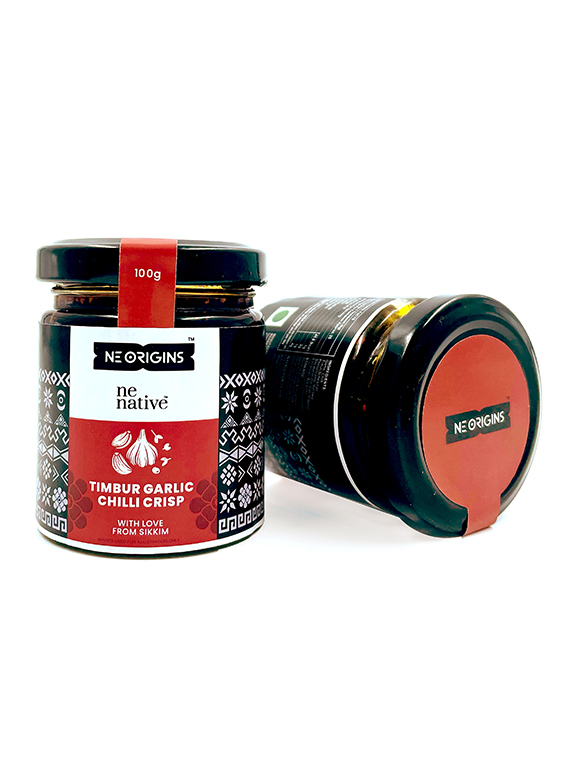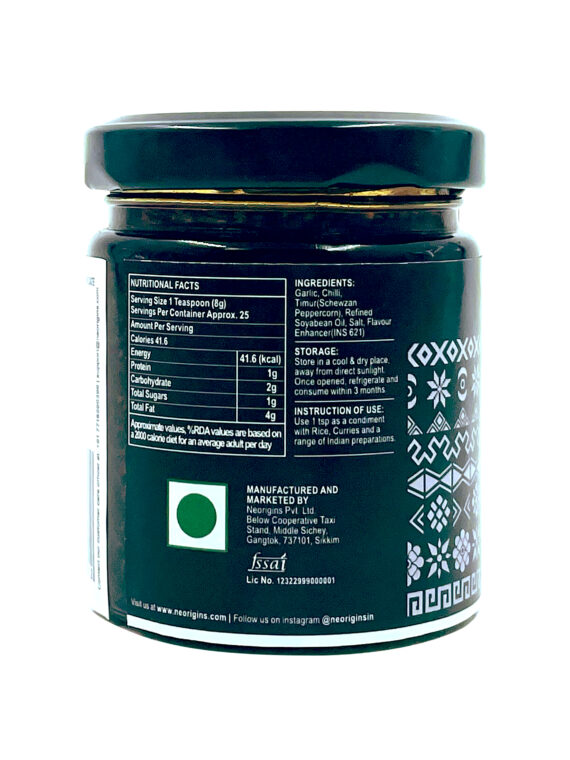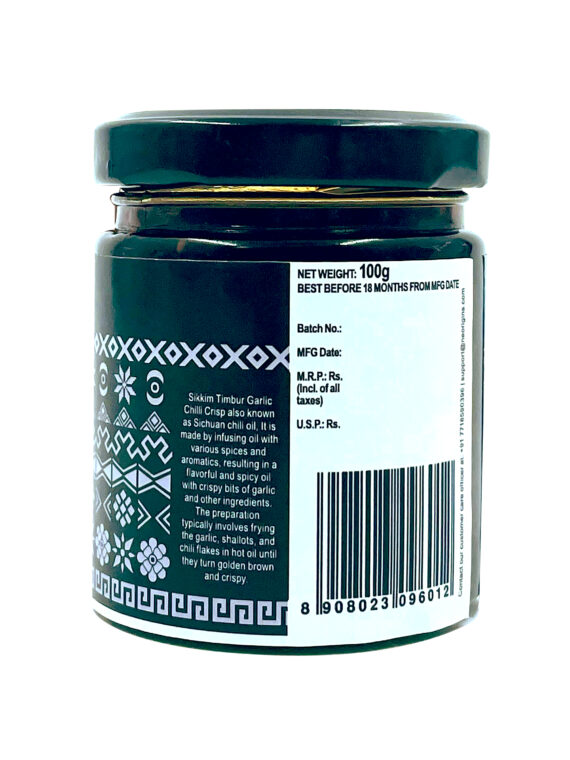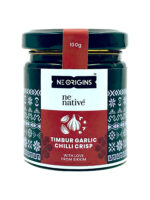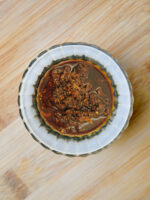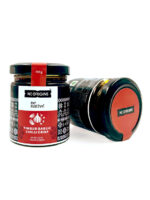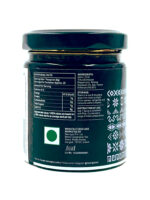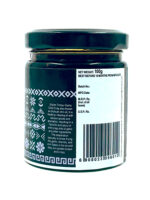 Timbur Garlic Chilli Crisp, 100g
24
people are viewing this right now

Free Delivery Across India
Description
Sikkim Timbur Garlic Chilli Crisp also known as Sichuan Chilli oil , it is made by infusing oill with various spices and aromatics, resulting in a flavourful and spicy oil with crispy bits of garlic and orther ingredients.
The preparation typically involves frying the garlic ,shallots, and chilli flakes in hot oil until they turn golden brown and crispy.
Ingredients
Garlic , Chilli , timur(schewan peppercorn),Refined Soyabean oil,salt,flavour enhancer
How to use?
Use 1tsp as a condiment with rice , curries and a range of Indian preparations
NEOrigins
NE Origins strives to serve the Spirit of the Northeast through its food & culture. We offer access to authentic ingredients from Northeast India to our community across India and the world.
Quick Comparison
Settings
Timbur Garlic Chilli Crisp, 100g

remove

Kiwi Jam, 250g, Pack of 3

remove

For the Love of Dalle

remove

Kiwi Jam, 250g

remove

Dalle Chilli Pure Paste, 100g

remove

Dalle Chilli Pickle, 200g

remove

Name
Timbur Garlic Chilli Crisp, 100g

remove

Kiwi Jam, 250g, Pack of 3

remove

For the Love of Dalle

remove

Kiwi Jam, 250g

remove

Dalle Chilli Pure Paste, 100g

remove

Dalle Chilli Pickle, 200g

remove

Image
SKU
8908023096012
KJMP003
NEOCFLDB
KIWIJ005
8900002134654
8900002134708
Rating
Price
Stock
Availability

18

in stock

50

in stock

49

in stock

98

in stock

94

in stock

79

in stock
Add to cart
Description
Content
Sikkim Timbur Garlic Chilli Crisp also known as Sichuan Chilli oil , it is made by infusing oill with various spices and aromatics, resulting in a flavourful and spicy oil with crispy bits of garlic and orther ingredients. The preparation typically involves frying the garlic ,shallots, and chilli flakes in hot oil until they turn golden brown and crispy.
Introducing Ne Origins Kiwi Jam, made in Sikkim! What could be more delicious than jam made with freshly-picked kiwis? Our jam is made with the goodness of real kiwi fruits, blended with a perfect balance of sweetness and tartness. Made with natural ingredients, this jam has a unique flavor that will burst from your palate on every bite. With just the right amount of crunch, this versatile jam is perfect to spread on your morning toast, add to your favorite desserts, or even mix with a glass of sparkling wine. Enjoy the taste of paradise that Sikkim has to offer with Ne Origins Kiwi Jam.

1. Dalle Chilli Pickle 100g

2. Dalle Chilli and Bamboo Shoot Pickle 100g

3. Dalle Chilli paste 100g

4. Dalle Chilli in Vinegar 200g

Dalle Chilli may not taste like your regular chilli but the distinct flavour is worth it to try at least once, specifically the people who enjoy the heat in their mouth.
One of the spiciest chillies in the world is delectably seasoned with complementary spices to bring you the traditional Achaar straight from Sikkim. Dalle chilli pickle may jazz up a plain lunch or dinner with the flavour of mustard oil and ground spices.
The spicy achaar is made with Dalle Khursani and Young Bamboo Shoot to give you a unique taste and flavour together. To balance the hot and heat of Fireball Cherry Pepper there is a tinge of sweetness coming from the tender Bamboo shoot.
Dalle Chilli paste is Fireball Cherry Pepper in a pasted form accompanied with spices. Whereas the unique combination of Dalle Khursani and vinegar can be extremely satisfying for most spice lovers. Each bottle will provide you with extremely hot Dalle Chilli with a sour taste as a compliment.

Introducing Ne Origins Kiwi Jam, made in Sikkim! What could be more delicious than jam made with freshly-picked kiwis? Our jam is made with the goodness of real kiwi fruits, blended with a perfect balance of sweetness and tartness. Made with natural ingredients, this jam has a unique flavor that will burst from your palate on every bite. With just the right amount of crunch, this versatile jam is perfect to spread on your morning toast, add to your favorite desserts, or even mix with a glass of sparkling wine. Enjoy the taste of paradise that Sikkim has to offer with Ne Origins Kiwi Jam.

Heat Level (🌶️) - 6/10 Medium Spicy 

Emerging from the foothills of the Himalayas, Dalle Khursani also known as Fireball Cherry Pepper is one of the hottest chillies in the world! A traditional recipe of Dalle Chilli paste is a staple in every household in the north east. This hot and spicy chilli also serves as a perfect condiment for comforting meals at home.

Heat Level (🌶️) - 6/10 Medium Spicy 

Dalle Khursani (Fireball cherry pepper) is a special variety of chilli grown in Sikkim. Scarlet red in colour, it is one of the hottest chillies in the world. Biting into these chilli with every morsel of rice adds heaps of flavour to the food that hits the right spot. The aroma from these chillies complemented by the tang from the pickle serves as a perfect condiment for comforting meals at home.
Weight
0.490 kg
1000 kg
1000 kg
0.600 kg
0.598 kg
0.5998 kg
Dimensions
12 × 15 × 10 cm
12 × 15 × 10 cm
15 × 12 × 10 cm
8.5 × 8 × 5.5 cm
6 × 6 × 10 cm
6 × 6 × 10 cm
Additional information

| | |
| --- | --- |
| Weight | 0.490 kg |
| Dimensions | 12 × 15 × 10 cm |

| | |
| --- | --- |
| Weight | 1000 kg |
| Dimensions | 12 × 15 × 10 cm |

| | |
| --- | --- |
| Weight | 1000 kg |
| Dimensions | 15 × 12 × 10 cm |

| | |
| --- | --- |
| Weight | 0.600 kg |
| Dimensions | 8.5 × 8 × 5.5 cm |

| | |
| --- | --- |
| Weight | 0.598 kg |
| Dimensions | 6 × 6 × 10 cm |

| | |
| --- | --- |
| Weight | 0.5998 kg |
| Dimensions | 6 × 6 × 10 cm |

Sold
2
0
1
2
7
21
Shipping