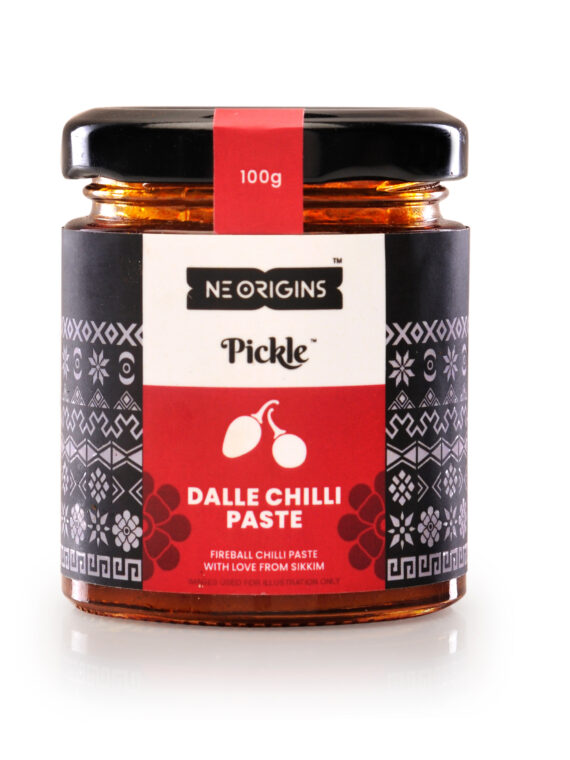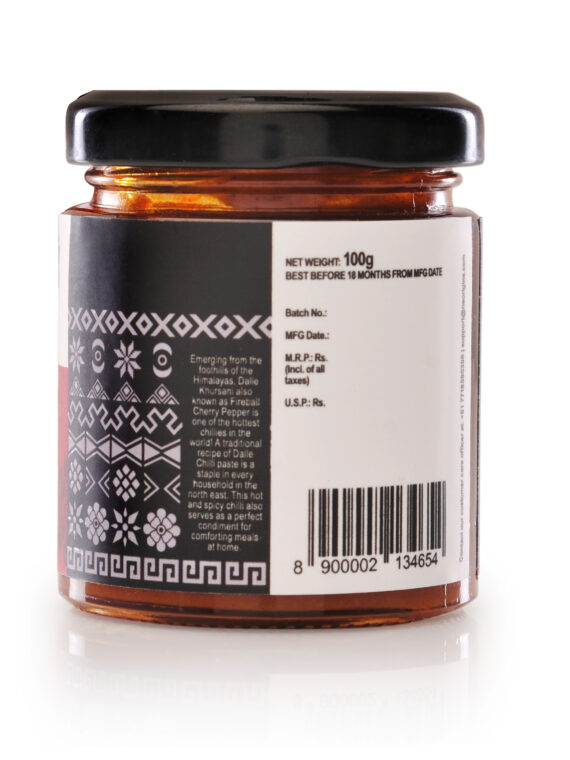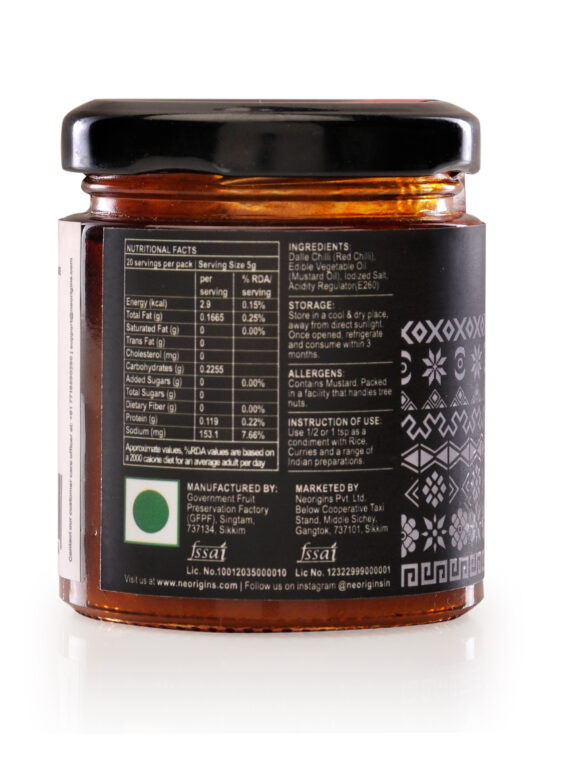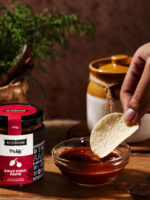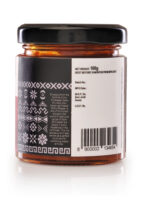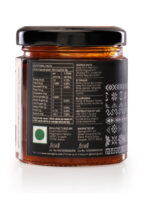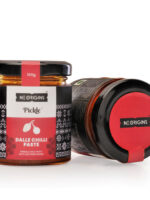 Dalle Chilli Pure Paste, 100g
26
people are viewing this right now

Free Delivery Across India
Description
Heat Level (🌶️) – 6/10 Medium Spicy 
Emerging from the foothills of the Himalayas, Dalle Khursani also known as Fireball Cherry Pepper is one of the hottest chillies in the world! A traditional recipe of Dalle Chilli paste is a staple in every household in the north east. This hot and spicy chilli also serves as a perfect condiment for comforting meals at home.
Ingredients
Dalle Chilli (Red Chilli), Edible Vegetable Oil (Mustard Oil), Iodized Salt, Acidity Regulator(E260)
How to use?
Use 1/2 or 1 tsp as a condiment with Rice, Curries, dumpling sauce and a range of other preparations.
FAQ
What does the pattern on your packaging represent?
-The symbols on our packaging represent that state symbols of the 8 states of North East India.
How do I consume the product?
-Please refer to the How to Use section above!
Can I get bulk discounts?
-Please reach our customer care officer for bulk inquiries.
Where do you source your products from?
-All our products are sourced from local manufacturers from the origin state where the product and its ingredients belong to.
NEOrigins
NE Origins strives to serve the Spirit of the Northeast through its food & culture. We offer access to authentic ingredients from Northeast India to our community across India and the world.
Quick Comparison
Settings
Dalle Chilli Pure Paste, 100g

remove

Gundruk (Dehydrated Fermented Mustard leaves), 100g

remove

King Chilli Pickle (Bhut Jolokia) 200g, Pack Of 2

remove

Sichuan Peppercorns (Timur), 30g

remove

Dalle Chilli Pickle, 200g

remove

Temi Tea Special Orthodox, 250g

remove

Name
Dalle Chilli Pure Paste, 100g

remove

Gundruk (Dehydrated Fermented Mustard leaves), 100g

remove

King Chilli Pickle (Bhut Jolokia) 200g, Pack Of 2

remove

Sichuan Peppercorns (Timur), 30g

remove

Dalle Chilli Pickle, 200g

remove

Temi Tea Special Orthodox, 250g

remove

Image
SKU
8900002134654
8900002134609
NEOKCP
8900002134715
8900002134708
8900002134784
Rating
Price
Stock
Availability

99

in stock

96

in stock

90

in stock

96

in stock

91

in stock

96

in stock
Add to cart
Description
Content

Heat Level (🌶️) - 6/10 Medium Spicy 

Emerging from the foothills of the Himalayas, Dalle Khursani also known as Fireball Cherry Pepper is one of the hottest chillies in the world! A traditional recipe of Dalle Chilli paste is a staple in every household in the north east. This hot and spicy chilli also serves as a perfect condiment for comforting meals at home.
Gundruk is an indigenous Nepali food that is prepared by fermenting and sun drying leafy vegetables (mustard leaf). Gundruk has distinctive sour and fermented taste. It is one of the most versatile food which can be used in various delicacies such as Gundruk Soup, Achar(pickle), or simply a side dish.

Heat Level (🌶️) - 8/10 Extremely Spicy 

King Chilli (Raja Mircha) is considered as one of the hottest chilli in the world. NE Origins King Chilli pickle is directly sourced from Nagaland. Its tangy and not very hot, the aroma from these chilli itself is enough to make one salivate. Moreover, It makes a perfect condiment for comforting meals at home.

Our Sichuan peppercorns locally know as Timur in Sikkim, has a unique aroma and flavor that is neither hot like chilli peppers nor pungent like black pepper but has slight lemony overtones and creates a tingly numbness in the mouth. It is organically grown in Himalayan region especially in Sikkim.

Heat Level (🌶️) - 6/10 Medium Spicy 

Dalle Khursani (Fireball cherry pepper) is a special variety of chilli grown in Sikkim. Scarlet red in colour, it is one of the hottest chillies in the world. Biting into these chilli with every morsel of rice adds heaps of flavour to the food that hits the right spot. The aroma from these chillies complemented by the tang from the pickle serves as a perfect condiment for comforting meals at home.
🍃Organic Certified Tea Estate 📍Single Origin - Temi Tea Estate, Sikkim 🫀High in Antioxidants The Orthodox Special Temi Tea is the blend of the spring, monsoon and autumn flush of the Temi Tea Estate. This tea is affordable yet premium, perfect for your everyday use at home.

Temi was established in 1969 by the Chogyal of Sikkim, he converted 440 acres of land into a sprawling tea plantation. Ravangla was the initial choice for the plantation but it was later shifted to Temi for weather feasibility, he gave this exquisite stretch on gentle slopes on loamy soil. Just perfect to grow tea.

Today the Temi Estate brings to you a range of exclusive teas like the premier first flush, other flushes of orthodox, oolong, green and white tea. Certified as an Organic Tea Estate in 2008, it has won laurels from all around the world. The teas of Temi are known to be one of the finest teas in the world today. The distinctive landscape of Temi Tea Estate gives each cup a character that is wholly unmatched. Spread across the elevations ranging from 1400 to 2000 metres above sea level, each season at the Temi Tea Estate moulds every flush differently. From the earliest tea to now, Temi has proudly retained its legacy, character and aroma.

From the Chogyal of Sikkim it is now run by the government and doing everything possible to preserve this heritage and take it forward. The government packs it under the brand "Temi" and sells it across the state of Sikkim. We at NE Origins support the endeavour and help them find national and international market for this amazing "taste of distant saga" teas.

Weight
0.598 kg
0.285 kg
0.999 kg
0.260 kg
0.5998 kg
0.465 kg
Dimensions
6 × 6 × 10 cm
10 × 10 × 6 cm
15 × 12 × 10 cm
17 × 9.6 × 17 cm
6 × 6 × 10 cm
8 × 4.5 × 9 cm
Additional information

| | |
| --- | --- |
| Weight | 0.598 kg |
| Dimensions | 6 × 6 × 10 cm |

| | |
| --- | --- |
| Weight | 0.285 kg |
| Dimensions | 10 × 10 × 6 cm |

| | |
| --- | --- |
| Weight | 0.999 kg |
| Dimensions | 15 × 12 × 10 cm |

| | |
| --- | --- |
| Weight | 0.260 kg |
| Dimensions | 17 × 9.6 × 17 cm |

| | |
| --- | --- |
| Weight | 0.5998 kg |
| Dimensions | 6 × 6 × 10 cm |

| | |
| --- | --- |
| Weight | 0.465 kg |
| Dimensions | 8 × 4.5 × 9 cm |

Sold
1
4
10
4
9
4
Shipping