Kinema/Axone, the history and all it's stinking goodness!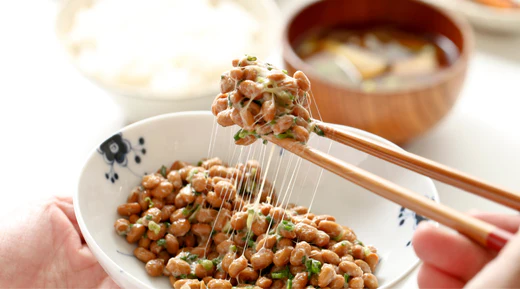 Kinema or Akhuni as we know it to be from the movie that made it really famous (Axone); is nothing but fermented soya beans, for those of us who may imagine it to be something really unholy it is purely vegetarian. Kinema as we call it in the Nepali dialect has a very pungent smell. The smell (or aroma as some would call it) is so strong that when one home cooks kinema, the 4-5 homes that are in the vicinity would know that somewhere kinema is cooking.
Kinema in the Nepali diaspora originated within the Limbu Rai community. The dish is much loved by the ethnic community. The strong flavours of kinema and other such foods are something that is an integral part of their culture. In these homes one must not say things like "it's stinking" it is deemed rude to say something like that for them it is pure "aroma". The smellier the Kinema, the more depth in flavour it has. In these households commenting that the dish is stinking is actually considered an offense to the food that they eat.
History of Kinema
For us who are not from the Kirat community, we still enjoy eating kinema precisely because of all the things that make up its annoying characteristics according to someone who is new to the dish. For me personally, kinema is pure nostalgia. At home we were allowed to start eating kinema as soon as we stepped into teenage, not before that. This was because according to my mother, children were not capable of stomaching the intense flavour nutrition and aroma of the dish.
For the Limbu community who quintessentially eat kinema, it is something that is a staple. There is however dishes that is similar to Nepali kinema, eaten in some south East Asian countries. One may have heard of the Natto and miso from Japan or Tempeh from Indonesia which are varieties of fermented soy bean that not a lot of people even from the north east have heard of themselves.
Fermenting Bhatamas or Soybean is a culture of food that originated in Eastern Nepal. According to historical facts go, it was the Kirats and Limbus who first cultivated the black soybean as a crop (this fact was encountered from the Mundhum which is a religious Kirat scripture). There was a long time before the fermentation of Kinema was known to the other surrounding communities that lived alongside Kirats. Especially since others had learnt how to ferment many other things like radish, spinach, radish leaves and mustard leaves.
Migration of Kinema
One cannot point to exactly when the fermentation process was introduced to the eastern parts of Nepal but an Indian Microbiologist Mr. J.P. Tamang proposed that kinema may have originated somewhere around the 600 BC and 100 AD during the Kirat reign in Eastern Nepal. A certain group of people hailing from the Yunan province of South China established their own kingdom in East Nepal in the 7th century and started calling themselves Limbu or Yakthumba. The method of fermentation of Soybean seems to have travelled with them and into modern day Nepal; which has then travelled to north eastern parts of India. From them, the other tribes, and communities learnt the art of fermenting soybean and turn it into medicine.
With Buddhism being introduced to these regions, people were encouraged to adopt vegetarian food habits and so by the 3rd and 4th century fermentation of different kinds of foods had become a prevalent practice. There is an extension to the Natto triangle theory that was proposed by Tamang, which proposes that the unsalted, sticky fermented soybean culture is prevalent within the triangle that covers places such as Japan, Laos, Cambodia, South China, Eastern Nepal, Northern Myanmar, Bhutan, Thailand and North Eastern India.
Preparing Kinema
There are many names to Kinema within the Kirat community some of them are Chembihik and Hokuma. Like variations in names, there is a variation that can be observed in different preparation methods of Kinema. The process however starts by soaking soybeans in water for two nights until slight foam covers the surface of the water. Then the soybeans are boiled so that they are slightly cooked. The beans are then strained to lose the water and then beaten so that the beans split into two. Then in a basket made of bamboo (moktu in the vernacular), a lining of fern leaves, banana leaves, and other leaves that are wildly found are spread inside the basket and the soybeans are dumped inside the leaf lining and wrapped and covered. Then this is stored in a warm and dark corner of the home for the fermentation process to begin.
In some other variations of preparing kinema, the beans are beaten into what would look like a really rough paste like texture. This is because the beating will allow the beans to cover more surface area which further encourages more microbial activity. In other variations people also sprinkle ash from the fireplace which increases the alkaline level in the soybeans as well as help with conducting a perfect environment for the fermentation process to happen well.
The beans are then left for a good 5-6 days to ferment completely. This is when the soybeans get a pungent aroma which is an ammoniac smell; the stronger the smell, the stronger the flavours in the Kinema. The soybeans are then taken out of the basket where they start to look stringy and sticky. One can consume Kinema right away this way, which give it a fresh kinema flavour. But people also dry Kinema in the sun for 4-5 days till the moisture has evaporated so that it becomes easy to store it for a long time and the shelf life increases.
Fond Memories of Kinema
In my home, when I was first introduced to this dish, I was automatically repellent to the smell and did not want to consume it, but my mother always insisted that eating kinema would really help with my digestive issues. It did take me a few time to get used to this dish, but I clearly remember that once I was done eating kinema, my stomach would not feel too heavy and metabolism would have increased; Which made me feeling great in the stomach. Now I am no more repelled by Kinema and consume it atleast twice a week.
There are people who are completely new to the concept of Kinema and are taken aback by the aroma of the dish. By the time they listen to all the good that the dish does, the aroma has well in advance made them feel negative about the dish. But for the brave hearts who would like to know the perfect way to cook Kinema here is an authentic Kinema Curry Recipe:
INGREDIENTS:
100 gms of Kinema (sticky or dried)
One whole diced onion
Half a tomato diced as well
8-9 cloves of garlic roughly crushed.
2-3 Dalle chillies parted from the middle or diced (according to spice tolerance.)
Lakadong turmeric to increase nutritional value
Some salt
Red chilli powder
A cup of water
Cumin seeds
Mustard oil
PREPARATION:
In a frying pan add mustard oil two to four tablespoons.
Now fry the Dalle chillies and cumin seeds so that they turn brownish.
Now add the diced onions and garlic and sauté them so that they sweat.
Add a little Lakadong turmeric to the mix and let it cook on a low flame for a minute or so.
Now add the kinema and tomatoes to the pan. Add the salt and red chilli powder as well and mix well.
Let that cook for about 4-5 minutes on a low flame and make sure you stir the mix from time to time in order to avoid the kinema sticking to the pan.
Now put the flame on a medium heat and let the mix cook for a few more minutes before you add the warm water little by little to the mix so that the water turns thicker and curry like.
Garnish with chopped coriander leaves and Voila! Your Kinema is ready to be served with some gundruk ko jhol and plain steaming rice.
If you are much intrigued to try this unique dish from the North East, head over to the NE Origins website to order a Axone pickle for yourself and enjoy the wonders it does to your stomach health.