DALLE KHURSANI-AKBARE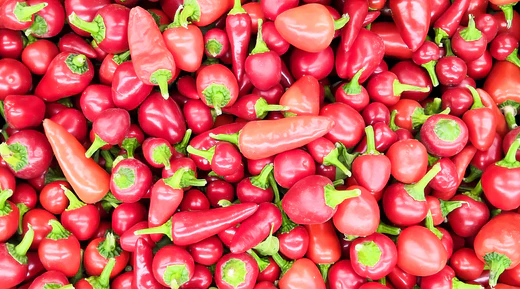 Dalle khursani is a special variety of chilly grown in Sikkim and also covers neighboring regions of Darjeeling, Kalimpong and Nepal. it is one of the hottest variants of chili found in the region. Dalle Khursani basically translates to 'Round chilly 'owning of its physical appearance. It is also known as 'Akbare' in certain parts of Nepal. Sikkim's famous dalle khursani has earned its geographical Indication (GI)tag from the department for promotion of Industry and internal Trade. Dalle Khursani has a range of 1,00,000 to 3,50,000 SHU (Scoville heat Units). Sikkim produces over 250 tons of dale Khursani annually. besides being a really hot chilly it has a distinct Aroma and high flavor capability that hits you at the right spot and these characters are precisely why the dalle is so famous. the aroma itself is capable of making you salivate.
The ideal Temperature required for flowering of Dalle Khursani is 20-25 degree Celsius. anything below 12 degree Celsius (even during the night) hampers the growth and fruit. The crop during its early stage requires a warm and humid climate. However, it demands dry weather towards the maturity of the fruit. It cannot withstand heavy rainfall that causes the rotting of the fruit. It requires sandy and loamy soil to grow and under well protected conditions it grows all year round. The height of the plant under open field reaches up to 100-130cm. In the green house, conditions of the plant can go up to 150-180cm. The pod in its initial stage is green and it turns red once its fully mature and is usually confused with cherry.
Dalle khursani belongs to the capsicum family and it is known to be extremely hot. The only method of preservation that this chilly undergoes is pickling and eaten with traditional food. it can also be preserved with the radish, bamboo shoot, with the yellow peas. Dalle Khursani boasts an array of nutrients such as Vitamin A, E, and C potassium and anti-oxidant, it is low in sodium. A hundred grams of fresh dale Khursani has five times more vitamin C than the Oranges. This dalle chili is a wonder homegrown chili whose aroma is enough to make one salivate profusely. one has to bite into one to know the strengths of the chili.