Top 12 Types of Indian Pickles You Must Try – Ne Origins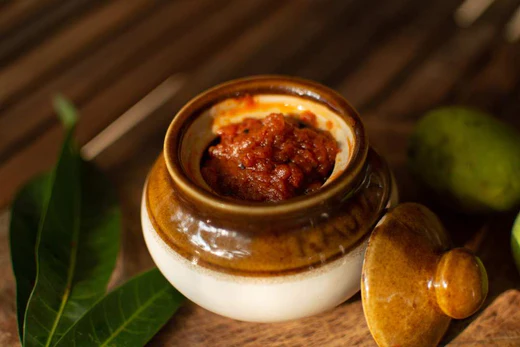 The symbol of India, "Unity in Diversity," finds its significance in the sphere of pickles as well. A pickle is a binding factor for the diverse people, lifestyles, and cultures of different regions of our country.
At NE Origins, we are proud of our indigenous pickle varieties from the Northeast. However, we are curious about what the rest of the country is having. So, the food hunters at NE Origins set out to try and curate a list of different varieties of mouth-watering pickles that represent the different parts of the country.
Top 12 Different Types of Pickles in India
Mango PickleThe most famous all-weather pickle of all pickles in India is the mango pickle.
Mangoes are found almost in all states of our country. It is prepared with raw mangoes, red chillies, sugar, and authentic indigenous spices. Usually made during the summer, it can be consumed throughout the year if preserved properly.
It can be eaten even as a snack because of its spicy, sour, and fruity flavour.
It is not only delicious, but it is also a healthy addition to your meals. The mouth-watering 'Aam ka Aachar' has many health benefits, ranging from boosting immunity to keeping blood pressure under control.
Lemon PickleAre you one who loves to enjoy both sour and sweet flavour in every bite? Then you must try lemon pickle. Also known as Nimbu ka Achar, lemon pickle is prepared with lemon, methi seeds, sugar or jaggery, hing, sesame oil, mustard seeds, and authentic Indian spices.
Though the lemon pickle complements every Indian dish, it is best enjoyed with paratha, especially aloo paratha. The sourness of the lemon adds a tangy flavour to this meal. It is one of the most favourite Indian pickles across generations.
Bamboo Shoot PickleFor every food influencer, the bucket list is incomplete without a bamboo shoot pickle.
Bamboo shoots, which are the edible part of bamboo, are mixed with the right indigenous Indian spices and oil. Though it is a speciality of northeast India, it has lovers across the length and breadth of India.
You can enjoy any Indian meal with the bamboo shoot pickle, which has a subtle flavor, a crunchy texture, and an appetising aroma. To try it, you must buy it from NE Origins, which has a speciality in this pickle.
Garlic Pickle Though garlic is a side character in Indian dishes, it is the main actor in garlic pickle.
The moment you take the first bite of garlic pickle you get experience many flavours ranging from spicy, salty, to sour and sweet.
Though you can eat it with any Indian dish, it is best enjoyed with theplas, a famous Gujarati snack.
Amla Pickle Eating hot parathas in the winter is incomplete without a healthy and delicious amla pickle. It is prepared with dried alma, sesame seeds, fenugreek seeds, fermented amla, and Indian spices.
Add some nutrition to your meal with an amla pickle. You can either order it online or make it at home.
Dalle Chilli PickleWe cannot curate a list of the top pickles in India without mentioning the Dalle Chilli Pickles of the Northeast. Did you know that Dalle Chilli is one of the hottest chillies in the world?
If you love spicy flavours, then you can't afford to miss a Dalle Chilli pickle. A speciality of Sikkim, it is today famous not only in India but also worldwide because of its spicy flavour and aroma. You can order the premium-quality Dalle chilli pickles from NE Origins.
Radish PickleAre you looking for a seasonal pickle for the winter season? If so, then you must try radish pickle. It is one of the famous winter pickles in India.
You can easily prepare it at home by chopping the radish into pieces and marinating them with salt, honey, and vinegar. Leave the pickle for approximately 3 days to mature.
Popularly known as "Mooli ka achar," you can enjoy it with any Indian cuisine; however, it is best enjoyed with the special winter dish, which is Sarson ka Saag and Makki ki Roti. However, it gives any dish an addictive zing.
Smoked Pork Pickle For a non-vegetarian, trying lip-smacking smoked pork pickles is a must. Next time when you enjoy gravy meat, and bread, add smoked pork pickles to elevate the taste of your meal. You can order the finest quality pork pickles from NE Origins.
In northeast India, the pork meat is procured from Nagaland, and pickles are prepared using traditional smoking methods and authentic spices. You experience the right amount of every flavour.
Carrot PickleJust like Gajar ka Halwa is a must in the winter season, so is the carrot pickle. Carrot pickle is one of the most famous pickles in India because of its crunchy texture and tangy, spicy, and salty taste.
You can prepare it at home by combining carrots, kalonji, split fenugreek and mustard seeds, asafoetida, chili powder, turmeric powder, and salt. You must leave it in the sunlight for 3–4 days to mature. However, you can also order it online, if you have a time crunch at home to prepare it.
Smoked Chicken PickleBeing a chicken lover, you can't miss trying smoked chicken pickle. It is a feast to relish. Once you taste it, your taste buds won't forget the taste for days.
The preparation process and the use of authentic Indian spices bring out the best flavour in the chicken. You can experience the smoky flavour in every bite.
Ginger Pickle To add a sour and bitter flavour to your meal, add garlic pickle.
The spicy, distinctive, and flavorful flavour of the ginger pickle enhances the taste of every Indian meal. It gives a new lease of life to a boring meal with its burst of flavours.
Fish PickleIf fish is your happy food, then you must try authentic and mouth-watering fish pickle. The tangy and spicy flavour of fish pickles uplifts the mood of any meal. Every bite contains a perfect blend of spicy, sour, and salty flavors.
States like Kerala, West Bengal, and Mumbai, to name a few, are known for their special fish pickles. You must try fish pickle of every origin, as each has its own method of preparation.
Conclusion
India is the birthplace of finger-licking pickles. Today, Indian pickles have created their own special spot on the map of world cuisines because of their unique flavour and taste. They are a crucial component of any dish. So why not add some sour pickle goodness to your meal to spice it up? Buy premium-quality, ready-made pickles from NE Origins.