Lakadong Turmeric: Everything You Need to Know—NE Origins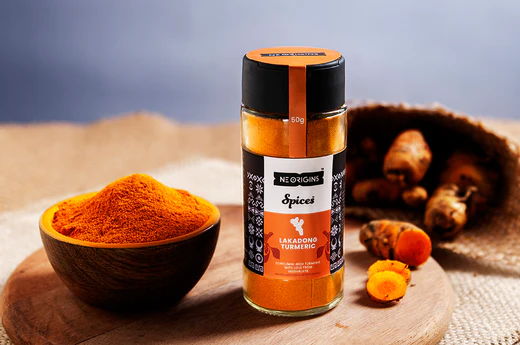 Turmeric is an irreplaceable plant-derived spice in every kitchen and cuisine. Today, turmeric has created its own significant place on the world map of spices. From giving colour to enhancing the flavour of a dish, turmeric spice is the heart and soul of the masala box. Not only this, it is used in auspicious times, traditions, and even beauty regimens. Not to forget its medicinal properties. In short, turmeric is an all-rounder spice.
Do you know different regions of India produce different varieties of turmeric? For example, Meghalaya is known for producing Lakadong turmeric, Nizamabad turmeric is a speciality of the Nizamabad region of Telangana, and Erode turmeric is grown in the Erode region of Tamil Nadu, India. There are more than 30 varieties of turmeric in India. In this blog, we will take you through the finest of all turmeric, Lakadong turmeric.
Table of Contents
#1 Cultivation of Lakadong Turmeric
#2 What is special about Lakadong Turmeric?
#3 What are the Health Benefits of Lakadong Turmeric?
#4 How to Use Lakadong Turmeric in Your Everyday Routine?
Cultivation of Lakadong Turmeric
The world-famous Lakadong Turmeric is cultivated in the Lakadong Valley of Meghalaya's scenic West Jaintia Hills, hence, it is named so.
How you sow, where you sow, and under what conditions you sow determine the quality of a turmeric. The generic turmeric is grown in humid conditions ranging from 20 to 30 degrees Celsius, whereas the Lakadong turmeric is grown in a comparatively cold climate.
The dark-colored alluvial soil with an airy texture, the cool climate, abundant rain, and the geographical landscape of Meghalaya are the major factors that contribute to the uniqueness of this miracle spice. Furthermore, the traditional and organic farming methods used by Meghalaya farmers have preserved the uniqueness of Lakadong turmeric powder. No chemical fertilisers or pesticides are used in the cultivation of Lakadong turmeric.
The premium quality lakadong turmeric at NE Origins is sourced from the NaKper farms in Meghalaya's Jaintia Hills.
What is special about Lakadong Turmeric?
Do you know which element gives colour to your favourite spice, turmeric? It is the orange-colored curcumin pigment that is the primary ingredient responsible for turmeric's color. It can be found in variable amounts in different varieties of turmeric. Lakadong turmeric of Meghalaya has the highest content of curcumin, amongst all varieties of turmeric.
To be more specific, Lakadong turmeric has 8 to 12% curcumin concentration, whereas generic turmeric has 2 to 3% curcumin level. Because of the favourable black soil, temperature, and environmental factors, there is a high curcumin content in this turmeric.
The high curcumin concentration gives it a bright, golden yellow hue and an earthy flavor, and today it is the world's best turmeric variant. Furthermore, Lakadong turmeric has numerous health-promoting and culinary-enhancing properties because of its high curcumin content.
In 2015, Geographical Indications (GI) tag was given to Lakadong Turmeric.
What are the Health Benefits of Lakadong Turmeric?
In general, you must be wondering that the health benefits of Lakadong Turmeric might be same to that of regular turmeric health benefits. However, we would like to take you're a few seconds to tell you that because of its high curcumin content and the presence of bioactive components like polysaccharides and other essential oils, Lakadong turmeric is three times more potent than regular turmeric. Without further delay, let's dive into its health benefits.
Removes Free RadicalsAn increase in pollution, an unhealthy diet, and inappropriate lifestyle choices can significantly increase free radicals in your body, leading to modern lifestyle diseases such as cancer, heart disease, asthma, arthritis, diabetes, and so on.
Antioxidants serve an important role in eliminating free radicals while also improving your body's natural antioxidant capacity.
Lakadong turmeric is considered to have the highest antioxidant levels. The curcuminoids in turmeric are particularly powerful at detecting and neutralising free radicals. As a result, you should incorporate Lakadong turmeric into your daily lives (preferably along with other healthy lifestyle choices).
Fights Depression
After the COVID pandemic, depression has become a common mental health problem. One of the natural ways to fight depression is to consume turmeric.
Turmeric and depression may appear to be an odd pair. However, you would be surprised to learn about turmeric's health benefits in preventing the onset of depression. Turmeric is rich in antioxidants and has anti-inflammatory effects. These two characteristics contribute significantly to the prevention of oxidative stress, which is a major cause of depression.
It is the greatest antidepressant medicine alternative at all times without any side effects.
Boosts Immunity
Poor nutrition, along with bad habits like alcohol drinking and smoking, weakens your immunity.
One of the best natural ways to boost your immunity is to add Lakadong turmeric to your daily consumption, in one form or another.
Lakadong turmeric is rich in the lipopolysaccharide enzyme, which improves the immune system and also helps your body combat viral infections. Furthermore, it strengthens your digestive system and reduces the risk of diabetes.
In addition to the above, Lakadong turmeric has other health benefits like –
It helps lower bad cholesterol and blood pressure.
Lakadong turmeric powder can be mixed with water to form a thick paste, which can be used as a face mask to get the glowing and blemish-free skin
It promotes a healthy brain.
It helps reduce sore throat.
How to Use Lakadong Turmeric in Your Everyday Routine?
To enjoy the health benefits of the famous Meghalayan Lakadong turmeric, you must know how to use it in everyday life. Here are the 4 ways to put it to use:
Turmeric Tea: To the boiling water, add a pinch of Lakadong turmeric, cinnamon, and ginger to make a healthy turmeric tea. You can enjoy this tea at any time of the day.
Turmeric Milk: Turmeric milk is a common Indian recipe in every Indian household. However, you can make the milk tastier and healthier by using Kakadong turmeric in place of ordinary turmeric.
In curries: Make your everyday subzi and curries tempting to the eyes and taste buds by adding a pinch of Lakadong turmeric. The beautiful golden yellow colour of Lakadong turmeric gives every cuisine a deep yellow colour, along with a rich aromatic flavor.
Turmeric face mask: In addition to making beverages, you can use Lakadong turmeric to make a face mask. Add a pinch of turmeric to the mixture of besan, milk, honey, and lemon. Apply this face mask to balance out your skin tone and get a very subtle glow.
To learn about different ways of using Lakadong Turmeric in kitchen, click here.
Conclusion
Lakadong turmeric, a magical spice of Meghalaya, is a world-famous spice today because of its earthy flavour and incredible health benefits.
After reading everything about it, you definitely want to try it in your next recipe or in other ways. The premium quality Lakadong turmeric at NE Origins is sourced from the NaKper farms in Meghalaya's Jaintia Hills. It can be delivered to your doorstep within a few days if you wish to order it online through us. Order now.