Everything You Need to Know About Sikkim Temi Tea – NE Origins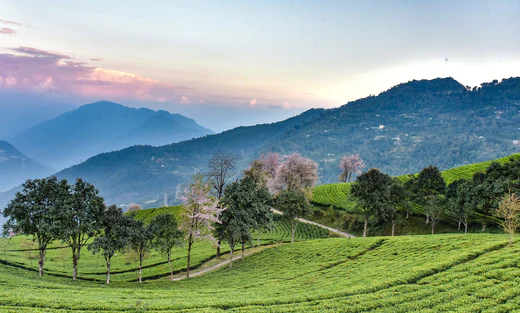 Tea is not a drink; it is an emotion. From uplifting the mood to celebrating the good times, tea has become a part and parcel of every Indian household. A true tea lover doesn't only taste tea of every origin but also dives into the enriching history of tea. In this blog, we will talk about Sikkim Temi Tea, one of the world-famous teas. The taste and flavour in each sip of Sikkim temi tea will satisfy every taste bud.
Table of Contents

#1 Enriching History of Sikkim Temi Tea
#2 Why is Temi Tea Garden so Special?
#3 Varieties of Temi Tea Garden
#4 4 Seasons of Sikkim Temi Tea
#5 Best Time to Visit Temi Tea Garden
Enriching History of Sikkim Temi Tea
Sikkim Temi tea finds its traces in the tea gardens of Sikkim, the first organic state in India. Sikkim Temi tea is harvested in the tea garden of Temi, located in South Sikkim. Being the only tea estate of Sikkim, Temi Tea Garden produces the world's best quality tea and covers an area of 177 hectares (440 acres).
Temi Tea Garden has an enriching history. The last Chogyal (king) of Sikkim, Palden Thondup Namgyal, started the tea plantation in the Ravangla region of Sikkim in 1969, following the Chinese invasion of Tibet, when the Tibetan refugees started thronging to Sikkim for sanctuary. At that time, Sikkim was an independent state. Later on, the tea plantation site was shifted from Ravangla to its current location, Temi. The weather feasibility, gentle slopes, loamy soil, and moderate erosion in Temi, make it the perfect choice to grow tea.
Why is Temi Tea Garden So Special?
At present, the Temi Tea Estate is controlled by the Government of Sikkim. In 2008, it was declared a 100% organic tea estate, as it deploys organic methods as per the guidelines of the Institute of Marketecology (IMO) of Switzerland. For two consecutive years, 1994 and 1995, the Tea Board of India awarded the 'All India Quality Award' to the Temi Tea Garden.
Varieties of Sikkim Temi Tea
The one and only tea estate in Sikkim, the Temi tea estate, produces the best quality tea for the international market. The tea leaves are hand-plucked with care to offer tea lovers across the globe a delicious brew that is light, golden yellow, and of delicate flavor.
Temi Tea Estate's lush green slopes and gradients are ideal for growing premium-quality black and green tea. When the pluckers bring in the delicate green leaves, which are then brought inside for steaming, rolling, and drying, green tea is created. This results in the proper balance of exposure for mild oxidation during rolling as opposed to a robust fermentation like that of the Orthodox Temi Black Tea.
Temi green tea is made entirely without using any pan-frying and is 100% organic. Due to the presence of antioxidants, Temi green tea offers many health benefits, ranging from fat loss to lowering the risk of cancer.
The white tea is manufactured from the buds and unfurled new leaves, and it has a strong floral flavor. Oolong tea has a varied flavour profile that ranges from light to grassy to floral to toasty to sweet.
4 Seasons of Sikkim Temi Tea
Sikkim Temi Tea has four seasons, which correspond to the 4 flushes. For your better understanding, "flushing" means the plucking of a tea plant's harvest.
The first flush of tea leaves is picked in the spring season. Tea leaves have a distinct flavour and scent. The tea prepared using the first flush leaves is light yellow in colour.
2. The second flush of Sikkim Temi tea has a strong but mellow brew.
3. The third flush, also known as the monsoon flush, creates a full-bodied cup with a mellow taste.
4. The fourth and final flush, also known as the "autumn flush," has a well-rounded taste with a hint of warm spices.
The tea leaves of each season have a distinct flavour profile, and they are grown at elevations ranging from 1400 to 2000 metres above sea level. Apart from the above varieties of black tea, Sikkim Temi Tea Estate also produces green tea, white tea, and oolong tea.
Best Time to Visit Temi Tea Garden
In 2023, when you plan a trip to Sikkim, make sure to add Temi Tea Garden to your itinerary.
Temi Tea Garden is one of the most beautiful gardens in northern India. It is regarded as the best tea estate in the world since tea is grown solely with organic fertilisers and the quality is immaculate, attracting visitors all year. The tea garden is lined with magnificent cherry blossom trees.
The lush green tranquillity and the aroma of many sorts of tea leaves will undoubtedly capture your heart. The Temi Tea Garden in Sikkim is great for rejuvenation and enjoyment with your loved ones.
Winter is the best time to visit Sikkim. Clear and calm weather is perfect for sightseeing. When you plan a trip to Sikkim in November, don't miss out on visiting the Temi Tea Garden. During the winter month of November, the cherry blossom trees surrounding the plantation flowered to a whole new level, making the uphill journey extremely enjoyable.
Conclusion
So next time, when you buy groceries for your home, don't miss out on ordering the Sikkim Temi tea from NE Origins. The taste and aroma of Temi tea are enough to make you addicted to it. Be it kickstarting your morning or relaxing yourself after a hectic day at work to satisfying tea craving at late night, cup of delicious and flavourful Sikkim Temi Tea does it all. The authentic Temi Sikkim tea is highly exclusive and available at NE Origins. NE Origins aims to support the endeavours of Sikkim Temi Tea planters and help them find a national and international market for this amazing "taste of distant saga" tea.