Lakadong Turmeric- an effective home remedy for seasonal Flu.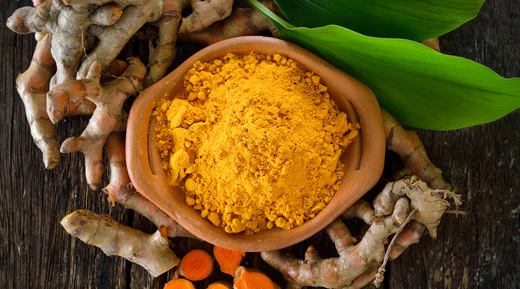 It's that time of the year where one falls under the terrible effects of changing seasons that causes them flu, influenza or seasonal fever. As we end the winter solstice with makar sankranti and head towards the summer solstice, our bodies undergo some changes that causes disturbance within. Our minds may know that the seasons are changing, but our internal body parts and our body cells do not understand this change the way our mind does. The cells of the body that had adapted to the norms of the winter feel that these norms have stopped working for the benefit and so, as they acknowledge the weather changing, there is a disturbance that causes the cells to fight a few elements in the body. This is what causes severe viral or flus or common cold and cough.
As one reaches to self-treat these minor holdbacks to life, home remedies seem to be the very first approach is it not? For me, my mother opens a fresh packet of Lakadong Turmeric to supplement my foods, drinks, kadhas (liquid traditional medicine) and so on and so forth. The spice has been one of the most widely and deeply studied naturally occurring medicines that has always been a part of herbal remedies. The side effects of using turmeric are extremely few and the curcumin or curcuminoid content in the turmeric is responsible for a multitude of health benefits but is the spice a good choice to remedy influenzas and colds? Let's find out.
Turmeric as a treatment to flu, cold and cough:
Curcumin is the main element of the spice that not only offers it its deep yellow pigment but is the concentrate to all the spice's healthy properties and concentrates. This element has proven time and again that it can positively influence really chronic conditions such as arthritis, back ache, high blood pressure and so on. It has also proven to benefit the treatment to mental issues such as depression and anxiety when used on a daily basis.
Recent discoveries suggest that turmeric has helped with people suffering from symptoms that suggest the presence of bacteria and viruses that cause cold or flu like symptoms. It has the ability to reduce inflammation that can be caused by repetitive and incessant sneezing, wheezing or coughing. At the same time it also increases the capacity to hold antioxidants in your body which further boosts and strengthens your immune system. This can be a bit confusing to understand which is why we must dwell further on how the illness occurs in the first place.
What is a common cold?
This is a viral infection that happens in the upper respiratory tract which has a negative impact on the throat and nose areas. This may also be known as the Rhinovirus. A common cold can be witnessed so much in young children as opposed to adults. But even a healthy adult is known to catch the rhinovirus every 2-3 times annually.
Symptoms:
Mild to high Fever
Body aches caused by inflammation in the muscles
A Runny nose
Mucus secretion
Occasional Sneezing
Painful Headaches
Excessive Coughing
A very Sore throat
The body is known to react to different kinds of virus in different ways. With Common Cold, the body causes inflammation as a primary response to the rhinovirus. This symptom can last for a few days (2-3) or a week. One may even mistake common cold as allergies, asthma or a severe sinus infection which is again treatable using good quality turmeric.
What is Flu (influenza)?
Upon catching the flu, one can expect mild or really severe symptoms of the respiratory tract that can be extremely contagious. The word flu is derived from influenza viruses. This is a seasonal flu that comes in 2 types known to be spread in people in a routine manner.
Influenza A
Influenza B
Both the A and B viruses are responsible causes of the winter flu epidemics and type A is the one that is known to mainly start the Global Flu Pandemic. There are two other types the C & D but they are very unlikely to affect humans at all.
chest congestion
The symptoms surrounding flu are almost similar to common cold but with a higher effectiveness, longer recovery period as well as a potential for complications. If at all one acquires the stomach flu, they experience symptoms such as vomiting, diarrhea and fast dehydration that causes weight loss.
In these cases if your immune systems get extremely compromised, the common cold or flu may even turn into serious sinus infections or a viral pneumonia that can cause even graver repercussions. This is why it is highly suggested that in these cases, one takes proper rest, intake a lot of antioxidants in the form of foods or drinks and stay hydrated in order to recover quickly.
Why is Lakadong Turmeric the go to turmeric to combat these ailments?
The curcumin content in a turmeric species is what decides its value in the market. As compared to other turmeric varieties in India, the turmeric that grown in Meghalaya contains an incomparably high amount of curcumin as revealed in scientific studies. The usual turmeric may contain 2-3% curcumin whereas the Special Lakadong turmeric is known to contain anywhere from 7-9% curcumin content which makes it the king of all turmerics.
Why turmeric?
Turmeric is used mostly for two of its noticeable benefits to the state of health in times of flu. They are its anti-inflammatory properties as well as its Antioxidant content. Turmeric acts as an superior natural supplement to issues such as inflammation and swelling that further cause severe body aches and muscle pains. The anti-oxidant properties are what give your derived immune system an immediate boost.
It is also shown in some studies that revolve around cancer that curcumin may have the ability to lower a body's oxidative stress. Turmeric is also known to uplift brain functioning and the prevention of one's body from acquiring neurological-degenerative disorders such as Parkinson's diseases as well as Alzheimer's.
free radicals entering the body
An excess amount of free radicals in the body, may disable the body's ability to break these down in a proper way this is what leads to a state where the body experiences a lot of oxidative stress. This state further block the ways in which the body fights common cold and flu related viruses. When you use Lakadong turmeric to heal this state, in a few uses one can visibly see how much better the body is at combatting the virus.
So finally let us answer the very threshold question of does Lakadong turmeric work as a remedy to combat cold and flu?
Yes! Absolutely
Not only does the curcumin in the turmeric act as a powerful anti-oxidant and an analgesic, it also helps skyrocket the boost of the immune system. It contains powerful antiviral properties that can lower the symptoms of the flu by slowing the Histamine release in the body.
If you are intrigued enough, do buy pure Lakadong turmeric, sourced from the purest Meghalaya soils to help yourself or a loved one recover this flu season!