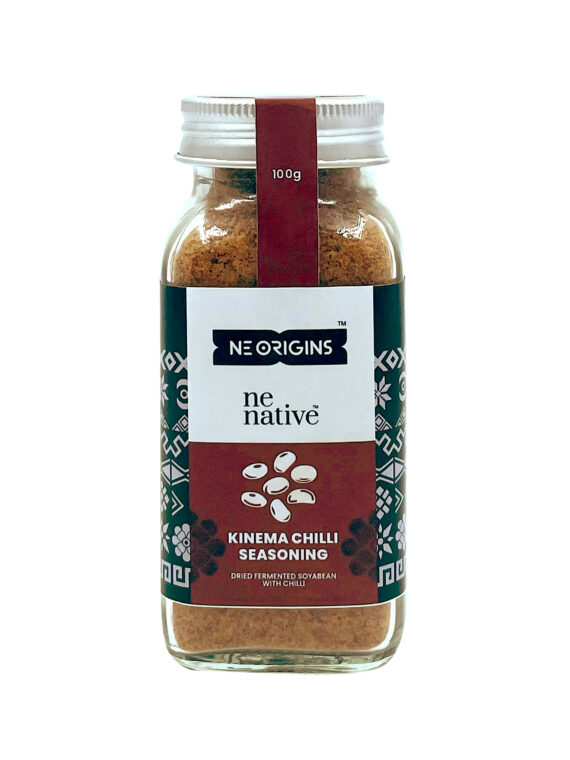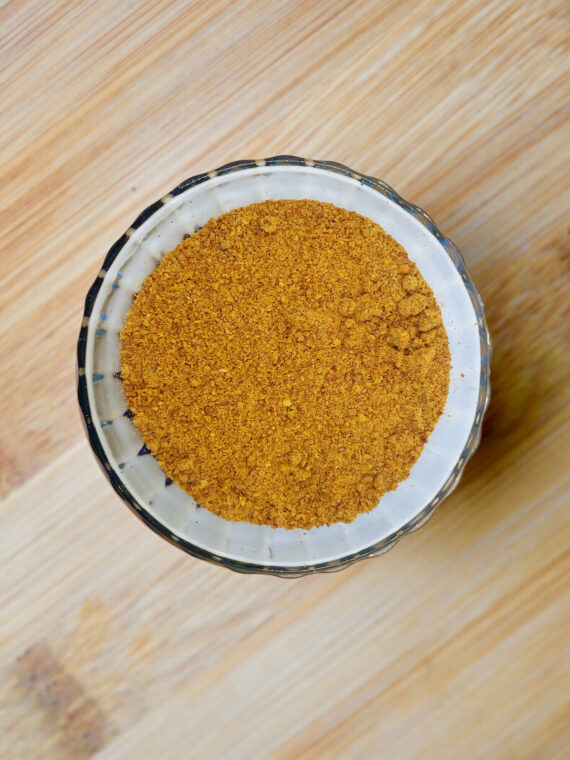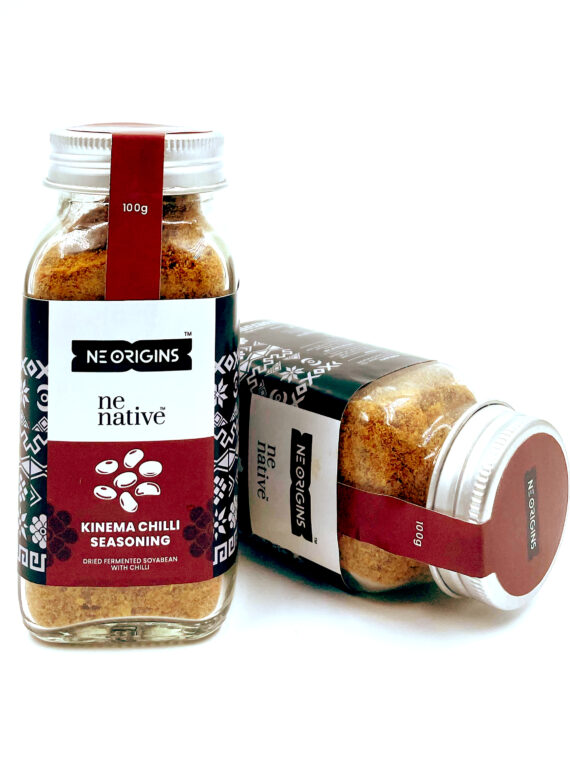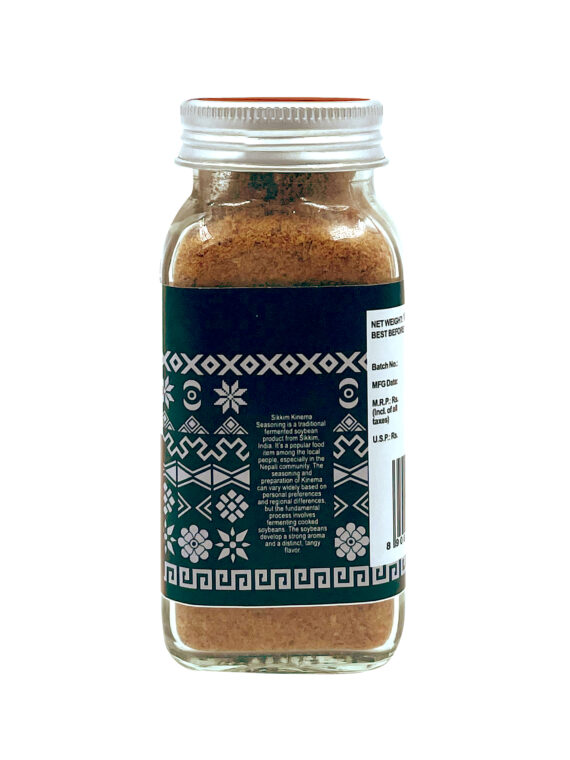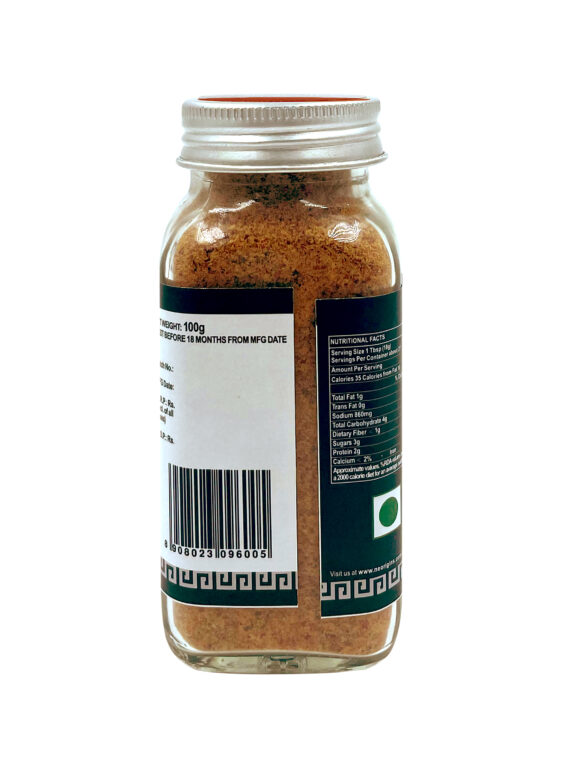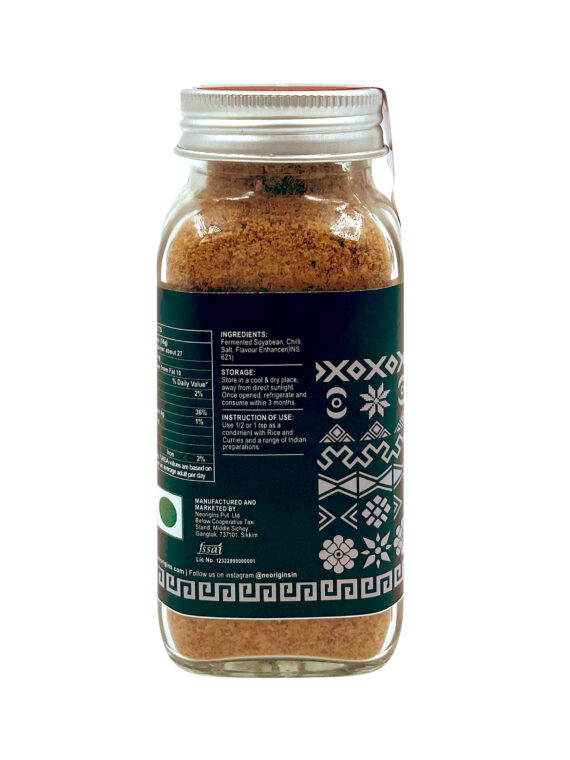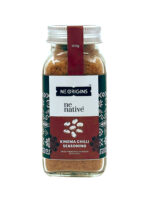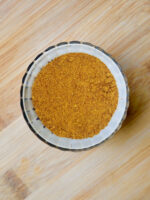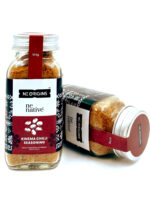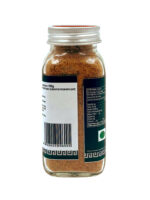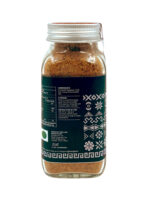 Kinema Chilli Seasoning , 100g
22
people are viewing this right now

Free Delivery Across India
Description
Sikkim Kinema Seasoning is a traditional soyabean product from Sikkim , India, it's s popular food item among the local people , especially in the Nepali Community , The seasoning and preparation of kinema can vary widely based on personal preferences and regional differences,but the fundamental process involves fermenting cooked soyabeans. The soyabeans develop a strong aroma and a distanct , tangy flavor .
Ingredients
Fermented Soyabean , Chilli , Salt , Flavour enhancer(INS 621)
How to use?
Use 1/2 or tsp as a condiment with rice and curries and a range of Indian preparations.
NEOrigins
NE Origins strives to serve the Spirit of the Northeast through its food & culture. We offer access to authentic ingredients from Northeast India to our community across India and the world.
Quick Comparison
Settings
Kinema Chilli Seasoning , 100g

remove

Kiwi Jam, 250g, Pack of 3

remove

Black Rice (Chak-Hao), 500g

remove

Try It All

remove

Northeast Tea Sampler

remove

Gundruk (Dehydrated Fermented Mustard leaves), 100g

remove

Name
Kinema Chilli Seasoning , 100g

remove

Kiwi Jam, 250g, Pack of 3

remove

Black Rice (Chak-Hao), 500g

remove

Try It All

remove

Northeast Tea Sampler

remove

Gundruk (Dehydrated Fermented Mustard leaves), 100g

remove

Image
SKU
8908023096005
KJMP003
8900002134630
NEOCTIAB
NEOCTSB
8900002134609
Rating
Price
Stock

Out of stock

Only

2

items left in stock!

Availability

20

in stock

50

in stock

32

in stock
Out of stock
Only

2

items left in stock!

89

in stock
Add to cart
Description
Content
Sikkim Kinema Seasoning is a traditional soyabean product from Sikkim , India, it's s popular food item among the local people , especially in the Nepali Community , The seasoning and preparation of kinema can vary widely based on personal preferences and regional differences,but the fundamental process involves fermenting cooked soyabeans. The soyabeans develop a strong aroma and a distanct,tangy flavor.
Introducing Ne Origins Kiwi Jam, made in Sikkim! What could be more delicious than jam made with freshly-picked kiwis? Our jam is made with the goodness of real kiwi fruits, blended with a perfect balance of sweetness and tartness. Made with natural ingredients, this jam has a unique flavor that will burst from your palate on every bite. With just the right amount of crunch, this versatile jam is perfect to spread on your morning toast, add to your favorite desserts, or even mix with a glass of sparkling wine. Enjoy the taste of paradise that Sikkim has to offer with Ne Origins Kiwi Jam.
An indigenous rice variety from Manipur, Black Rice (Chak-hao) is naturally rich in antioxidants and contains more protein, fiber, and essential minerals compared to brown or white rice. The rice appears black when raw, and purple when cooked. A simple flavour profile with a hint of nuttiness makes this non-glutinous rice highly appetizing and a staple for all homes!

Dalle Chilli Pickle 100g

Smoked Chicken Pickle 60g
Temi Tea Orthodox 250g
Naga Chilli Hot Sauce 60ml
Lakadong Turmeric 50g
Gundruk 100g
Wild Flower Honey 200g

You will get a total of 7 Indigenous items in this pack that's a perfect gift for the experimental foodie folks or even for the family.
The Dalle Chilli Pickle is a tangy and spicy pickle, whereas the Smoked Chicken Pickle is a delightful blend of traditional sour flavours with a hint of spiciness
The Temi Tea Orthodox is a favourite amongst those that love their tea just as it is. The rich and nutritional Wild forest honey is an excellent match with this.
The Naga Chilli Hot Sauce is a flawless balance of spice, tanginess and sweetness.
The Lakadong Turmeric makes for interesting culinary adventures for any foodie
And lastly, the Gundruk has an earthy flavour with a hint of sourness.

1. Temi Tea The First Flush 100g

2. Meghalaya Smoky Black Tea 100g

3. Assam Orthodox Tea 250g

This combo is definitely crafted for all tea lovers out there. You will be getting Temi Tea First Flush, Smoky Tea, and the Assam Orthodox Tea sampler kit. Deciding your favourite is made easier.

Temi tea from the first harvest will deliver a mild flowery flavour.

You will get Deep, smoky and full-bodied flavours with a smooth finish through Assam orthodox tea and Smoky tea.

Gundruk is an indigenous Nepali food that is prepared by fermenting and sun drying leafy vegetables (mustard leaf). Gundruk has distinctive sour and fermented taste. It is one of the most versatile food which can be used in various delicacies such as Gundruk Soup, Achar(pickle), or simply a side dish.
Weight
0.490 kg
1000 kg
0.990 kg
1200 kg
0.598 kg
0.285 kg
Dimensions
12 × 15 × 10 cm
12 × 15 × 10 cm
6 × 6 × 10 cm
12 × 15 × 10 cm
12 × 10 × 12 cm
10 × 10 × 6 cm
Additional information

| | |
| --- | --- |
| Weight | 0.490 kg |
| Dimensions | 12 × 15 × 10 cm |

| | |
| --- | --- |
| Weight | 1000 kg |
| Dimensions | 12 × 15 × 10 cm |

| | |
| --- | --- |
| Weight | 0.990 kg |
| Dimensions | 6 × 6 × 10 cm |

| | |
| --- | --- |
| Weight | 1200 kg |
| Dimensions | 12 × 15 × 10 cm |

| | |
| --- | --- |
| Weight | 0.598 kg |
| Dimensions | 12 × 10 × 12 cm |

| | |
| --- | --- |
| Weight | 0.285 kg |
| Dimensions | 10 × 10 × 6 cm |

Sold
0
0
19
0
1
11
Shipping