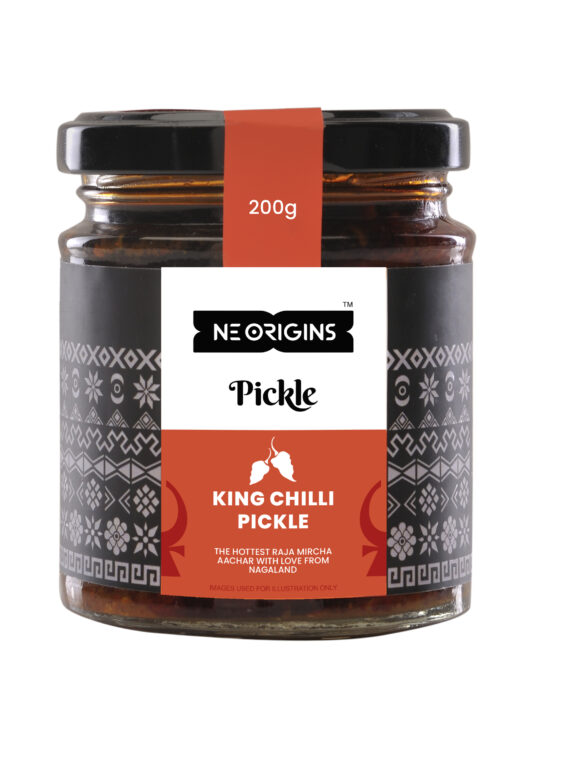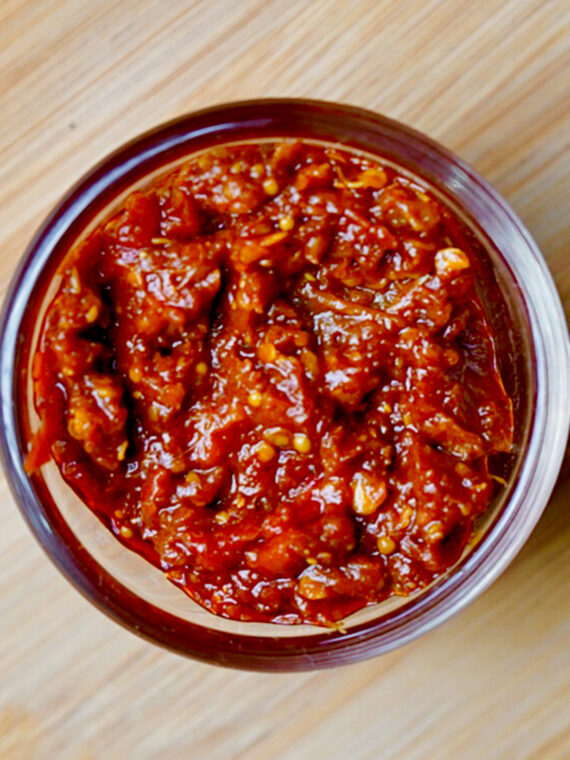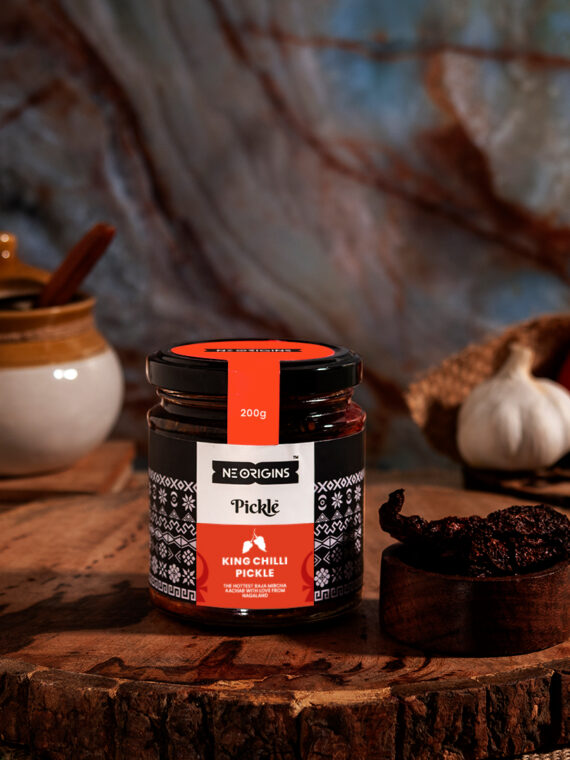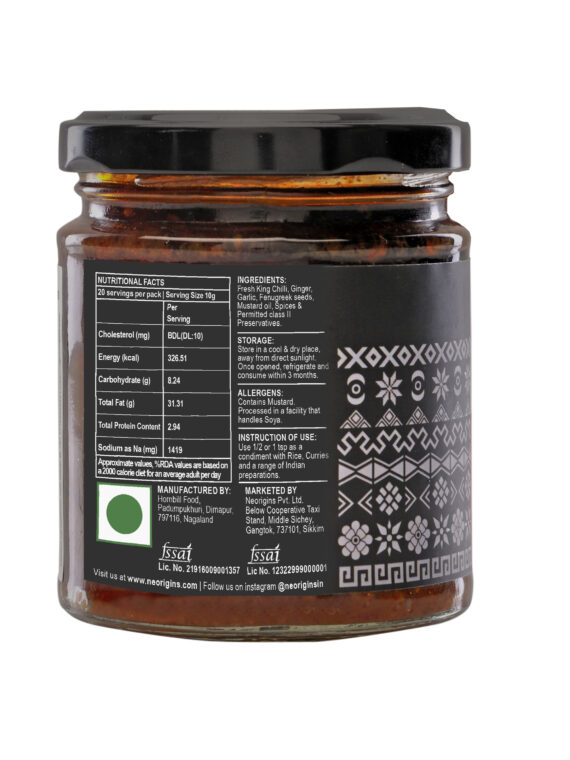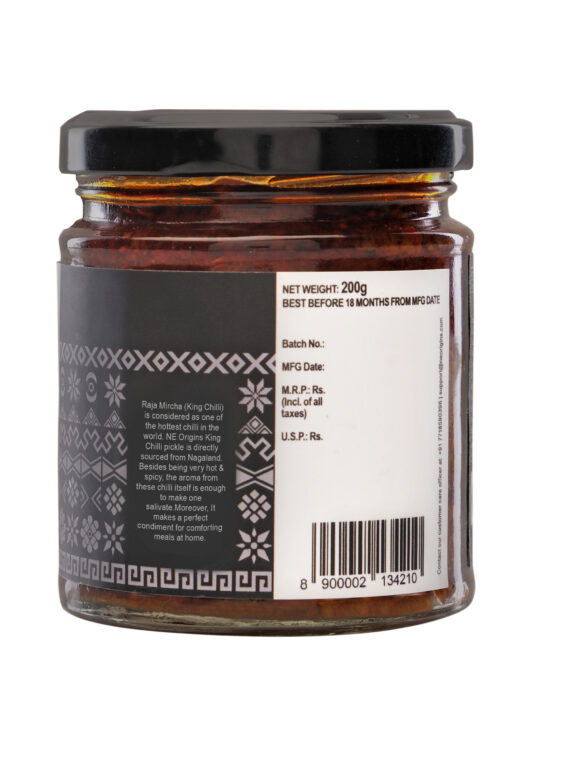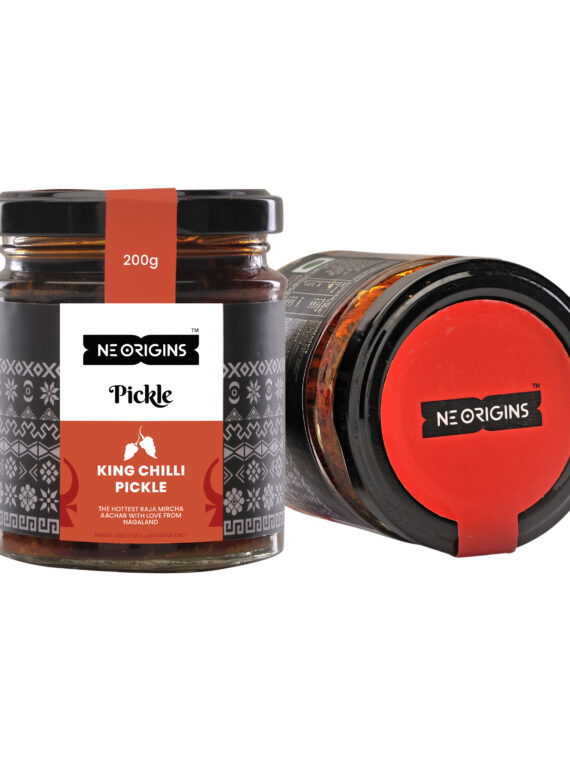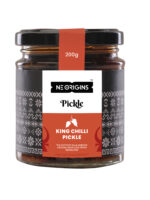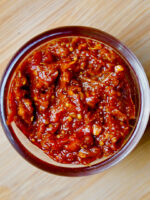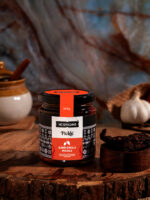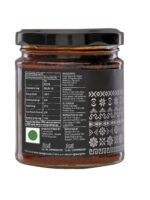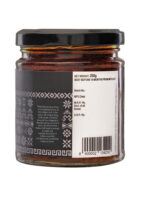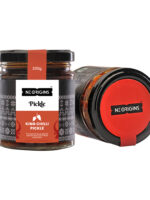 King Chilli Pickle, (Bhut Jolokia Pickle) 200g
26
people are viewing this right now

Free Delivery Across India
Description
Heat Level (🌶️) – 6/10 Tangy & Spicy 
King Chilli (Raja Mircha) is considered as one of the hottest chilli in the world. NE Origins King Chilli pickle is directly sourced from Nagaland. Its tangy and not very hot, the aroma from these chilli itself is enough to make one salivate. Moreover, It makes a perfect condiment for comforting meals at home.
Ingredients
Fresh King chilli, Ginger, Garlic, Fenugreek seeds, Mustard oil, Spices & permitted class II preservatives
How to use?
Use 1/2 or 1 tsp as a condiment with Rice, Curries and a range of Indian preparations.
FAQ
What is king chilli pickle?
King Chilli Pickle is a traditional delicacy from Northeast states, the king chilli is also known as umorok chilli in manipur and bhut jolokia in assam. King chilli pickle is a humble blend of spices, mustard oil and king chilli giving a perfect flavour profile for any indian platter.
Is King chilli the hottest?
King chilli is one of the hottest chillies in the world. The scoville heat unit score of 2 millions SHU+. King chilli is the hottest chilli in India.

How do you preserve Raja mircha?
Raja mircha or king chilli can be preserved by drying, pickling, fementing or using in packaged foods.
What is Naga King chilli?
King Chilli is also known as umorok chilli in manipur and bhut jolokia in assam all belong to the Capsicum chinense Jacq. variety of chilli.
What is the taste of chilli pickle?
King chilli pickle has a hot and achari flavour profile. The heat from the king chilli and flavours from the mustard oil and aromatic spices give it a unique taste from the Northeast
Is Chilli Pickle healthy?
Like any good thing, king chilli pickle does support a healthy lifestyle, however eating too much of it cannot be considered part of a healthy diet.
What is the spiciest pickle in the world?
King Chilli Pickle is one of the hottest pickles in the world!
How spicy is king chilli?
King Chilli Pickle has a scoville heat score of over 2 million!
Can diabetic patient eat chilli pickle?
Please consult your physician!
What are the benefits of eating King chilli pickle?
King Chilli Pickle supports digestion, is known to be good for heart health, and is a delicious addition to a meal.
What is the price of king chilli pickle?
King Chilli Pickle MRP is listed on the product page.
What ingredients are used in king chilli pickle?
King Chilli, Mustard Oil, Mixed Spices and Salt.
Can I use king chilli pickle during pregnancy?
We do not add any Class II preservatives or MSG in any of our products, however you can consult your physician before consuming.
Where can I buy king chilli pickle online?
You can buy king chilli pickle at https://neorigins.com/products/king-chilli-pickle?
NEOrigins
NE Origins strives to serve the Spirit of the Northeast through its food & culture. We offer access to authentic ingredients from Northeast India to our community across India and the world.
Quick Comparison
Settings
King Chilli Pickle, (Bhut Jolokia Pickle) 200g

remove

Pickle Sampler

remove

Dalle Chilli in Vinegar, 200g

remove

Try It All

remove

Axone King Chilli Pickle,100g

remove

Truly Nagaland

remove

Name
King Chilli Pickle, (Bhut Jolokia Pickle) 200g

remove

Pickle Sampler

remove

Dalle Chilli in Vinegar, 200g

remove

Try It All

remove

Axone King Chilli Pickle,100g

remove

Truly Nagaland

remove

Image
SKU
8900002134210
NEOCPSB
8900002134647
NEOCTIAB
8900002134401
NEOCTNB
Rating
Price
Stock

Out of stock

Availability

92

in stock

50

in stock

73

in stock
Out of stock

50

in stock

98

in stock
Add to cart
Description
Content

Heat Level (🌶️) - 6/10 Tangy & Spicy 

King Chilli (

Raja Mircha

) is considered as one of the hottest chilli in the world. NE Origins King Chilli pickle is directly sourced from Nagaland. Its tangy and not very hot, the aroma from these chilli itself is enough to make one salivate. Moreover, It makes a perfect condiment for comforting meals at home.

1. Dalle Chilli Pickle 100g

2. King Chilli Pickle 200g

3. Bamboo Shoot Pickle 200g

This is a combination of our three pickles - the Dalle chilli Pickle, the King Chilli Pickle, and the Bamboo Shoot Pickle. Rich in Vitamin C, potassium and fibre, these are great accompaniments for snacks, chaat and Indian curries
The Dalle Chilli Pickle is a tangy and spicy pickle.
There is a delicious, hot and spicy pickle with fresh King chillies.
Bamboo Shoot pickle will offer you a fresh breath in the air with its subtler taste than the other two.

Heat Level (🌶️) - 7/10 Very Spicy 

Dalle Khursani (Fireball cherry pepper) is a special variety of chilli grown in Sikkim. Scarlet red in colour, it is one of the hottest chillies in the world with Scoville Heat Unit Score of 3,50,000+. The chilli can be used to season curries, make hot sauces, and also as a condiment with Indian meals to add the right kick of heat to any morsel of food!

Dalle Chilli Pickle 100g

Smoked Chicken Pickle 60g
Temi Tea Orthodox 250g
Naga Chilli Hot Sauce 60ml
Lakadong Turmeric 50g
Gundruk 100g
Wild Flower Honey 200g

You will get a total of 7 Indigenous items in this pack that's a perfect gift for the experimental foodie folks or even for the family.
The Dalle Chilli Pickle is a tangy and spicy pickle, whereas the Smoked Chicken Pickle is a delightful blend of traditional sour flavours with a hint of spiciness
The Temi Tea Orthodox is a favourite amongst those that love their tea just as it is. The rich and nutritional Wild forest honey is an excellent match with this.
The Naga Chilli Hot Sauce is a flawless balance of spice, tanginess and sweetness.
The Lakadong Turmeric makes for interesting culinary adventures for any foodie
And lastly, the Gundruk has an earthy flavour with a hint of sourness.

Heat Level (🌶️) - 7/10 Very Spicy 

Your go-to pickle, if you want a sneak peek into the delicacies of Nagaland. This is where handpicked Naga King chilli meets the famous Naga fermented soyabean known as Axone. The spice level hits just right with the smoky taste as a side dish with your meal. The aroma is as strong as the taste and with this pickle by your side, no meal will go to waste!

1. Axone King Chilli Pickle 100g

2. King Chilli and Bamboo Shoot Pickle 200g

3. Smoked Chicken Pickle 60g

Everything from Nagaland is coming your way through this amazing combo.
Fermented soybean in Axone King Chilli Pickle can be hit or miss based on the preference of an individual, prepared with the hot King Chilli, this achaar exudes an uncommon flavour that people should try at least once.
With young Bamboo Shoots, Mustard oil and perfect spices as companions, the King Chilli Bamboo shoot pickle will give you a lip-smacking sharp taste with the subtle flavour of tender Bamboo Shoots.
The best-grade chicken is used to make smoked chicken pickles, which are then prepared by smoking the flesh over pine wood, shredding it, and pickling it with a variety of locally cultivated herbs and mustard oil. This spicy and rich achaar can make anyone drool from the first bite.

Weight
0.490 kg
1000 kg
0.598 kg
1200 kg
0.448 kg
0.590 kg
Dimensions
10 × 10 × 6 cm
12 × 15 × 10 cm
6 × 6 × 10 cm
12 × 15 × 10 cm
6 × 6 × 10 cm
12 × 15 × 10 cm
Additional information

| | |
| --- | --- |
| Weight | 0.490 kg |
| Dimensions | 10 × 10 × 6 cm |

| | |
| --- | --- |
| Weight | 1000 kg |
| Dimensions | 12 × 15 × 10 cm |

| | |
| --- | --- |
| Weight | 0.598 kg |
| Dimensions | 6 × 6 × 10 cm |

| | |
| --- | --- |
| Weight | 1200 kg |
| Dimensions | 12 × 15 × 10 cm |

| | |
| --- | --- |
| Weight | 0.448 kg |
| Dimensions | 6 × 6 × 10 cm |

| | |
| --- | --- |
| Weight | 0.590 kg |
| Dimensions | 12 × 15 × 10 cm |

Sold
48
0
27
0
7
2
Shipping