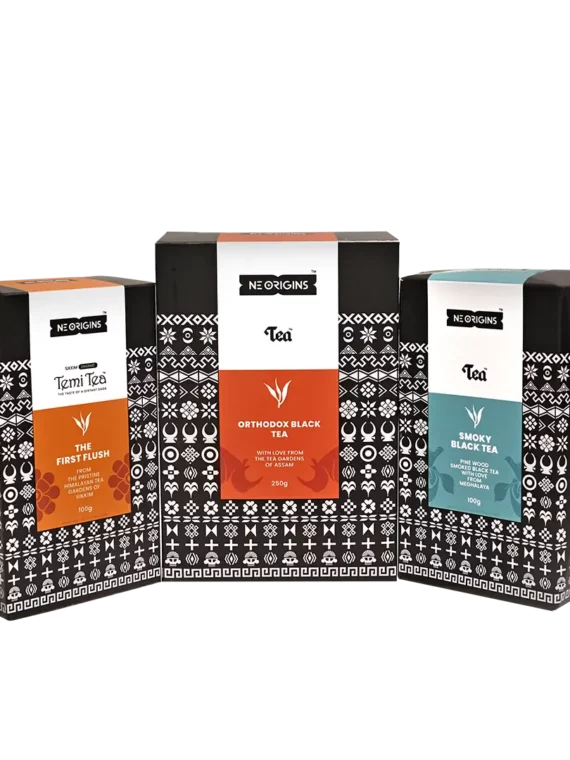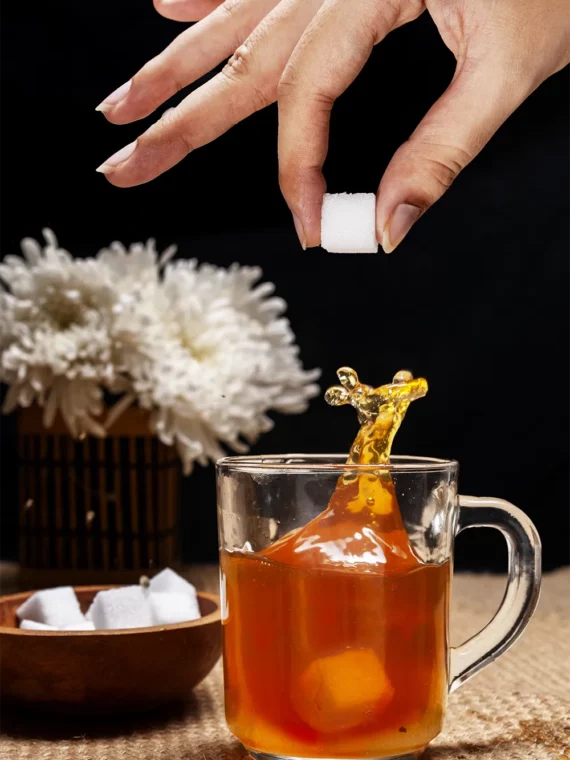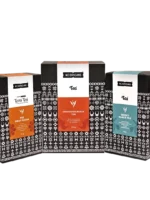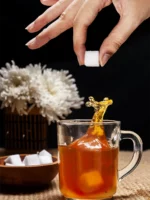 30
people are viewing this right now
Out of stock

Free Delivery Across India
Description
1. Temi Tea The First Flush 100g
2. Meghalaya Smoky Black Tea 100g
3. Assam Orthodox Tea 250g
This combo is definitely crafted for all tea lovers out there. You will be getting Temi Tea First Flush, Smoky Tea, and the Assam Orthodox Tea sampler kit. Deciding your favourite is made easier.

Temi tea from the first harvest will deliver a mild flowery flavour.

You will get Deep, smoky and full-bodied flavours with a smooth finish through Assam orthodox tea and Smoky tea.
Ingredients
Temi Tea First Flush 100g- 1
Smoky Black Tea 100g- 1
Assam Orthodox Tea 250g- 1
How to use?
Brew the tea as normal black tea.
FAQ
What does the pattern on your packaging represent?
-The symbols on our packaging represent that state symbols of the 8 states of North East India.
How do I consume the product?
-Please refer to the How to Use section above!
Can I get bulk discounts?
-Please reach our customer care officer for bulk inquiries.
Where do you source your products from?
-All our products are sourced from local manufacturers from the origin state where the product and its ingredients belong to.
NEOrigins
NE Origins strives to serve the Spirit of the Northeast through its food & culture. We offer access to authentic ingredients from Northeast India to our community across India and the world.
Quick Comparison
Settings
Northeast Tea Sampler

remove

Chilli Sampler

remove

Assam Green Tea, 100g

remove

Meghalaya Smoky Tea, 100g

remove

Truly Nagaland

remove

Pickle Sampler

remove

Name
Northeast Tea Sampler

remove

Chilli Sampler

remove

Assam Green Tea, 100g

remove

Meghalaya Smoky Tea, 100g

remove

Truly Nagaland

remove

Pickle Sampler

remove

Image
SKU
NEOCTSB
NEOCCSB
8900002134777
8900002134739
NEOCTNB
NEOCPSB
Rating
Price
Stock

Out of stock

Availability
Out of stock

97

in stock

98

in stock

99

in stock

98

in stock

50

in stock
Add to cart
Description
Content

1. Temi Tea The First Flush 100g

2. Meghalaya Smoky Black Tea 100g

3. Assam Orthodox Tea 250g

This combo is definitely crafted for all tea lovers out there. You will be getting Temi Tea First Flush, Smoky Tea, and the Assam Orthodox Tea sampler kit. Deciding your favourite is made easier.

Temi tea from the first harvest will deliver a mild flowery flavour.

You will get Deep, smoky and full-bodied flavours with a smooth finish through Assam orthodox tea and Smoky tea.

1. Dalle Chilli in Vinegar 200g

2. King Chilli Pickle 200g

Traditional Indigenous recipes straight from the Native places after going through quality checks. Everyone who loves the heat building up should grab this combo as you will get Dalle Chilli in Vinegar, King Chilli Pickle sampler kit in one order
The Dalle Chilli in has a unique flavour and aroma.
The unique combination of Dalle Khursani and vinegar can be extremely satisfying for most spice lovers. Each bottle will provide you with extremely hot Dalle Chilli with a sour taste as a compliment.
There is a delicious, hot and spicy pickle with fresh King chillies.

As the world comes to acknowledge the plethora of benefits that green tea offers, NE Origins' Green Tea brings to you the very best of this miracle potion straight from the tea gardens of Assam. Known to have a high concentration of antioxidants, this tea promotes health and well-being and is sure to make you feel great and relaxed.
Our Meghalaya Smoky Black tea is a tea grown at high altitudes through organic processes from the Ri-Bhoi District of Meghalaya. Smoke dried with Pine Wood, the tea has a unique earthy smell and camp-fire like aroma, with flavour notes of pine and burnt sugar. A must have for your tea pantry straight from the cloudy hills of Meghalaya.

1. Axone King Chilli Pickle 100g

2. King Chilli and Bamboo Shoot Pickle 200g

3. Smoked Chicken Pickle 60g

Everything from Nagaland is coming your way through this amazing combo.
Fermented soybean in Axone King Chilli Pickle can be hit or miss based on the preference of an individual, prepared with the hot King Chilli, this achaar exudes an uncommon flavour that people should try at least once.
With young Bamboo Shoots, Mustard oil and perfect spices as companions, the King Chilli Bamboo shoot pickle will give you a lip-smacking sharp taste with the subtle flavour of tender Bamboo Shoots.
The best-grade chicken is used to make smoked chicken pickles, which are then prepared by smoking the flesh over pine wood, shredding it, and pickling it with a variety of locally cultivated herbs and mustard oil. This spicy and rich achaar can make anyone drool from the first bite.

1. Dalle Chilli Pickle 100g

2. King Chilli Pickle 200g

3. Bamboo Shoot Pickle 200g

This is a combination of our three pickles - the Dalle chilli Pickle, the King Chilli Pickle, and the Bamboo Shoot Pickle. Rich in Vitamin C, potassium and fibre, these are great accompaniments for snacks, chaat and Indian curries
The Dalle Chilli Pickle is a tangy and spicy pickle.
There is a delicious, hot and spicy pickle with fresh King chillies.
Bamboo Shoot pickle will offer you a fresh breath in the air with its subtler taste than the other two.

Weight
0.598 kg
0.990 kg
0.265 kg
0.465 kg
0.590 kg
1000 kg
Dimensions
12 × 10 × 12 cm
12 × 15 × 10 cm
8 × 4.5 × 9 cm
8 × 4.5 × 10 cm
12 × 15 × 10 cm
12 × 15 × 10 cm
Additional information

| | |
| --- | --- |
| Weight | 0.598 kg |
| Dimensions | 12 × 10 × 12 cm |

| | |
| --- | --- |
| Weight | 0.990 kg |
| Dimensions | 12 × 15 × 10 cm |

| | |
| --- | --- |
| Weight | 0.265 kg |
| Dimensions | 8 × 4.5 × 9 cm |

| | |
| --- | --- |
| Weight | 0.465 kg |
| Dimensions | 8 × 4.5 × 10 cm |

| | |
| --- | --- |
| Weight | 0.590 kg |
| Dimensions | 12 × 15 × 10 cm |

| | |
| --- | --- |
| Weight | 1000 kg |
| Dimensions | 12 × 15 × 10 cm |

Sold
1
3
2
1
2
0
Shipping