Let's cook with Sichuan Pepper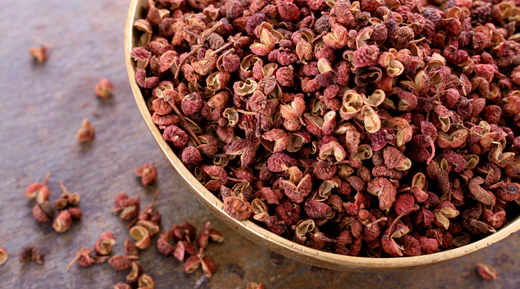 Spices are unique ingredients each with respective characteristics flavour, essence and intensity. These spices are what make our food flavourful, unique and so delicious. Since we agreed that all spices have different intensities, let's agree that Szechuan pepper and its intensity just hits with a different punch; and let's just put that fact on the table. If you don't believe this, try popping one corn into your mouth and chew rigorously… then, you'll know for sure.
So when we hear the word Sichuan, we are instantly reminded of Chinese food and rightfully so… Sichuan pepper is the main ingredient to the famous 5 spice powder that is used in most Chinese cuisines. The other 4 spices that make up this 5 spice-powder are fennel seeds, star anise, cloves and cinnamon.
Before china started using hot chillies from outside their world, heat in their dishes came from Szechuan pepper and ginger. It's usually unbelievable that something that looks like regular pepper is not pepper at all, nor is it from the pepper family nor does it taste spicy like pepper. The Sichuan shrub that is also called the Prickly ash shrub is actually native to china and Taiwan. Close relatives of the Sichuan pepper are grown in neighbouring Himalayan regions of Nepal, North East India, Thailand and Indonesia.
The name Sichuan pepper comes from the province the spice is native to, the Szechuan province of China. The pepper is now spelled in so many ways, some spell Sichuan Pepper, Szechwan pepper, Szechuan pepper and sometimes people call it Winged Prickly ash because when heated the corn pops open like wings. Here in the Sikkim we call it Timbur!
The spice is usually used to make Chinese foods, here in India; but let us guide you to a couple ways to utilise this spice in everyday life. Here in the northeast, the spice is popularly used for heavy flavouring of certain dishes; and it especially works wonders with meats.
Spicy tree tomato and Szechuan pepper chutney:
Ingredients:
2 tree tomatoes
Roasted Sichuan peppercorn
Salt to taste
2 Dalle Chilies
Minutely diced onion
Process:
Heat the tree tomatoes over an open fire so that the inside of the tomatoes are cooked and the covers peel off easily. Do not be worried if the peel of the tomato goes black by the burn, the tomato is not going to burn.
Now grind the roasted Szechuan pepper, peeled Tree Tomatoes and the 2 Dalle Chillies into a thick paste.
Now add the salt to taste and add the diced onions.
Voila! Your chutney is ready! You can eat the chutney with rice and you may not even need a vegetable to go with your rice. WARNING: this chutney may cause Szechuan chutney addiction.
Sichuan Pepper chicken:
Ingredients:
1 kg chicken
Szechuan pepper ground and made into a thick paste.
Ginger garlic paste
Onions diced
Tomatoes diced
Sesame seeds
Salt to taste
Zeera powder
Cinnamon stick
Bay leaves
Lemon juice
Soy sauce
Dallae Chilli
Lakadong Turmeric
Process:
Clean and wash the chicken and drain all the water.
Grind Sichuan pepper and a quarter onions, into a paste.
Now marinate the chicken pieces with lemon juice and the onion and pepper paste. Add some Lakadong Turmeric and chilli powder and let the marinated chicken rest for 2-3 hours.
Now heat some oil up. Add the bay leaves, dry chilli and the diced onions so that they turn golden brown.
Now add the ginger garlic paste and let it cook so that the raw smell goes away. Now add the marinated chicken and cook on a very low flame for 5 minutes, now add the cinnamon stick, a little soy sauce, finely diced Dalle Chili, zeera powder, salt, sesame seeds and the diced tomatoes and mix well .
Now cover the pan and let it cook slowly for another 30 minutes so that the oil rises on the top.
Your Sichuan pepper chicken is now ready. Enjoy!
Sichuan pepper is a very fragrant, tongue-tickling and mouth numbing to experience on its own. So if you are new to using this spice, be prepared to have your minds blown by the sheer intensity of flavour and experience that you can feel by biting into a single Sichuan pepper. And if you fall in love with this tantalizing experience, visit neorigins.com and buy some more online from the largest online marketplace for north-eastern products.